WeWork: or The Making and Breaking of a $47 Billion Unicorn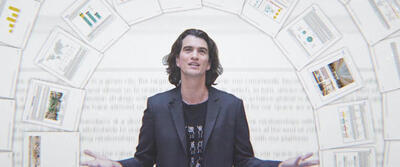 Venture capitalism ensures that even the godless have something to believe in. The next big thing, or a "unicorn," as referred to here, is a company that you believe will change how people do things—like how Facebook altered socializing, Netflix changed the very definition of "chillin'." WeWork, from co-founder Adam Neumann, wanted to change how people did work from behind a computer. Armed with buzzwords like "community" and "purpose," Neumann was onto something, and for a good deal in the 2010s, WeWork amassed thousands and thousands of followers in its cause.
Directed by Jed Rothstein, "WeWork: The Rise and Fall" is the story of a cult, as told like a financial investigation in Forbes magazine (the documentary was co-produced by Forbes Entertainment). That is to say, while it is insightful on the murky history of the business, it's missing more emphasis on the human experience specific to how demagogue Adam Neumann inspired thousands of people to believe in him. WeWork was not just your place of business, it was your community. Neumann used smoke and mirrors as a businesses foundation, expressed through his spiritual nonsense about the changing the world. As one NYU professor says in the doc: "For god's sake, they were renting f**king desks."
The gist of WeWork was, and still is, to give the Millennial work force a space more representative of their small businesses and unconventional ideas. To do away with conventional office layouts and business practices, and rent buildings around the world so that people can participate in something bigger than them. Even before Covid-19, as this documentary notes with a tear in its eye at the end, Neumann might have been onto something. But his success story with the business is one of constantly obscuring the numbers, of often spending more than earning. And of Neumann getting richer and richer.
Neumann was not interviewed for the documentary (nor was his wife Rebekah, or the WeWork co-founder Miguel McKelvey, the latter curiously under-described) but Neumann looms in various collected footage. The documentary charts some of the growth of a messianic figure and his following, in which numerous examples show how image-conscious he is, of wanting to be a revered public speaker and smooth on-camera spokesperson. Rothstein tries to see through his hokum, reckoning with how a business model cannot be as ephemeral as spirituality, or promises to change the world.
Here's the rare documentary that is successful at being informative, but makes a narrative version sound more palatable. Luckily there are at least two in production, with Neumann to be played by Jared Leto in one from AppleTV+, and Nicholas Braun in the other (Anne Hathaway will play Rebekah in the Leto series). Maybe those stories will be able to more tap into the emotional experience, and in some type of chronological form, than this documentary that uses billion-dollar valuation heights over the years like chapter titles, but rarely has a specific sense of time. The documentary creates a unicorn, and builds to its fall, all as promised in the title, but it often feels unfocused. You're always waiting for a big shoe to drop, in a tedious fashion. Instead it profiles different related topics—the WeWork summer camp retreats that became cult-like, or the influence of Rebekah Neumann, or the business life of dorm-like process WeLive. Certain journalists and others talk about trying to get a tangible sense of how powerful WeWork actually is and isn't. No one really understands the company, or Neumann's endgame, until it all falls apart.
What Rothstein has done here is provide enough momentum to a story in which there's hardly any juicy, explosive moment—in Fyre Festival-speak, there's no grandiose moment of showing up to campsite and being met with styrofoam catering. This is more of an instructional manual on how to grow a business and build it on a foundation of promises and ideas, to make it seem like a movement, when it's really just an egomaniacal grift no different than previous efforts by Elizabeth Holmes and Fyre's Billy McFarland. There's a largely automatic nature to this informative documentary; much of what unfolds here is depressingly prototypical.
Now available on Hulu.