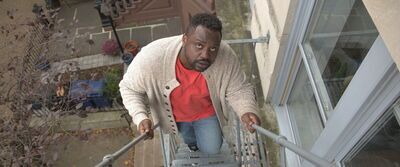 Charles (Brian Tyree Henry) is "stuck." That's the word more than one person uses to describe him. He spends most of his time in the second floor apartment of his Brooklyn walk-up, as oblivious to the world outside as it is to him. When his very pregnant neighbor from the building next door says she's never seen him before, she quantifies that detail with the number of years she's lived a stone's throw away. Charles' fellow tenants recognize him, but have yet to interact with him in any meaningful way. When writer/director Casimir Nozkowski's "The Outside Story" opens, Charles is even more stuck than usual; he's just broken up with his live-in girlfriend Isha (Sonequa Martin-Green), a woman everyone in the neighborhood seems to know. In fact, she is the connection point whenever Charles has to introduce himself to his fellow denizens.
She's also the sole reason Charles leaves the house, as he's promised to honor alternate side of the street parking for her car as she prepares to move out of his place. That traffic ticket bane of New York City area existence is what sets the story in motion. After he's dissed over a lack of tip by his food delivery guy—the one person who has seen him on the regular—Charles accidentally grabs the wrong set of keys and leaves his house to chase the guy down and offer him a measly dollar. The good intention causes him to be locked outside draped in a ratty sweater and minus his shoes. As if this weren't enough trouble, Charles is also on an editing deadline for Turner Classic Movies. If he can't get back inside, and soon, he just may lose his job.
So begins his journey through the neighborhood, reconnecting with the life outside his apartment. Nozkowski crafts a sweet, gentle situational comedy, surrounding his lead with a slew of supporting characters whose expected quirkiness is sharpened by a heaping dash of saltiness and keen observation. Of course, everyone has some wisdom to impart to Charles, but the method, and Charles' response, unfold in often unexpected ways. Much of this stems from the actors, all of whom make meals out of the smallest parts. They're in a playful orbit around the film's worthy, shining star.
This is an excellent showcase for Henry, who takes on his first major leading performance after memorable supporting turns on the TV show "Atlanta" and in films like "If Beale Street Could Talk." His other work shows a knack for both comedy and drama, and Charles contains multitudes of both. Henry has always reminded me of the late Robin Harris, whose large, physical carriage also vibrated with assurance and swagger. Like Harris, Henry can spit the saltiest, most ribald lines with sinful glee, yet his eyes alone can convey pathos like the best of the silent film stars. We know there has to be a scene where Charles becomes "unstuck," that is, he returns to life. But "The Outside Story" doesn't make it a grandiose gesture. Instead, the film portrays it as a silent moment on Henry's part. The camera stays on his face, and his response is simultaneously heartbreaking and uplifting. This is a beautiful performance, a calling card for the starring roles to come.
Much of Henry's role is some form of exasperated response to the situation at hand, a situation that can't help but get escalated by fate and Charles' reaction. These scenes play out with everyone from the ticket-crazy Officer Slater (Sunita Mani), who takes sadistic glee in writing parking citations, to Andre (Michael Cyril Creighton), the upstairs neighbor Charles keeps inconveniencing every time he needs to get buzzed into the building. These antagonistic yet comic run-ins occur alongside sweeter interactions between Charles and his piano-playing young neighbor Elena (Olivia Edward) and the older, widowed neighborhood lifer, Sara (Lynda Gravatt). "The Outside Story" is smart enough to flesh each character out so well that one could easily follow them into a movie of their own, especially the officer, who gets perhaps the best "are you for real?!" reaction shot I've seen in years.
For example, Charles convinces Elena to let him into her house so he can charge his now dead cellphone in case his landlord calls back about dropping off a spare set of keys. Inside, we meet Elena's mother, a Mama Rose-type who has had some success on the stage ("One review said I was the best nun!" she proudly tells Charles) and who demands Elena perform her recital piece for their guest. When Elena refuses, it causes a bit of uncomfortable dispute. This one scene plays like a mini-movie, a tangent that at first seems extraneous. But there's a payoff later, one that gives Elena a poignant depth.
Also, Andre's arc proves more interesting than it first appears. It turns out his exasperation at Charles' numerous interruptions is due to the fact he's in a romantic relationship with a married couple. The film doesn't treat this with any salaciousness. Instead, the trio offer Charles advice about how to deal with his feelings about the breakup. One would never expect a candid, touching meditation on the uselessness of jealousy to come from a setup like this. Again, Henry's performance anchors the film so that his scene partners can be equally effective.
And then there's Isha, who haunts the film via a few carefully chosen flashbacks before making her grand entrance in the final scenes. She's so tired of Charles' ennui that she commits a bit of infidelity that, while not a home run in the scoring department, would still merit at least a double. Isha shows up with moving men ready to take her stuff from Charles' abode, and her former paramour's potentially unsuccessful attempt to show that he has changed results in a hilarious and sad piece of cringe comedy slapstick that Henry and the moving men superbly execute.
I haven't even gotten to what exactly Charles does for TCM, which I'll not reveal. His edited pieces use fictitious actors, yet the response he has to them is strong enough for you to feel his love and admiration. There's a film geek's running joke here: every time Charles mentions his current subject, someone responds with a description of one of the actor's films. Charles provides the title, and everyone bonds around how great the performance is in it. That's how I imagine the discussions around Henry's work will unfold 20 years from now. "The Outside Story" will certainly be in that discussion, even if the person reminiscing about it will have forgotten its title. "The Outside Story" is barely 85 minutes long, but Henry's performance is rich enough to make this small film feel rather epic.
Now available on demand and on digital platforms.