The Brilliance is in the Details of HBO's Riveting Mare of Easttown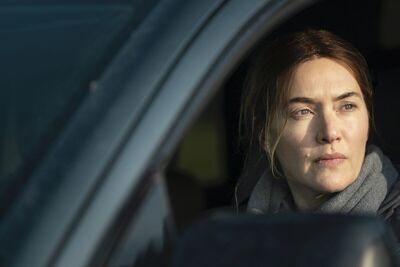 Fans of the regional, character-driven mysteries of Dennis Lehane such as "Mystic River" and "Gone Baby Gone" should make time for HBO's excellent "Mare of Easttown" as it shares a similar tone regarding the ripple effect of crime on a small town. Fans of HBO literary mystery adaptations like "Sharp Objects," "Big Little Lies," and "The Undoing" should do the same. The truth is that anyone with HBO needs to add this to their weekly schedule as it's the first true must-see drama of 2021, an excellent ensemble piece that works as character study, murder mystery, and actor's showcase. Finely detailed in both setting and character, it's a tapestry of a mini-series, a piece that centers one of our best living actors while also providing rich, complex characters for an extended ensemble of fantastic performers. Just twisty enough to qualify as a thriller in its script by Brad Ingelsby ("The Way Back"), "Mare of Easttown" rises above mere genre tension through ace direction from Craig Zobel ("Compliance") and lived-in production values. Remember the buzz around "The Undoing"? This is going to be what everyone is talking about for the next two months and really through the next awards season, where it will be a deserving major player.
The disappearance or death of a child changes not just people but entire communities. There's a sense that the year-old disappearance of a young woman in Easttown named Katie Bailey has reshaped the entire town. It's certainly redefined the life of Detective Mare Sheehan (Kate Winslet), who obsesses about the unsolved case, and not only because she went to high school with the mother of the missing girl. Strained or lost relationships with children weave their way through much of Ingelsby's writing. Mare also lost a son to suicide not long ago, making her the guardian of her young grandson, whom she now worries may have some of her dad's neurological tendencies. Mare has another child named Siobhan (Angourie Rice) and an ex-husband named Frank (David Denman), who is about to get remarried. Mare also lives with her mother Helen (Jean Smart) and has a potential love interest in a new writer in town named Richard (Guy Pearce).
At the same time across town, Erin McMenamin (Cailee Spaeny) is a young mother struggling to make ends meet and make the child's father do his part to care for their son's medical needs. Erin has an awful father named Kenny (Patrick Murney), who complains about his grandchild's cost on the family, and Erin just needs a way out. What first appears like a potential solution in the series premiere turns into something very different and a new mystery unfolds across the small Pennsylvania town, one that will bring in all of the aforementioned characters along with Lori (Julianne Nicholson), Mare's best friend, a local Deacon named Mark Burton (James McArdle) and a colleague named Dan Hastings (Neal Huff), along with Detective Colin Zabel (Evan Peters), an investigator from out of town brought in to help.
There's such a strong sense of place and character in "Mare of Easttown" from its very first scenes that the project is instantly elevated above recent television dramas. It's hard to overstate the importance of a world that feels lived-in like this one, and, while the production values are essential, a lot of that grounding comes back to Winslet, who continues to impress this far into her multiple award-winning career. She finds so many layers to Mare that other performers would have missed, imbuing her with the kind of sadness that shadows people who have lost a child while never dipping into melodrama. Her incredible talent elevates everyone around her, although great character actresses like Jean Smart and Julianne Nicholson are more than up to the challenge, and it's nice to see Evan Peters play a different kind of part for him and nail it. Every performance here works, which is a great credit to Zobel for tying these characters together in a way that makes the supporting players seem like actual locals with full lives instead of merely plot devices like they do so often in lesser mystery mini-series.
The series can get a bit diffuse in its focus at times as it features such a broad ensemble—the kind of tangled lives that are more common to fiction that modern television—and I'm not fully convinced Ingelsby nails the way teenagers talk and interact as well as he handles the adult characters. Viewers obsessed with the mysteries and bursts of violence may feel like the growing romance subplot is a distraction or wonder why they're watching Siobhan in band practice, but Zobel and Ingelsby know how to balance these character-driven B-plots with the piece's A-plot. In these communities across the country, they intertwine. Romances and band practices play out against backdrops of secrets and violence. The integrity that the cast and writing bring to the former here makes the subsequent revelations hit harder because they feel like they are impacting real people in real places. That dedication also deepens the series' themes as they reveal themselves slowly across all its various, gradual subplots.
"Mare of Easttown" is a piece about trauma, grief, and patterns of behavior. It is about those connections that form in small communities and fracture in families. Some of the plot twists around episode four seem like they're pulling the overall story away from the strengths of the first three episodes, but the characters are so defined by that point that viewers are likely to go with it. Sadly, I'm not sure how well "Mare of Easttown" sticks the landing, as HBO has made it a habit of not sending final episodes to avoid spoilers, but I'm confident about where this drama is headed. And what's exciting is that I'm not just curious about the resolutions to this show's many mysteries, but the impact they will have on these fascinating characters.
Five episodes screened for review.