Oscar-Nominee Gary Sinise Receives 14th Lincoln Leadership Prize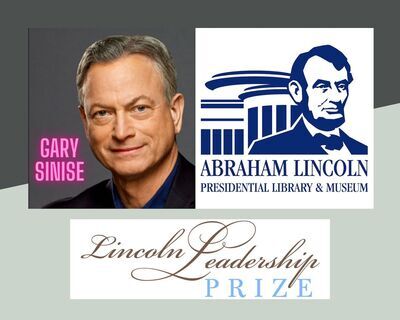 As a member of the Abraham Lincoln Presidential Library Foundation's (ALPLF) Board of Directors, we were proud to present Oscar-nominee Gary Sinise with the Lincoln Leadership Prize at our annual gala, which was held virtually last week (April 13). This prize is an annual award that recognizes outstanding individuals for a lifetime of service in the spirit of the 16th U.S. President, <span class="xn-location" <the="" united="" statesAbraham Lincoln. The award honors individuals who accept the responsibilities imposed by history and demanded by conscience, who show great strength of character and exhibit unwavering commitment to the defining principles of democracy. Sinise was named the 2021 recipient of this prize in part because of his commitment to helping and supporting veterans, active-duty military, first responders, their families and those in need.
"The lessons and leadership example of President Lincoln have never been more important to our country, and our responsibility is to do all we can to ensure those lessons are understood and shared," said Erin Carlson Mast, the ALPLF's new President and CEO. "President Lincoln cared deeply about the troops, and there are few people today who care more – and do more – for our men and women in uniform and their families than Gary Sinise," said Sergio ("Satch") Pecori, chairman of the ALPLF Board of Directors.
In his acceptance speech, Sinise spoke of how Lincoln has served as an unceasing inspiration in his life. "I am deeply grateful to be honored among the distinguished individuals who have received the Lincoln Leadership Prize," said Sinise. "I support the important work that the Foundation, Library, and Museum are doing, and am pleased to play a small role in helping to raise awareness of their shared mission." Lincoln's legacy obviously left an indelible impact on so many aspects of Sinise's life. Indeed, in the program video (linked here), when Sinise provided a tour of his office, I was pleasantly surprised to see how much memorabilia and various paintings of Lincoln he surrounded himself with on a daily basis.
Sinise also saluted all the veterans tuning into the event for their service to the country. "As long as I live, I will never forget the cost of freedom," said Sinise. "I will work hard on behalf of our defenders and try to be worthy of this special honor. May god bless you all, and all those who are still serving in harm's way, and may god continue to bless and watch over our America."
Past recipients of the Lincoln Leadership Prize have included Archbishop Desmond Tutu, President Bill Clinton, President George W. Bush, former U.K. prime minister Tony Blair, Supreme Court Justice Sandra Day O'Connor, Oscar-winning filmmaker Steven Spielberg, Pulitzer Prize-winning author Doris Kearns Goodwin, astronaut James A. Lovell Jr., former Polish President Lech Wałęsa, The Little Rock Nine, astrophysicist Neil deGrasse Tyson, The Carlyle Group's Co-Founder/Co-Executive Chairman David M. Rubenstein and the late television journalist Tim Russert.
Apart from being an Emmy, Golden Globe and Screen Actors Guild award-winning actor, Sinise is the Founder of the Gary Sinise Foundation. In 2020, his Foundation entered into its 10th year, establishing itself as one of today's leading nonprofit organizations raising awareness and supporting those who serve.He has been singularly devoted to veterans and military families and considers it his life's work. While it may seem his connection to the troops is due to his iconic role as Lt. Dan in "Forrest Gump," Sinise's connection to and appreciation of the military precedes his iconic portrayal, for which he received an Academy Award nomination. His autobiography, The New York Times Best Seller Grateful American: A Journey from Self to Service, chronicles his journey from rebellious teenager to discovering his love of acting and his close to forty years of helping and supporting those who serve.
The Foundation's programs and initiatives tackle a variety of needs, including building mortgage free specially adapted smart homes for severely wounded veterans through its R.I.S.E (Restoring Independence, Supporting Empowerment) program, taking WWII veterans to the National WWII Museum in New Orleans through Soaring Valor, performing and lifting the spirits of those serving our country through his Lt Dan Band concerts, bringing the kids of our fallen military heroes to Disney World though Snowball Express, and more. When the pandemic hit early in 2020, the Foundation quickly established its Emergency COVID 19 Combat Service initiative, which expanded its outreach to include healthcare workers on the frontline. Also, in 2020, the Foundation launched its Florida chapter – the first of many future satellite locations and began expanding its Mental Health initiative helping those suffering with PTSD, traumatic brain injuries, and addiction/recovery.
The award was presented to Sinise by fellow Oscar-nominated actor Mark Wahlberg ("The Departed"), who founded The Mark Wahlberg Youth Foundation in 2001 to benefit inner-city children and teens. The virtual program was narrated by Bill Kurtis. Besides Erin Mast and Satch Pecori, the virtual presentation of the 14th Annual Lincoln Leadership Prize tribute also featured in more or less the order of appearance: Board member Carrie Hightman opened the program, and yours truly spoke about the inaugural No Malice Film Contest. Kathryn Harris and Dr. Christian McWhirter discussed their efforts to preserve the past via The Papers of Abraham Lincoln project. Two previous Lincoln Leadership Prize recipients who appeared were Captain Jim Lovell (whom Tom Hanks portrayed in "Apollo 13," co-starring Sinise) and David M. Rubenstein, Co-Founder/Co-Executive Chairman of The Carlyle Group. Other illustrious presenters were General Colin Powell and General Robin Rand. USO Regional President (Midwest Region) Alison Ruble presented a montage of servicemen thanking Sinise.
From the entertainment community, we heard from RogerEbert.com contributor Donald Liebenson who went to Highland Park High School with Sinise and shared how they performed the role of Nicely Nicely in alternating casts of "Guys and Dolls" in 1973. Liebenson joked that his parents bought tickets to Sinise's performance over his own. Jay Leno, Terry Kinney, Jeff Perry, Joe Mantegna, Tim Allen, Tom Dreesen, and Oscar-nominee Laurie Metcalf spoke warmly of Gary Sinise in various segments.
Each Lincoln Leadership Prize recipient is honored with a portrait of themselves that is installed in the gallery at the Library and Museum. William Chambers is the artist who painted Sinise, and unveiled the portrait during the gala.
You can view the complete program here.
The Lincoln Leadership Prize ceremony serves as the primary fundraiser for the Abraham Lincoln Presidential Library Foundation. Since its inception it has raised over $42 million dollars for the benefit of the Abraham Lincoln Presidential Library and Museum, which is not a part of the federal system of presidential libraries.