Geena Davis and Wendy Guerrero Preview the 2021 Bentonville Film Festival, Running August 3-8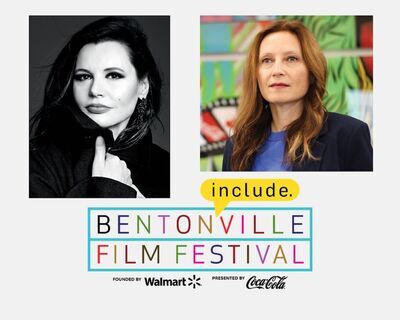 It was a privilege attending yesterday's virtual press conference for the Bentonville Film Festival, where Oscar-winner Geena Davis joined President of Programming Wendy Guerrero to announce that their festival will now be produced as an annual program of the Bentonville Film Foundation (BFFoundation). The BFFoundation is a 501(c)(3) nonprofit organization based in the state of Arkansas, led by a board of directors and operated by year-round and seasonal staff. Davis will serve as Chair of the Festival, while Guerrero will take on the additional role of the President of the Festival and the BFFoundation.
From the beginning, the Bentonville Film Festival has championed essential works from diverse filmmakers, including one of my personal favorite coming-of-age dramas, Lindsay MacKay's masterful debut feature "Wet Bum," starring the extraordinary Julia Sarah Stone ("Come True," "Allure"). Both Davis and Guerrero welcomed my suggestion during yesterday's Q&A to showcase their remarkable archive of past festival selections, and I was delighted to learn that they are already doing this via their monthly BFF Movie Mondays series, featuring live filmmaker question and answer sessions moderated by RogerEbert.com contributor Carla Renata.
The seventh annual Bentonville Film Festival will be a hybrid of virtual and in-person events taking place from Tuesday, August 3rd, through Sunday, August 8th, in and around Bentonville, Arkansas. Wal-Mart will continue to be the festival's founding partner, with Coca Cola also returning as its presenting partner. A key addition to the team is producer/festival alum Kristen Mann, who will be the BFFoundation's head of content, providing her with the opportunity to develop and create film and television projects that elevate underrepresented voices.
<span id="selection-marker-1″ class="redactor-selection-marker"></span>
"I'm honored to partner with the foundation and am excited to be a part of growing the festival, developing content and helping build a sustainable film production ecosystem like this in my home state of Arkansas where I grew up dreaming of one day working in the film industry," said Mann in a statement. She will also serve on the BFFoundation's advisory board alongside Madeline DiNonno, CEO of the Geena Davis Institute on Gender in Media, and Jason Netter, festival producer for BFF since 2016 and CEO of Kickstart Productions.
The non-profit BFFoundation will expand upon the Bentonville Film Festival's stated goal of promoting and advocating for inclusion in all forms of media. Kalene Griffith, President & CEO of the city's tourism organization "Visit Bentonville", made the introductions for Guerrero and Davis at yesterday's press conference. This gave the festival heads an opportunity to meet journalists from around the world face-to-face. Guerrero mentioned that she was particularly proud of how BFF is the very first festival to require inclusion qualifiers in its programming.
"BFF has had the privilege of championing artists who identify as female, LGBTQIA+, BIPOC and people with disabilities in entertainment and media," said Guerrero. "We feel inspired by the resilience of our storytelling community over the last year. As we begin planning for the seventh annual festival, we do so empowered by a year of tremendous learnings and a renewed sense of purpose and dedication to our core mission. Our goal is very simple: storytellers and people onscreen should reflect the population, which is half-female and incredibly diverse."
Davis stressed how only 12.6% of characters in film and television today are represented by persons of color, yet they make up 35% of the population, while women still make up only 34% of characters onscreen. Her goal is for this year's festival to be the most diverse and equitable to date, "a true vision of what the future of media can and should look like." According to Guerrero, adapting to the virtual platform amidst the COVID-19 pandemic last year democratized the festival landscape while breaking down barriers to access. She was astounded to find a huge growth in the festival's global engagement, represented by 10 percent of its viewership numbering over 30,000.
"The 2020 festival was the most diverse program we ever had, with over 70 films programmed," noted Davis. "80% of the films were directed by women, 65% by people of color and 45% LGBTQIA+. In 2021, as Wendy said, we're leaning even further into our initiatives and core mission, and our biggest takeaway last year was that creating a film festival with this level of equity compromised absolutely nothing. In fact, it showcased the tremendous talents and abilities of many, many underrepresented storytellers that make up the fabric of our communities here in the US and around the world."
BFF stated its commitment to following the CDC and state guidelines for public events in its planning process for August's festival, which will include drive-in films, outdoor films and public family friendly events in downtown Bentonville. <span class="s1" <the="" bffoundation="" recently="" opened="" a="" new="" office="" space.="" Competition filmmakers will be invited to participate in events such as a happy hour, luncheon and the award show, while film programs, panels and filmmaker talks will continue to be made available on the festival's virtual platform. Perhaps one of the most intriguing annual events, which will be made streamable this year, is "Geena and Friends," where Davis invites fellow celebrity guests to read from a famous script while swapping gender roles.
"A lot of times we've picked comedies, but it's funny no matter what the genre of the film is to realize how it could actually obviously work with women instead," said Davis. "This has been my message to the studios and the industry for many years: don't make a movie or cast a movie without first passing it through a gender lens. Go through it and see which characters could be either male and female. Bring in male and female actors to audition for each part. We do this as a fun way to show that there is a lot more possibility in your casting than what first sprang to the writer's mind, and so we hope that that's making a change in the industry."
For more information, visit the official site of the Bentonville Film Festival.