Book Excerpt: In Their Own Words: Fiction Directors by Alex Heeney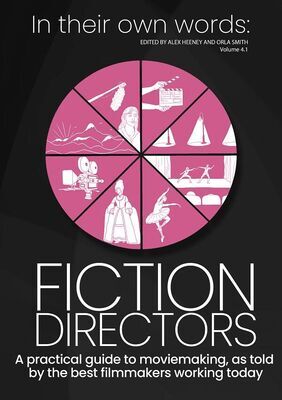 We are proud to present an excerpt from the latest offering from Seventh Row, Fiction Directors: In Their Words, a compilation of interviews with filmmakers. Get your own copy and find out more about here. Find the foreword by Alex Heeney, Editor-in-Chief of Seventh Row, below.

---
Why is it important to create a sense of place? How do you choose an aspect ratio? How do you decide how close the camera should be to the actors and action? How does editing fit into the filmmaking process? Seventy-four directors (of which more than fifty percent are women), from across every continent, weigh in on all of these questions in this ebook, In their own words: Fiction directors. Sometimes, their responses are contradictory, but they're always passionately and thoughtfully reasoned. Moreover, this is not a book so packed full of responses from men that you're left wondering what women think.
Tracking the filmmaking process from conception to pre-production to production to post-production to getting the film seen by audiences, this book illuminates how fiction filmmakers approach challenges at every level. Whether you're an aspiring filmmaker looking for advice, a student of film looking to understand process, or a cinephile looking to better understand the connection between how films are made and how they make you feel, there's something in this ebook for you. Filled with fascinating and often funny stories about filmmaking, we've designed the book so that you can read it out of order, zoning in on a particular topic of interest as it suits your fancy, or read it cover to cover. The filmmakers offer practical advice for making movies, including with a low budget, giving insights into their collaborative process, and the importance of every aspect of filmmaking, from sound to blocking to acting to editing.
Ever since the early days of Seventh Row, our interviews with filmmakers from around the world, both established and emerging, has been a central part of our coverage, in addition to essays and interviews. While our essays and reviews grapple with how films make us feel the way they do, our interviews have been ground zero for learning about how filmmakers approach thinking through these connections. The Seventh Row ethos has always been that if you want to understand why you love a film and want to watch films critically, you need to also understand how filmmakers think and approach their filmmaking.
Our previous director-focused books like Tour of memories: The creative process behind Joanna Hogg's The Souvenir and Portraits of resistance: The cinema of Céline Sciamma looked at the ecosystem around individual filmmakers: how they work with their collaborators to tell a cohesive, complex story. With In their own words: Fiction directors, we focus on the role of the filmmaker, who steers the ship on each film, each with contrasting approaches, for a broader discussion on how films are made rather than how just one film works the way it does.
As a publication, conducting interviews has been our own personal film school. As a team, we are constantly comparing the differing responses of multiple filmmakers to often similar questions. For example, my longstanding interest in the relationship between film and theatre has led to interviewing multiple filmmakers who work in both mediums, and which form the basis of this book's ninth and final section, "Film vs. theatre." Over the years, I've asked filmmakers like Richard Eyre (The Children Act, 2017), Dominic Cooke (On Chesil Beach, 2017), and Benedict Andrews (Una, 2016) about the differences between directing in film vs. theatre, including what the differences are for directing actors. In this book, for the first time, you can see their answers back to back to gain insights into where their opinions converge and diverge.
For years, we sought a means to help our readers draw the same kinds of connections between filmmaking approaches that we, as writers and editors, had been drawing. Achieving this goal is what caused us to launch our In their own words ebook series with In their own words: Documentary masters, vol. 1 in 2018. In that book, we put our interviews with many of the best working documentary filmmakers — Frederick Wiseman, Steve James, Penny Lane — back-to-back so that you could compare their approaches. In our case studies on Frederick Wiseman and Gianfranco Rosi, I wrote a piece in which I pull-quoted contradictory answers to the same questions from each of Wiseman and Rosi. The feedback we received from readers was that it let them see anew how these filmmakers use fundamentally opposed approaches. With In their own words: Fiction directors, we expanded the approach of that piece to make it the approach of our entire book.
This book is made up of seventy-four of the best interviews we've conducted with fiction filmmakers, as a publication, since 2015. It's organized into nine parts: working in different genres, representation in film, creating a sense of place, making low-budget films, devising an aesthetic, working with actors, shooting, post-production, and film vs. theatre. Each part is divided into a series of questions, like the ones that opened this foreword, with answers from multiple directors. By compiling interview responses by theme, you can draw connections between various filmmakers' approaches in a way that was never before possible. Even we, the editors, found new connections, like Joachim Trier's and Mia Hansen-Løve's veneration for Isabelle Huppert and how working with her is a prime example of why you don't want to interfere too much with a pro actor's process.
Finally, In their own words: Fiction directors is a resource for discovering the next film or filmmaker you're going to be obsessed with. Major auteurs like Olivier Assayas, Kelly Reichardt, and Céline Sciamma are featured alongside first-time or lesser-known filmmakers, like Sofia Bohdanowicz, Kathleen Hepburn, Anna Rose Holmer, and Wanuri Kahiu. In some cases, we talked to famous filmmakers while they were still emerging: Oscar nominee Chloé Zhao talks about The Rider (2017) right after its world premiere at Cannes and BIFA-winner Francis Lee talks about God's Own Country (2017) right out of its Sundance premiere. Our only criterion for whether a filmmaker would be included was whether they had thoughtful things to say about filmmaking. The book is a place to discover new filmmakers who think in a way you find interesting, and thus discover their films which may not yet be on your radar.