SXSW 2021: The Feast, Paul Dood's Deadly Lunch Break, Witch Hunt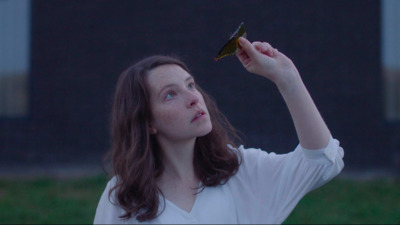 SXSW's cult lineup is typically its most varied and interesting, featuring odd genre experimentations and potentially exposing some fantastically weird diamonds in the rough. This year's festival has a strong folk horror vein, including the South African midnighter "Gaia" and "Woodlands Dark and Days Bewitched," a three-hour exploration of the genre. The Welsh-language "The Feast," which marks the feature debut from UK TV directing veteran Lee Haven Jones, makes a striking addition to these offerings, using setting and language to explore the dangers of rejecting your roots.
Wealthy Glenda (Nia Roberts) and her husband Gwyn (Julian Lewis Jones), a politician, live on Glenda's family land in Wales. The place was once a farm, but the family tore it down to build a sleek modern home. They now loan out the rest of the property to energy companies to mine its resources. The couple has two sons; drug addict Guto (Steffan Cennydd) has been forced back home to get his head straight, while triathlete Gweirydd (Sion Alun Davies) exudes Patrick Batemanesque creepiness. On the night of a dinner party, Glenda hires local waitress Cadi (Annes Elwy) to help serve. The young woman is quietly unsettling, and seems to have it out for the family, increasingly so as the night wears on.
"The Feast" takes its time setting up the pegs before knocking them down in gloriously icky fashion. We're left to speculate on what Cadi's intentions are, and how she's going to execute them, until the final act. That leaves two thirds of the running time to develop a sense of eerie dread and present subtle considerations of the original sin the family will pay for later. Glenda, Gwyn and their offspring exploit the land, whether they're hunting on it, mining it, or chopping it down. The film also slyly critiques Glenda's rejection of her family's heritage, the value of which the Welsh-only dialogue makes abundantly clear. Not everyone may have the patience for "The Feast," but those who do will be rewarded with intelligence and grand guignol in equal measure.
"Paul Dood's Deadly Lunch Break," another UK-based cult indie, is the second feature from director Nick Gillespie, a contemporary of Ben Wheatley (he also lensed Wheatley's latest film "In the Earth"). The film shares a stylistic kinship with Wheatley's early work, as well as a stable of contributors. "Paul Dood," which includes cast members with "Sightseers," "Prevenge," "In Fabric" and Wheatley's TV series "Ideal" shows the relationship between UK's underground comedy and genre scenes at work, although here its material and delivery clash awkwardly.
The middle-aged Paul ("Prevenge"'s Tom Meeten) lives with his mother Julie (June Watson) and dreams of internet stardom. On the day of a big audition, everything that can go wrong does as Paul rushes across town with the wheelchair-bound Julie in tow, hampered by a cast of selfish, inept townsfolk (including Alice Lowe, Steve Oram, Kris Marshall, and Johnny Vegas). When the experience ends tragically, the devastated Paul goes on a live-streamed violent rampage. Paul is too sweet to actually harm anyone, but those who've wronged him get their just desserts nonetheless.
The heightened comedy of "Paul Dood's Deadly Lunch Break" shares aspects of "Popstar: Never Stop Never Stopping" or "Eurovision Song Contest: The Story of Fire Saga'"s free-flowing absurdity. However, Gillespie's understated style—reminiscent of "Sightseers" and "Down Terrace"—creates a sense of anarchy that doesn't mesh well with the situations it depicts. It's a relief when it turns out otherwise, but given the right resources, Paul seems plausibly capable of actual violence. "Paul Dood" frequently inches right up to the edge of uncomfortable tragedy before pulling back at the last possible moment.
The high concept of writer/director Elle Callahan's "Witch Hunt" has immediate appeal: in an alternate version of modern America, witches and magic exist, and both are illegal. Witches—women born with magical ability—are persecuted, imprisoned, and executed. The film's main character, asthmatic teen Claire (Gideon Adlon), lives in California, where her mom (Elizabeth Mitchell) uses their house's cavernous walls to hide witches trying to escape to Mexico. When a pair of sisters on the run, Fiona (Abigail Cowen) and Shae (Echo Campbell), take refuge with them, Claire bonds with Fiona, and starts to suspect she may have dormant magic abilities of her own.
The performances of "Witch Hunt" function well; Mitchell and Adlon in particular give strong performances as a mother and daughter at a reckoning point in their relationship. Unfortunately, the film's mechanics are a mess. Callahan's script sets up internal rules at the start that it later deviates from, and has characters make boldly dumb decisions that suggest none of them understand the significance of what's at stake.
Some creative choices the movie seems to think are clever come off as lazy or insensitive, including an odd link between witchcraft and gingerism. The most egregious problem is the film's depiction of its anti-witchcraft discrimination and fugitive escape routes, which apply aspects of the Underground Railroad (as well as the Holocaust) to a story in which all the persecuted characters are white women. There's an allegory here for patriarchal fear of female power, but that potential gets lost amid inconsistency and appropriation.