How This Year's Golden Globes Could Impact Award Season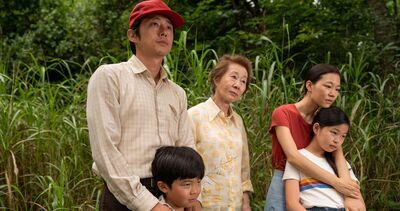 The 78th edition of the Golden Globes that took place on February 28 was a Zoom-heavy affair. As for the usual glitz and glam, some fair nominated ladies made an effort and donned divine couture ensembles. Regina King, who was up for her directing debut, "One Night in Miami," was a standout in a glittery Louis Vuitton gown that was bedazzled with 40,000 sparkles.
Other nominees barely made an effort—I'm looking at you, Jodie Foster, in your jammies and cuddling your pooch, while Jeff Daniels made do with a plaid flannel dad shirt while seated in a room with multiple doors.
As for the male contenders, Jared Leto, who was up for Best Supporting Actor for "The Little Things," sported a rather large faux flower on his beige suit coat. And Daniel Kaluuya gave the first speech of the night, with a technical glitch, when receiving the reward for Best Supporting Actor for "Judas and the Black Messiah."
Despite the lack of schmoozing, star-mingling, and boozing that are earmarks of the first awards event of the season, it was an up and down affair even if hosts Tina Fey on the east coast and Amy Poehler on west coast tried their best to provide some levity. However, I endured occasional hiccups of the mostly virtual three-hour show in the hopes of getting some clues about what films might make the cut when the nominations for the 93rd Academy Awards are announced on March 15, as well as who.
While the Hollywood Foreign Press Association only has 87 voting members—none of whom are tied to the Oscars—being first is somewhat of an advantage and can set an agenda for other showbiz awards. Here are some observations about how this year's Golden Globes could impact other voting entities.
If there was one trend, it was that with the Oscar eligibility period for films extended two months because of the coronavirus epidemic, several movie titles took advantage of the timing and came out in late February. That might be why singer-turned-actress Andra Day pulled an upset and won over the likes of Viola Davis ("Ma Rainey's Black Bottom"), Frances McDormand ("Nomadland"), and Carey Mulligan in "Promising Young Woman" with her lead role in "The United States vs. Billie Holiday." She is the best thing about the biopic that suffers from a rather uneven narrative, but the Globe voters often like to honor fresh faces.
Another late arrival, "I Care a Lot," rattled the musical/comedy actress category. Rosamund Pike claimed the prize for her smartly devious turn as a con artist who takes advantage of senior citizens while acting as their conservators and raiding their estates. Pike somehow pushed aside the supposed fave in this lineup, newcomer Maria Bakalova, who was a breakout with last fall's "Borat Subsequent Moviefilm." Bakalova is now in danger of being snubbed at upcoming award shows, including the Oscars.
And what to make of Foster's win in another recent opener, "The Mauritanian"? I, for one, have heard zero buzz about her performance as a defense attorney for a Guantanamo Bay detainee, and I doubt it will hold up much beyond Globes. She was able to overtake the likes of the long-overdue-for-an-Oscar-win Glenn Close ("Hillbilly Elegy"), Olivia Colman ("The Father"), the consistently overlooked Amanda Seyfried ("Mank") and Tom Hanks' fresh-faced sparring partner Helena Zengel in the post-Civil War Western "News of the World."
Meanwhile David Fincher's "Mank," about the travails of "Citizen Kane" screenwriter Herman J. Mankiewicz, led the film field with six nominations but left empty-handed. Similarly, "The Father," the most notable of the releases this year to delve into old age and dementia, failed to earn the Globe-less Anthony Hopkins a win for his performance.
"One Night in Miami," which was left out of the drama film category, failed to get a trophy for any of its three nominations—notably, King for director and Leslie Odom Jr.'s original song, "Speak Now." At least Aaron Sorkin won for his original script for "The Trial of the Chicago 7," but the movie was overlooked for Sacha Baron Cohen's supporting role as Abbie Hoffman, as well as being shunned for Best Drama Film.
Yes, "Borat Subsequent Moviefilm" won the Best Comedy/Musical category, and Baron Cohen took home a trophy for his lead role in the rollicking mockumentary, but comedies don't often make the cut at the Oscars. As for Best Animated Film, Pixar's "Soul" came out on top at the Globes and will likely continue to do so. Another name that will surely be called out regularly this season is the sadly gone and much-missed Chadwick Boseman for his dramatic supporting role as a cocky trumpeter in "Ma Rainey's Black Bottom."
Meanwhile, one of the true darlings of this season is "Minari"—about a South Korean family who move to a farm in Arkansas. The drama considered as a foreign language film in Globes-ville—even though it's an American film by an American director—and won in that category. "Minari" is already in the conversation for the 26th Critics Choice Awards that will air on March 7.
While "Mank" leads the CCA with 12 nominations, including Best Picture, director Lee Isaac Chung's "Minari" is a close second with 10 chances to take a trophy. I might go out on a limb and suggest that "Nomadland," which claimed the drama award at the Globes and made director Chloe Zhao became the second female director to win the Globe, is definitely the front-runner to beat.