Genius: Aretha Goes Surface Deep on the Queen of Soul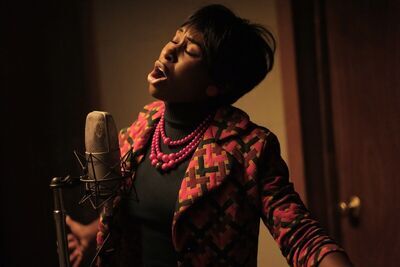 "I want to make hits," Cynthia Erivo's version of Aretha Franklin says in "Genius: Aretha," the latest installment of the anthology series that in previous seasons focused on Albert Einstein and Pablo Picasso. Fittingly, you can probably rattle off some of the late Franklin's biggest songs, given how ubiquitous they remain: "Respect," "(You Make Me Feel Like) A Natural Woman," "Think." It's bizarre, then, to realize those songs are excluded from "Genius: Aretha," and to then notice how much else is missing from this series: any kind of interiority for Franklin, for one, and any sort of emotional range from Erivo, for another.
Erivo is a gorgeous singer, and she exudes strength, self-assurance, and formidability. But this project makes the same mistake so many other TV series and films also do when they try to tell the story of a "strong" woman: It focuses far too much on her relationships with bad men. And so "Genius: Aretha" puts Erivo's version of the titular character through the wringer while the actress herself struggles to sincerely communicate any of the contrasting feelings—anguish or joy, anxiety or delight—that she must have experienced. Instead, the priority here is that "strong woman" image, and the result is a series that comes to life whenever Erivo performs a musical number and then slumps into listlessness whenever else.
<span class="il" <this="" makes="" sense="" once="" you="" realize="" that="" suzan-lori="" parks,="" who="" recently="" employed="" this="" same="" split-timeline,="" heavy-on-the-trauma="" approach="" in="" the="" "the="" united="" states="" vs.="" billie="" holiday,"="" also="" wrote="" majority="" of="" "
This makes sense once you realize that Suzan-Lori Parks, who recently employed this same split-timeline, heavy-on-the-trauma approach in the "The United States vs. Billie Holiday," also wrote the majority of "Genius: Aretha's" eight episodes. Both focus on immensely talented women who are undone by their codependent relationships with terrible men, with their all-consuming desire to be loved, and with the racism they faced from white people. A lot of that is historically accurate, and it would be irresponsible, perhaps, to ignore the facts that Holiday was raped as a child and developed a heroin addiction to deal with the pain and was undervalued by the music industry, or to ignore the reality that Franklin was raped as a child and started drinking to deal with the pain and was undervalued by the music industry.
But what Parks failed to do with "The United States vs. Billie Holiday," and what she again fails to do with "Genius: Aretha," is imagine a reality in which a woman's relationship with a man was not her defining characteristic. "Genius: Aretha" bounces between the singer's troubled adulthood, in which she is abused by her first husband Ted White (Malcolm Barrett), and her troubled childhood, in which she was manipulated by her father, popular pastor and radio personality C. L. Franklin (Courtney B. Vance)—as "Billie Holiday" did. "Genius: Aretha" relies on gorgeous costume design and an ensemble cast to distract us from the scarcity as its center—as "Billie Holiday" did. And "Genius: Aretha" leans hard on its lead actress's singing prowess to pass the time instead of engaging in steadily proactive character development—as "Billie Holiday" did.
Which isn't to deny that Erivo (who has won an Emmy, Tony, and Grammy, and was nominated for Academy Awards for Best Actress and Best Original Song for 2019's "Harriet") is a phenomenally talented singer who puts her own spin on many of these songs. She has commanding stage presence, and in every one of the seven episodes provided for review, she steps onstage or into a recording studio and makes it her own. Aretha flashes her genius (get it?!) as she sings songs back note by note after hearing them one time, plays piano by ear without knowing how to read music, arranges every aspect of each track, and sings "Don't Play That Song (You Lied)" and "Rock Steady" under Atlantic Records producer Jerry Wexler's (David Cross) watchful eye. She charismatically dazzles while grooving and shimmying along to "See Saw" for a TV performance. She digs deep into her talent when she gets up behind the pulpit at church and soars through gospel mainstays "Amazing Grace" and "Never Grow Old" before a crowd of weeping, exalting parishioners. Those scenes are lively, joyous, shot with verve by directors Neema Barnette and Anthony Hemingway (when they're not using corny visual effects, like running this footage through a filter to make it look like Erivo's Aretha is taking up every frame in a film strip), and most importantly, they center Aretha.
But "Genius: Aretha" isn't a concert, it's a TV show, and acting isn't the same thing as singing, and the series derails itself over and over again by jumping back and forth and refusing to tell a linear story. Each episode is named after one of Franklin's songs ("Respect," "Until the Real Thing Comes Along," "Do Right Woman," "Unforgettable," "Young, Gifted and Black," "Amazing Grace," "Chain of Fools," and "No One Sleeps"), the seven provided for review span the early 1940s to late 1970s. In premiere "Respect," Franklin is struggling professionally and personally. Although she was named the "Queen of Soul," she's trying to break into pop and find her "own sound," a phrase that comes up constantly. (As does "our people," whenever the show addresses the civil rights movement and the Black community.) Her father, who is convinced that her voice is a gift from God specifically for him, and withdrew her from school and ushered her into singing as soon as he could, is battling with Ted, her decade-older husband, over her career. Each of them uses Aretha, and they're essentially arguing over who gets to control her more. And to contextualize every scene in Franklin's adulthood with some traumatic event from her past, "Genius: Aretha" travels back in time to inform us of her mother's tragic death, her father's heavy drinking and infidelity, and Franklin's compromised innocence.
Episodes tend to skip over major events and instead briefly focus on their fallout, or advance forward by months and years to when characters have already worked out the issues that were just introduced. Some scenes are identified by date, while others aren't, forcing viewers to guess timelines based on fashions and hairstyles. This approach underserves both Erivo and newcomer Shaian Jordan, who plays "Re" as a child and young teenager. Both speak in grand statements, but not revealing ones: "I want to be of service" and "I want to lend my voice," not "I feel" or "I think." Scenes focus on their subjugation (child Re seeing her father engage in a threesome while on the gospel caravan tour where she is later drugged and raped; adult Re being punched in the face by Ted the same night she is named the Queen of Soul), but not the inner processes that inspire their choices, their loves, or their fears.
Major moments in Re's childhood are either briskly hustled along (no breathing room between a scene when she realizes at 12 that she's pregnant, and another when the baby is already a month or so old) or agonizingly drawn out (her mother discovering, over and over again, that her husband is a drunk and a womanizer). Major moments in Aretha's adulthood are similarly stacked one after another, with no space given to Aretha to explain herself: her decision to switch record labels and genres; her decision to finally file for divorce from the philandering, physically violent Ted; her decision to return to gospel music and her connection to the church; her decision to stand by her father even though she knows the depths of his hypocrisy; her decision to become more involved in the Black Power movement; her decision to betray her sister Carolyn (Rebecca Naomi Jones) and destroy her career.
And most frustrating is how perfunctory all of this feels. We see child Re learn that her father impregnated a 12 year old and was run out of his former congregation, and then we see Aretha herself as a 12-year-old, pregnant by a far older man, but there's no connection here between these two events and how they affected her. We see Aretha lightly flirting with Dr. Martin Luther King Jr., but not her reaction to his assassination. We see her raising her fist in the Black Power salute during an all-white music industry party and voicing her support for the arrested professor and activist Angela Davis, but not how the reading material her new paramour Ken Cunningham (a hilariously miscast T.I.) recommends—James Baldwin, Zora Neale Hurston, Franz Fanon—affects her ideology in the long term. We see that she has children, but not what kind of mother she is, or what kind of wife, or what kind of friend. Was she lonely? Happy? Fulfilled? Disappointed? "Genius: Aretha" doesn't give the icon enough depth, and unfortunately, the performances of Jordan or Erivo are impressive musically but emotionally thin. This rendition of the Queen of Soul is unsatisfyingly one note.
Seven of eight episodes screened for review.