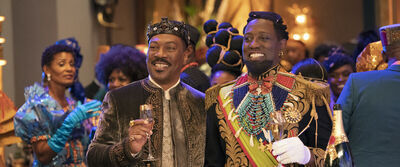 In 2019, Ruth E. Carter won an Oscar for creating the fashions of Wakanda. It's only fitting she would follow that by tightening her stitches on the attire of Zamunda, the other beloved cinematic African paradise first seen in 1988's "Coming to America." Under her masterful guidance, everyone in "Coming 2 America" looks spectacular, from the soon to be king, Prince Akeem (Eddie Murphy), to the rose petal-throwing women once again led by Garcelle Beauvais. The results are hypnotic; you can't take your eyes off the screen lest you miss some majestic pattern or a finely crafted angle of fabric rising in the air with true fierceness. Fashionistas rejoice, because as we say in my old neighborhood, Ruth E. Carter put her foot in it when she designed these outfits.
Carter's costumes are worth the price of admission. Just know that, once you pay, you will only be disappointed by everything else if you are a fan of the original film. Because even if you enjoy this completely unnecessary trip back to Zamunda, "Coming 2 America" cannot compete with its predecessor. Director Craig Brewer does the film no favors by flashing back to clips from the original, and screenwriters Barry W. Blaustein and David Sheffield team up with Kenya Barris to hit the same plot beats that made the first film so much fun. A sense of familiarity is often enough to keep the movie coasting on a sea of goodwill, but some of the plot ideas are bound to raise a few eyebrows and lower a few eyelids. There's another against-all-odds love story, but this time, the lovers are far less interesting and charismatic than Akeem and Lisa (Shari Headley). And a comedy might be in trouble if you're spending half of it wondering if a character has been sexually assaulted.
As the trailers tell you, Prince Akeem has a son he never knew about in America. The filmmakers retrofit this into the original's narrative by re-editing that awesome nightclub scene, the one with MC Peaches and that woman who worshipped the Devil. Semmi (Arsenio Hall) meets Mary Judson (Leslie Jones) and her friend at this club and, in an attempt to sleep with the friend, drags an inebriated Akeem back to Mary's place. Mary gets Akeem so high he can't remember what happened to him and voila, the instant heir nobody knew about/plot device is born. If you don't think this is gonna inspire a million thinkpieces, I have a barbershop in Queens I'd like to sell you.
The "bastard son," as Akeem keeps calling him, is Lavelle (Jermaine Fowler), a 31-year-old trying to make his way in the world. Akeem has three daughters and no sons, meaning that whomever marries his eldest Meeka (Kiki Layne), will inherit the throne, as Zamunda has a "Kings Only" law. Akeem's Dad, King Jaffe Joffer (James Earl Jones) is literally on his deathbed and is worried that his only son is so "soft" that "he'll be assassinated in a week" by the leader of Zamunda's rival nation, Nextdoria. That fabled land is ruled by General Izzi (Wesley Snipes), brother of Imani Izzi (Vanessa Bell Calloway), the woman Akeem was betrothed to in the first film. Yes, she's still barking like a dog and hopping on one foot.
Izzi's son is a possible match for Meeka, but she wants no part of him, thereby failing to unite the two kingdoms. This is where Lavelle comes in. General Izzi has a daughter, Bopoto (Teyana Taylor), whose entrance in the film is nothing short of incredible. If Akeem had a male heir, he could marry her. After Baba (Arsenio Hall, again) reveals the prophecy of a male heir and Semmi corroborates it, Akeem drags Semmi back to Queens to pick up Lavelle. All the Judsons, including father figure Uncle Reem (Tracy Morgan), are willing to buy this strange man saying he's Lavelle's daddy once they realize how rich Zamunda is. Mary certainly remembers him. I can only imagine that, had this film been rated R instead of the punk-ass PG-13 it's saddled with, this scene would have ended with a trip to "The Maury Show."
Once Lavelle gets to Zamunda, "Coming 2 America" plays the original's story by swapping the locations for its young hero. But it's far less effective. Queens is a real place, and the neighborhood Akeem found himself in was full of characters, locales, and situations that would be familiar to Black viewers. Much of the comedy in "Coming to America" stemmed from Akeem's role as the audience's stand-in, navigating a world we were already familiar with and responding in a bemused, practically innocent fashion. Everything in this film's Zamunda is primarily a figment of its screenwriters' imagination, and as a result, much is lost in terms of relatable humor. Don't get me wrong—I'd still move to Zamunda in a heartbeat despite its man-eating lions (who get a supporting role here)—but Lavelle is no Prince Akeem. Fowler has little of the sweetness or joy Murphy brought to his first visit to Queens. Lavelle and his family seem lifted from a Madea movie. This was shot at Tyler Perry Studios, so perhaps I'm not wrong.
There's also bad blood between Lavelle and Meeka, who is rightfully pissed off that, after all her training and study, she's being kicked to the curb in favor of some aimless new sibling she just met. You can see the eventual outcome of Meeka's story arc coming from a mile away, but the movie still forces her to soften to Lavelle almost immediately and help him basically take her job. There's a lot of surface-level "girl power" in "Coming 2 America," but it's so superficial that it's a bit of an insult to Akeem's daughters. When Meeka finally unleashes her full powers in an exciting battle scene, it gets usurped by the film's crosscutting between her brother's plotline.
Additionally, the movie spends way too much time on a love story that has none of the pull of Akeem and Lisa. Despite their best efforts, Fowler and Nomzamo Mbatha are given little to work with while building their romance. Mbatha in particular is quite good as Mirembe but she can't sell this relationship. Again, the film purports to be all about the ladies, but they're repeatedly playing second fiddle and supporting the male characters. Whenever Lavelle and Mirembe were on screen, I kept thinking "I wonder what's going on at the My-T-Sharp right now?"
Thankfully, we get an answer to that question, with Murphy reprising his role as barbershop B.S. artist Mr. Clarence. He's joined again by Murphy's Jewish wiseacre, Saul, and Hall and Clint Smith in old man makeup. They're still arguing about boxing and all the other stuff you recall. "Coming 2 America" is at its best—and its funniest—when it's giving us these 2021 callbacks to the people we remember. The film's best emotional scene is a surprising visit to McDowell's, where Akeem and Cleo (again played by John Amos) have a conversation that features a poignant shout out to the late Madge Sinclair.
I wouldn't dream of spoiling any of the film's big surprises, because they're really all you have to look forward to here. Those, and the performance of Wesley Snipes, who once again waltzes into an Eddie Murphy movie and steals it in broad daylight with no getaway car. Snipes knows his character is ridiculous, so he plays it broader than the side of a barn. He relishes in wearing Carter's outfits, so much so that you wonder if Snipes brought those items from his own closet instead. General Izzi is not just funny, he's menacing as well, adding a welcome jolt to the proceedings.
"Coming to America" is my desert island movie. I've seen it a million times, to the point where I can just recite the dialogue from memory. I have neither laughed as hard nor heard as much sustained laughter as I did back in 1988 when Daryl's family left those Jheri Curl activator stains on the couch. A legitimate argument could be made that this review is too hard on its sequel. However, I believe that had I not known the original film, there would be little to no pleasure to be derived here. I did laugh, and when I did, it was out loud and with impunity. Unfortunately, there was enough downtime between those laughs that I started fixating on numerous plot issues. "Coming 2 America" is like attending your high school reunion: You'll enjoy seeing the familiar faces of those with whom you once shared such fond experiences, but then you'll realize that the nostalgia of that past is far more fulfilling than the harsher realities of the present.
Now available on Amazon.