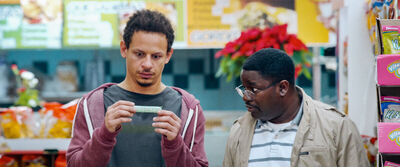 A smoothie shop employee with butterflies in his stomach and a bleeding right hand sits next to an older gentleman on a bench. "Can I ask you something?" he prefaces. The worker then proceeds to babble about his crush, Maria. Should he follow her to New York City, and leave Florida behind? The older man offers advice—speaking from the heart—and it fills the younger man's soul, so much that he leaps from the bench and bursts into song. It's this young guy's big romantic moment, and he dances away before almost getting hit by a car, and then sings at people inside a mall, in which one patron tries to side-kick him.
This hilarious sequence, which overlaps cliché storytelling with the unassuming public, is just one of many endearing moments in "Bad Trip," a hidden camera comedy gem starring Eric André, Lil Rel Howery, and Tiffany Haddish that's finally coming out on Netflix. Directed by Kitao Sakurai, the previous director behind numerous episodes of "The Eric André Show," it shows an evolution in the hidden camera subgenre, given its warming spirit about people. Unlike the films that previously defined the subgenre, it's not so much about creating a freak show from unsuspecting extras, but in noting what one would do when confronted with someone as delusional as André's character Chris. Natural human behavior can be extremely funny, and Sakurai and André know it's possible to bring it out of people without being mean-spirited. Footage in the end credits of the real people excited to learn that they're in a movie—a comfort for us as well—confirms the chaos is controlled physically and emotionally, and that allows it to be a party.
"Bad Trip" is an excellent showcase for Eric André—it's more mainstream than his talk-show-in-hell "The Eric André Show" and less watered down than his recent resume-boosting, commercial work like "The Lion King" and elsewhere. This role lets him scream, sprint, crash into things, and show off that he's a sweetheart who wants to include you his absurdity. It's no stretch to say that André is going to be a huge comedic force—I knew this when I caught his Legalize Everything stand-up tour in Chicago in 2019, when he had a sold-out Chicago Theater completely wrapped up in his FaceTime-ing with the parents of random audience members. He's an affable anarchist with Robin Williams-like verve, and this project lets his burgeoning persona run wild alongside what the film advertises as "Real People. Real Pranks."
André's hilarious earnest Chris is joined in the movie by Lil Rel Howery, who would have been known enough at the time of filming from his scene-stealing turn in "Get Out," but is disguised as Chris' reserved friend Bud. They have adorable chemistry as two friends in Florida who decide to drive to New York to reunite Chris with his high school crush Maria (Michaela Conlin) after two disastrous brief run-ins at Eric's jobs. They support each other, like when Chris gets extremely drunk at a cowboy bar, or Bud finds himself inside a Porta Potty. Chris is the wide-eyed dreamer, and Bud is the demure rationalist. Their chemistry is as pure as the Golden Girls, so "Thank You For Being a Friend" is featured prominently in the soundtrack, in between scenes of slapstick pranks that further their road trip.
When Bud and Chris need a car to get to New York City, they "borrow" the bright pink Crown Vic that belongs to Bud's sister, Trina (Tiffany Haddish), who Bud fears but is relieved when she's put in jail for breaking house arrest. And yet soon enough, Haddish crawls out from under a prison bus, having broken out and starts looking for her car. When it's not where she stored it, she hunts Bud and Chris up the Eastern seaboard, making for some incredibly funny, abrasive scenes of her confronting people about whether they've seen them or her car that has "Bad Bitch" written on the window. Haddish bulldozes into every set-piece, exemplifying the film's over-the-top spirit. When talking to progressively uncomfortable strangers, she doesn't miss a beat and she relishes the opportunity to appear dangerous; when she steals a cop car and burns out of a donut shop parking lot, it's one of her many triumphant moments.
"Bad Trip" is a collision of great improvisational actors and authentically bewildered reactions from people unaware that they're now in Chris' story—which makes Michaela Conlin's performance as Maria all the more an essential middle to its Venn diagram. She enters the movie also as an innocent bystander, but that's a deceptive comic energy that plays out in very funny ways as she pushes back against Chris' delusions. In Chris' prank-based daydreams, Conlin matches André's intensity; that she has to play it straight in later scenes adds to the tension she creates, like when Chris tries to profess his love to her.
Just how funny is "Bad Trip"? After two viewings, it's one of those comedies with a stable laughing average and high replay value, even if it doesn't always hit you as hard. It knowingly plays a hit-and-miss game, and some scenes don't entirely work (like a grocery store drug trip that plays out like a soft tribute to "The Eric Andre Show"), while other pranks go for discomfort more than big laughs (like when Chris gets gas springing all over a gas station). But the movie has speediness on its side, with pacing that takes the plotting from one prank to the next, often including crowds of people in the latest big dramatic confrontation that comes from Bud and Chris' expected emotional arc. (A sudden car crash sequence is particularly well planned out, with cameras and extras ready nearby.) It's a steady build to its ultimate destination of NYC, and every major set piece is constructed to bubble with discomfort before then skyrocketing over the top. An early scene at Chris' smoothie shop job only begins with him making the drinks without spoons—it escalates to awkward tension with disgusted, annoyed customers, and then boom, a laugh-out-loud, gory finale that hits with impeccable, unexpected timing.
If certain parts of "Bad Trip" aren't as out-and-out cry-laughing as the work put into them desires, the story is still involving as it adds the dimensionality of unscripted human behavior. And it doesn't continue the hidden camera movie's waning intention of dunking on dummies, a factor that also makes this story more fluid than the start-and-stop traps, primed for reaction shots, in something like "Jackass"-spinoff like "Bad Grandpa." That's the true sweet spot, in how its pranks are engineered to get the unexpected to interact with Bud, Chris, and or Trina, and see if strangers try to help. ("You turned on us!" says Chris, after a golfer starts swinging a club at Chris and Bud while their penises are enjoined by a Chinese fingertrap.) An amazing scene comes at a tense mid-point, when Trina appears at a restaurant, spreading around fliers with Bud and Chris' dopey faces on them, advertising her desire to kill the two. She leaves. Bud and Chris then show up at the same place minutes later, and everyone's response, with some people trying to warn them, and others not wanting to get caught in the middle, is incredible. "Bad Trip" knows how to stir things up, and its funniest scenes often involve real people getting in the mix, tested by the brilliant skills of André, Howery, and Haddish. The ways that some people react to their pranks might shock you in some ways, and absolutely will not in others.
Now available on Netflix.