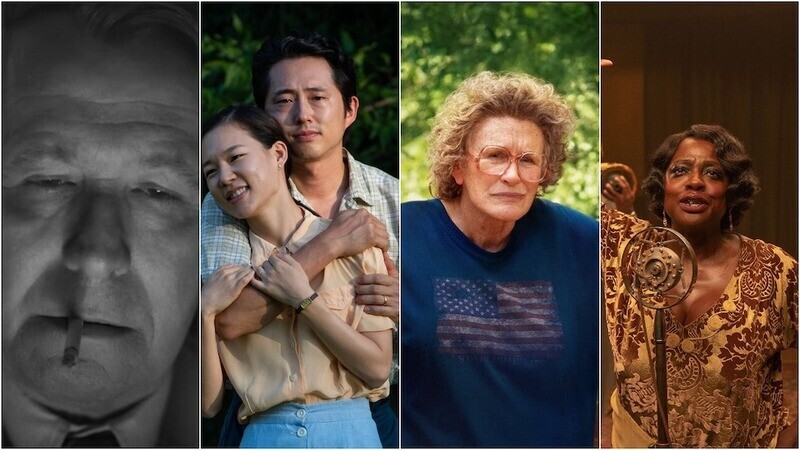 Matt writes: On March 15th, the 2021 Oscar nominees were announced, and though David Fincher's "Mank" scored the most nominations, the clear frontrunner in the Best Picture category is Chloé Zhao's "Nomadland," followed closely behind by Lee Isaac Chung's "Minari." Don't miss Susan Wloszczyna's report on the nominees as well as Robert Daniels' impassioned essay on the Academy's failure to represent the diverse quality of Black cinema in 2020.
Trailers
Shiva Baby (2021), red-band trailer. Written and directed by Emma Seligman. Starring Rachel Sennott, Molly Gordon, Polly Draper. Synopsis: At a Jewish funeral service with her parents, a college student runs into her sugar daddy. Debuts in the US on April 2nd, 2021.
Four Good Days (2021). Directed by Rodrigo García. Written by Rodrigo García and Eli Saslow. Starring Mila Kunis, Glenn Close, Stephen Root. Synopsis: A mother helps her daughter work through four crucial days of recovery from substance abuse. US release date is TBA.
Stowaway (2021). Directed by Joe Penna. Written by Joe Penna and Ryan Morrison. Starring Anna Kendrick, Daniel Dae Kim, Toni Collette. Synopsis: A stowaway on a mission to Mars sets off a series of unintended consequences. Debuts on Netflix on April 22nd, 2021.
Drunk Bus (2021). Directed by John Carlucci and Brandon LaGanke. Written by Chris Molinaro. Starring Charlie Tahan, Kara Hayward, Zach Cherry. Synopsis: A directionless, young campus bus driver and a punk rock, Samoan security guard named Pineapple form an unlikely kinship as they navigate the unpredictable late shift shit show known as the "drunk bus." US release date is TBA.
We Broke Up (2021). Directed by Jeff Rosenberg. Written by Laura Jacqmin and Jeff Rosenberg. Starring Aya Cash, William Jackson Harper, Sarah Bolger. Synopsis: Lori and Doug, a longtime couple who break up just days before Lori's little sister Bea's wedding to Jayson. In order to not disrupt the fun, the couple decides to pretend they're still together until the weekend is over. Debuts in the US on April 23rd, 2021.
Separation (2021). Directed by William Brent Bell. Written by Nick Amadeus and Josh Braun. Starring Rupert Friend, Brian Cox, Madeline Brewer. Synopsis: A young girl finds solace in her artist father and the ghost of her dead mother. Debuts in the US on April 30th, 2021.
Finding You (2021). Written and directed by Brian Baugh. Starring Katherine McNamara, Vanessa Redgrave, Saoirse-Monica Jackson. Synopsis: Finley, a talented aspiring violinist, meets Beckett, a famous young movie star, on the way to her college semester abroad program in a small coastal village in Ireland. An unexpected romance blossoms. Debuts in the US on May 14th, 2021.
The Last Cruise (2021). Directed by Hannah Olson. Synopsis: A terrifying origin story of the pandemic, chronicling the first and largest outbreak of the novel coronavirus outside China: the Diamond Princess cruise liner. Through never-before-seen footage from passengers and crew, we watch class divisions erupt as humanity misses its chance to contain Covid-19. Debuts today on HBO.
WeWork: Or the Making and Breaking of a $47 Billion Unicorn (2021). Directed by Jed Rothstein. Synopsis: An account of the six-week death spiral that brought down the company's IPO, a behind-the-scenes look at WeWork's frat-boy culture. Debuts on Hulu on April 2nd, 2021.
Concrete Cowboy (2021). Directed by Ricky Staub. Written by Ricky Staub and Dan Walser. Starring Idris Elba, Lorraine Toussaint, Caleb McLaughlin. Synopsis: A teenager discovers the world of urban horseback riding when he moves in with his estranged father in North Philadelphia. Debuts on Netflix on April 2nd, 2021.
In the Earth (2021). Written and directed by Ben Wheatley. Starring Joel Fry, Reece Shearsmith, Hayley Squires. Synopsis: As the world searches for a cure to a disastrous virus, a scientist and park scout venture deep in the forest for a routine equipment run. Debuts in US theaters on April 30th, 2021.
The Night House (2021). Directed by David Bruckner. Written by Ben Collins and Luke Piotrowski. Starring Rebecca Hall, Stacy Martin, Sarah Goldberg. Synopsis: A widow begins to uncover her recently deceased husband's disturbing secrets. Debuts in the US on July 16th, 2021.
Boys from County Hell (2021). Written and directed by Chris Baugh. Starring Jack Rowan, Nigel O'Neill, Louisa Harland. Synopsis: A crew of hardy road workers, led by a bickering Father and Son, must survive the night when they accidentally awaken an ancient Irish vampire. US release date is TBA.

Voyagers (2021). Written and directed by Neil Burger. Starring Colin Farrell, Tye Sheridan, Isaac Hempstead Wright. Synopsis: A crew of astronauts on a multi-generational mission descend into paranoia and madness, not knowing what is real or not. Debuts in the US on April 9th, 2021.
Giants Being Lonely (2021). Directed by Grear Patterson. Written by Grear Patterson and Sam Stillman. Starring Alejandro Castro Arias, Tal Chatterjee, Amalia Culp. Synopsis: A pair of players on a successful high school baseball team, the Giants, come of age in the American South. Debuts in the US on April 1st, 2021.
Tiny Tim: King for a Day (2021). Directed by Johan von Sydow. Synopsis: The story about the outcast, Herbert Khaury's rise to stardom as Tiny Tim. Either considered a freak or a genius Tiny Tim left no one unaffected. US release date is TBA.
Limbo (2021). Written and directed by Ben Sharrock. Starring Kwabena Ansah, Vikash Bhai, Grace Chilton. Synopsis: Omar is a promising young musician. Separated from his Syrian family, he is stuck on a remote Scottish island awaiting the fate of his asylum request. Debuts in the US on April 30th, 2021.
Wrath of Man (2021). Directed by Guy Ritchie. Written by Guy Ritchie, Ivan Atkinson and Marn Davies (based on the screenplay by Nicolas Boukhrief). Starring Jason Statham, Scott Eastwood, Jeffrey Donovan. Synopsis: The plot follows H, a cold and mysterious character working at a cash truck company responsible for moving hundreds of millions of dollars around Los Angeles each week. Debuts in the US on May 7th, 2021.
Video Interview: "Soul"
Matt writes: In this exclusive virtual Q&A, RogerEbert.com publisher Chaz Ebert talks with director Pete Docter, co-writer/director Kemp Powers and producer Dana Murray about their PGA award-winning Pixar film, "Soul," for the Mill Valley Deadline Contenders and the California Film Institute. You can watch their full conversation in the video embedded above and read all about it here.
Matt writes: Among the many towering talents we lost in recent days is Bertrand Tavernier, the legendary director whose 1992 film, "L.627," screened at Ebertfest in 2003. Read Scout Tafoya's obituary, Lisa Nesselson's tribute and our special edition of Thumbnails dedicated to the BAFTA-winning filmmaker, who passed away on March 25th at age 79.
Free Movies
Hell and High Water (1954). Directed by Samuel Fuller. Written by Samuel Fuller and Jesse Lasky Jr. Starring Richard Widmark, Bella Darvi, Victor Francen. Synopsis: During the Cold War, a scientific team refits a Japanese submarine and hires an ex-Navy officer to find a secret Chinese atomic island base and prevent a Communist plot against America that could trigger WW3.
House of Bamboo (1955). Directed by Samuel Fuller. Written by Harry Kleiner and Samuel Fuller. Starring Robert Ryan, Robert Stack, Shirley Yamaguchi. Synopsis: Planted in a Tokyo crime syndicate, a U.S. Army Investigator attempts to probe the coinciding death of a fellow Army official.
Suburbia (1983). Written and directed by Penelope Spheeris. Starring Chris Pedersen, Bill Coyne, Jennifer Clay. Synopsis: When household tensions and a sense of worthlessness overcome Evan, he finds escape when he clings with the orphans of a throw-away society.