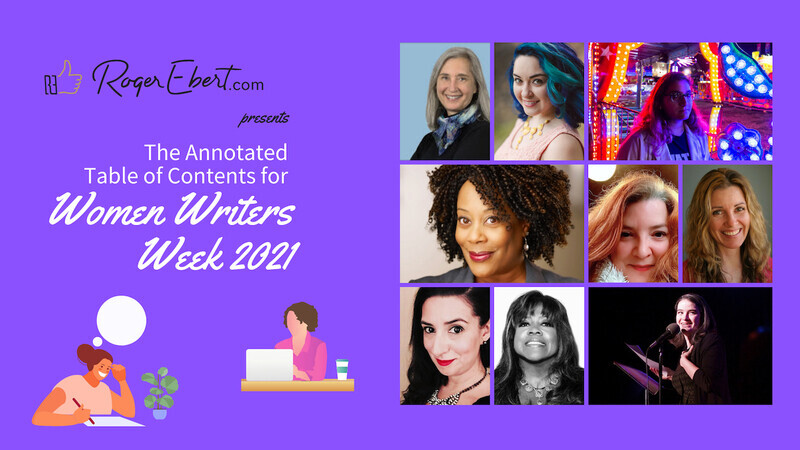 Matt writes: From March 8th through the 12th, RogerEbert.com celebrated Women Writers Week 2021 by showcasing the work of our marvelous female writers, from our Assistant Editor Nell Minow and regular critics Christy Lemire, Sheila O'Malley, Tomris Laffly and Monica Castillo to our cherished contributors Farren Smith Nehme, Roxana Hadadi, Carla Renata, Olivia Collette, Jennifer Merin, Joyce Kulhawik, Marya E. Gates, Arielle Bernstein, Justine Smith, Laura Emerick, Susan Wloszczyna, Sarah Knight Adamson, Mary Beth McAndrews, Hannah Benson, Kayleigh Donaldson, Cristina Escobar and Allison Shoemaker, in addition to republished work by Angelica Jade Bastién, Whitney Spencer, Abby Olcese and Katherine Tulich. You can find the full table of contents here and an annotated version featuring the bios of each featured writer here. Read Chaz Ebert and Nell Minow's introduction to the week here.
Trailers
In the Heights (2021). Directed by Jon M. Chu. Written by Quiara Alegría Hudes (based on the musical by Lin-Manuel Miranda and Quiara Alegría Hudes). Starring Stephanie Beatriz, Lin-Manuel Miranda, Ariana Greenblatt. Synopsis: A feature version of the Broadway musical, in which a bodega owner has mixed feelings about closing his store and retiring to the Dominican Republic after inheriting his grandmother's fortune. Debuts in the US on June 18th, 2021.
Disintegration Loops (2021). Directed by David Wexler. Synopsis: As the 20th anniversary of 9/11 looms near, William Basinski contemplates the enduring legacy of "The Disintegration Loops" (his elegy to the 2001 Attacks), while quarantined in the midst of COVID-19. US release date is TBA.
Every Breath You Take (2021). Directed by Vaughn Stein. Written by David Murray. Starring Michelle Monaghan, Sam Claflin, Casey Affleck. Synopsis: A psychiatrist, whose client commits suicide, finds his family life disrupted after introducing her surviving brother to his wife and daughter. Debuts in the US on April 2nd, 2021.
Here Are the Young Men (2021). Written and directed by Eoin Macken (based on the novel by Rob Doyle). Starring Anya Taylor-Joy, Travis Fimmel, Susan Lynch. Synopsis: Dublin teenagers Matthew, nihilistic Rez, and the deranged Kearney, leave school to a social vacuum of drinking and drugs, falling into shocking acts of transgression. US release date is TBA.
The Unholy (2021). Written and directed by Evan Spiliotopoulos (based on the novel by James Herbert). Starring Jeffrey Dean Morgan, Cary Elwes, Katie Aselton. Synopsis: A hearing-impaired girl is visited by the Virgin Mary and can suddenly hear, speak, and heal the sick. As people flock to witness her miracles, terrifying events unfold. Are they the work of the Virgin Mary or something much more sinister? Debuts in the US on April 2nd, 2021.
Monday (2021). Directed by Argyris Papadimitropoulos. Written by Rob Hayes and Argyris Papadimitropoulos. Starring Sebastian Stan, Denise Gough, Dominique Tipper. Synopsis: A spark on a Friday can lead to a sizzling weekend fling, but what happens when you get to the inevitable Monday? Debuts in the US on April 16th, 2021.
Moffie (2021). Directed by Oliver Hermanus. Written by Oliver Hermanus and Jack Sidey (based on the book by André Carl van der Merwe). Starring Kai Luke Brummer, Barbara-Marié Immelman, Michael Kirch. Synopsis: A young man in 1981 South Africa must complete his brutal and racist two years of compulsory military service while desperately maintaining the secrecy of his homosexuality. Debuts in the US on April 9th, 2021.
Oxygen (2021). Directed by Alexandre Aja. Written by Christie LeBlanc. Starring Mélanie Laurent, Mathieu Amalric, Marc Saez. Synopsis: A woman wakes in a cryogenic chamber with no recollection of how she got there, and must find a way out before running out of air. Debuts on Netflix on May 12th, 2021.
City of Lies (2021). Directed by Brad Furman. Written by Christian Contreras (based on the book by Randall Sullivan). Starring Johnny Depp, Forest Whitaker, Toby Huss. Synopsis: Russell Poole and Jack Jackson investigate the murders of rappers Notorious B.I.G. and Tupac Shakur. Debuts in the US on March 19th, 2021.
He Dreams of Giants (2021). Directed by Keith Fulton and Louis Pepe. Synopsis: 15 years after 2002's "Lost in La Mancha," Keith Fulton and Louis Pepe come back to follow Terry Gilliam's new (successful) attempt at filming "The Man Who Killed Don Quixote." US release date is TBA.
Amundsen: The Greatest Expedition (2021). Directed by Espen Sandberg. Written by Ravn Lanesskog. Starring Pål Sverre Hagen, Christian Rubeck, Katherine Waterston. Synopsis: The life and facts of Norwegian explorer Roald Amundsen, the first man to arrive on the South Pole. US release date is TBA.
Thunder Force (2021). Written and directed by Ben Falcone. Starring Jason Bateman, Pom Klementieff, Melissa McCarthy. Synopsis: In a world where supervillains are commonplace, two estranged childhood best friends reunite after one devises a treatment that gives them powers to protect their city. Debuts on Netflix on April 9th, 2021.
Without Remorse (2021). Directed by Stefano Sollima. Written by Taylor Sheridan and Will Staples (based on the novel by Tom Clancy). Starring Michael B. Jordan, Jodie Turner-Smith, Jamie Bell . Synopsis: Seeking justice for the murder of his pregnant wife, an elite Navy SEAL uncovers a covert plot that threatens to engulf the United States and Russia in an all-out war. Debuts on Prime Video on April 30th, 2021.

Voyagers (2021). Written and directed by Neil Burger. Starring Colin Farrell, Tye Sheridan, Isaac Hempstead Wright. Synopsis: A crew of astronauts on a multi-generational mission descend into paranoia and madness, not knowing what is real or not. Debuts in the US on April 9th, 2021.
The Seventh Day (2021). Written and directed by Justin P. Lange. Starring Guy Pearce, Keith David, Stephen Lang. Synopsis: A renowned exorcist who teams up with a rookie priest for his first day of training. As they plunge deeper into hell on earth, the lines between good and evil blur, and their own demons emerge. Debuts in the US on March 26th, 2021.
Operation Varsity Blues (2021). Directed by Chris Smith. Synopsis: Reenactments drive this documentary investigating the mastermind behind a scam to sneak the kids of rich and famous families into top US universities. Debuts on Netflix on March 17th, 2021.
About Endlessness (2021). Written and directed by Roy Andersson. Starring Bengt Bergius, Anja Broms, Marie Burman. Synopsis: Roy Andersson adds to his cinematic oeuvre with a reflection on human life in all its beauty and cruelty, its splendour and banality. Debuts in the US on April 30th, 2021.
My Beautiful Stutter (2021). Directed by Ryan Gielen. Synopsis: The documentary follows five kids who stutter ages 9 to 18, from all over the United States, who after experiencing a lifetime of bullying and stigmatization, meet other children who stutter at an interactive arts-based program, The Stuttering Association for the Young, based in New York Cit. Now available in the US.
A Concerto is a Conversation
Matt writes: Among the Oscar nominees announced yesterday was "A Concerto is a Conversation," jazz pianist/composer Kris Bowers and Ben Proudfoot's documentary short on the fascinating lineage of Bowers' family. Watch the film in the video embedded above and read Laura Emerick's essay on the film here.
Female Film Critics Panel
Matt writes: Last week, CherryPicks and Cinema Femme teamed up to host a virtual panel featuring esteemed female film critics Claudia Puig (President, LA Film Critics Association, KPCC), Inkoo Kang (The Hollywood Reporter), Aramide Tinubu (Essence & Indiewire) and Kathia Woods (Cup of Soul, AAFCA), moderated by Tasha Robinson (Polygon). You can watch the full conversation in the video embedded above and read Hilda Somarriba's preview article here.
Free Movies
I Shot Jesse James (1949). Written and directed by Samuel Fuller (based on an article by Homer Croy). Starring Preston Foster, Barbara Britton, John Ireland. Synopsis: Bob Ford murders his best friend Jesse James in order to obtain a pardon that will free him to marry his girlfriend but is plagued by guilt and self-disgust.
Park Row (1952). Written and directed by Samuel Fuller. Starring Gene Evans, Mary Welch, Bela Kovacs. Synopsis: The Globe is a small, but visionary newspaper started by Phineas Mitchell, an editor recently fired by The Star. The two newspapers become enemies, and the Star's ruthless heiress Charity Hackett decides to eliminate the competition.
Forty Guns (1957). Written and directed by Samuel Fuller. Starring Barbara Stanwyck, Barry Sullivan, Dean Jagger. Synopsis: Showdown in Arizona between the Bonnell brothers, U.S.Marshals, and Jessica Drummond, the iron-fist rancher who controls the territory.