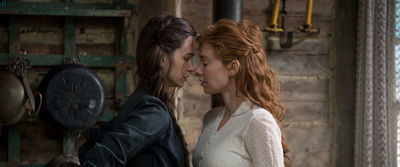 A secluded homestead pitched amid icy woods is aptly the first image we see in "The World to Come," Mona Fastvold's monotonously mannered 19th century frontier romance that sparks between two lonely women. With an unvaryingly soft voiceover, Abigail (Katherine Waterston) serves as the narrator of the tale through poetic words she puts down in her diary. "Ice in our bedroom this morning for the first time all winter," she says on January 1st, as if to unsubtly emphasize the chill she feels towards her husband inside their bed sheets that the cold winter can't entirely be blamed for. "With little pride and less hope and only occasional and uncertain intervals of happiness, we begin the new year," she continues.
Yes, Abigail is forlorn and the exceedingly melancholic, often sleepy "The World to Come" won't let you forget it even for a moment; even when this delicate woman with a broken spirit finally (albeit briefly) finds love and companionship in secret. It isn't that pensiveness is necessarily the wrong note for a story of doomed love that blossoms in an intolerant and patriarchal era and society. But Fastvold's feature, which unfolds across four seasons, hits on it so ceaselessly that one often craves the jolt of energy that a yarn centering on an against-the-odds romance should exude. What emerges between Abigail and Tallie (Vanessa Kirby), a flame-haired new neighbor renting a nearby farm with her abusive husband, is a soulful affair you unambiguously root for. But the film's strangely wooden timbre reigns over it to overpowering effect, making you wonder when its lead characters would at long last break out of it. Sadly, they rarely do, and co-writers Ron Hansen and Jim Shepard (adapting Shepard's short story) don't furnish their script with enough anticipation for the audience to nibble on.
Before meeting Tallie, Abigail's life is defined by the hard farm work she bears alongside her wistful husband Dyer (Casey Affleck). The two are grieving after tragically losing their young daughter to illness. Everything feels dead-end in their lives, until Tallie and Finney (Christopher Abbott) arrive. We detect a visible and immediate connection between Abigail and Tallie's blushing peaches-and-cream faces. We hope instantly that they'll act on it and through their gradually swelling relationship, the pair doesn't disappoint. Soon, brief but intimate afternoon hangouts by the fire grow into longer ones, leading to stolen embraces and kisses as well as time spent in the woods reading poetry to each other. Later, their acts take an even braver turn, despite the increasing suspicions of their husbands. And when Finney and Tallie heartbreakingly disappear one day, the adventurous and spirited Abigail hits the road to find her ill-fated lover, armed with nothing but an atlas.
Through all this emotional turmoil, something remains curiously overformal in "The World to Come." Clad in the era's tight corsets, full skirts, and daintily cut blouses (looking all too clean considering the rough and rural environment), Waterston and Kirby don't quite manage to sell their chemistry to the audience. Often, you feel forced to accept the former's sad history double as depth, and the latter's long, curiously immaculate red curls straight out of Pixar's "Brave" as mystique. But the emotional substance to back these cues rarely emerges in the film. Daniel Blumberg's moody score of affecting woodwinds and strings tries to fill in for some of that shortage. So does André Chemetoff's expansively pastoral cinematography, whose magical touch on the vibrant exteriors and cozily-lit interiors of candles and log fires stood out even on this critic's low-quality digital screener. But the film's general lifelessness nevertheless persists.
Timeless love stories are often born from repetitive themes such as class divergence, feuding families and forbidden attraction. In that regard, it's perhaps not entirely necessary to compare "The World to Come" to Céline Sciamma's masterful "Portrait of a Lady on Fire" or Francis Lee's less successful and often emotionally distancing "Ammonite," two recent period (and white) lesbian romances. After all, we are allowed to have multiple, similarly-premised entries into the LGBTQ+ cinema, without disparaging one's existence by continuously stressing the ultimate superiority of the other. But given the growing prolificacy of this subgenre, perhaps it is useful to note in context that "The World to Come" neither possesses the sense of female liberation deeply felt in "Portrait" nor the weight of societal burden that's depicted in "Ammonite" with some eloquence. This film's world is bizarrely insular and indistinct, forcing the audience to fill in all the blanks about these women's everyday hardships beyond their husbands. (Meanwhile, Affleck and Abbott deserve some acclaim here for registering fairly memorable performances despite being given nothing but paint-by-numbers traits.)
The aforesaid lack of world building puts a lot on the joint shoulders of Waterston and Kirby. But these otherwise stellar performers feel all too one-note, delivering every line like it's being whispered and every facial gesture with some detachment. And despite a tear-jerking ending, one odd choice in the concluding moments of "The World to Come" feels like a betrayal to the two females in love, whose privacy in the bedroom the film chooses to respect only until the finale. While there wouldn't have been anything wrong with showing frank sex scenes between Abigail and Tallie throughout the movie, saving them for a memory montage on the heels of a painful tragedy devalues their trysts marked by mutual respect, intellectual bonding and desire. You long for something evocative and warm throughout "The World to Come," only to leave it with a minor shiver.
Now available in theaters, and available on digital on March 2.