The 2020 Frontrunners for Best Picture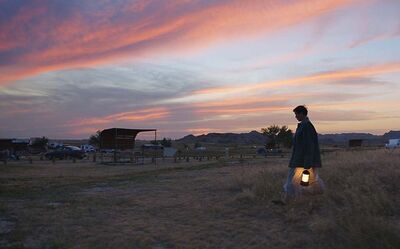 What a weird, wild and sometimes wonderful virtual Oscar season this has been. And it is far from over, given that we are about two months out from the 93rd ceremony that will take place on April 25—the latest date ever. With some film productions having to shut down due to the coronavirus epidemic, the academy decided to extend the season by two months, with the qualifying end date of Feb. 28, 2021. Nominations will be announced on March 14, 2021.
The season might have been maximized, but the movies up for honors got smaller. With many theaters shuttered last year due to safety concerns, major studios pulled many of the big-budget blockbusters such as the 007 adventure "No Time to Die," the new version of the musical "West Side Story," Wes Anderson's "The French Dispatch," Ridley Scott's "The Last Duel" and the Aretha Franklin biopic "Respect," starring Jennifer Hudson.
What we were left with were more intimate, art-house-y, multicultural and diverse talent in front of and behind the camera that showed up on streaming sites like Netflix, Amazon, Hulu and Disney+ or on VOD. But one movie was swiftly designated as the one to beat: Chloe Zhao's transcendent "Nomadland." When it premiered at the Venice Film Festival in early September, it won the Golden Lion. It also claimed the People's Choice Award at Toronto International Film Festival later that month. The tale of itinerant gig workers who chose to live in their RVs after the Great Recession while freely roaming the American West, which stars two-time Best Actress winner Frances McDormand, was quickly pegged as the front-runner to beat.
Some well-received late arrivals that might bump some of the likely contenders below include "Judas and the Black Messiah," about Fred Hampton (an electrifying Daniel Kaluuya), the murdered radical chairman of the Illinois Black Panther Party, who was taken down by an FBI informant (LaKeith Stanfield); "Sound of Metal," about a rock drummer (Riz Ahmed) who must cope with losing his hearing; and "Soul," a Pixar animated film about a jazz musician (voiced by Jamie Foxx) who dies just before he gets his big break and ends up as a soul in the "Great Beyond." It has a chance to become the third Pixar title to compete in the category after 2009's "Up" and 2010's Toy Story 3."
This year, academy voters can still name between five to 10 nominees for Best Picture, but next year, they will be allowed to fill all 10 slots. Here are the favorites to find a spot on the ballot for Oscar's top prize.
1. "Nomadland" (Searchlight): Frances McDormand could win a third Best Actress Oscar for her role as Fern, a middle-aged widow whose job at a small-town gypsum mine is forced to closed. She decides to buy a van and hit the road while looking for work ranging from Amazon fulfillment centers and cleaning bathrooms at RV parks. Zhao, whose breakout film "The Rider," surrounds McDormand with actual nomads who give Fern tips and become her colorful and compassionate companions. Mother Nature, meanwhile, provides the perfect panorama for lifting our pandemic blues. If "Nomadland" triumphs, it will be the second time that a female-directed Best Picture has won after Kathryn Bigelow's "The Hurt Locker" in 2009.
2. "The Trial of the Chicago 7" (Netflix): Writer and director Aaron Sorkin serves up more traditional Oscar bait with a courtroom drama that delves into the trial of protest leaders accused of inciting a riot during a protest at the 1968 Democratic National Convention. The mostly male cast is a virtual who's who of talent with Sacha Baron Cohen as a stand-out as Yippie Abbie Hoffman and Frank Langella as a weirdly clueless judge whose verbal outbursts often lend an element of farce to the proceedings. Given that political protests are in vogue again, this landmark case will resonate with boomer voters as well as with younger ones.
3. "Minari" (A24): Director and writer Lee Isaac Chung mines his own childhood for this tale of a young South Korean family who moves from California to rural Arkansas in the 1980s with the hopes of growing produce from their homeland. While patriarch Jacob (Steven Yeun) is fixated on his pursuit, his wife Monica (Yeri Han) is less enthralled with their pre-fab house stuck in the wilderness. To help keep an eye on their 6-year-old son David (scene stealer Alan S. Kim) and tween daughter Anne (Noel Kate Cho), grandmother Soonja (veteran actress Yuh-Jung Youn) soon joins them. Initially, David resents sharing his bedroom with his granny, but the pair become thick as thieves as they share a love of Mountain Dew and nature walks. Over a year ago, "Minari" won Sundance's U.S. Dramatic Grand Jury Prize and U.S. Dramatic Grand Jury Award.
4. "Ma Rainey's Black Bottom" (Netflix): Based on a play by August Wilson and directed by theater veteran George C. Wolfe, "Ma Rainey's Black Bottom" is bound to feel a wee bit stage bound, given that much of the action takes place in a cramped rehearsal room and a recording studio where the Queen of the Blues is making an album. However, Viola Davis brings a fiery swagger to the larger-than-life singing legend with her bountiful bosom, silver teeth and kohl-rimmed eyes as her diva attitude takes the film to a higher level. Yet the most memorable performance is given by the late Chadwick Boseman. He seethes and sasses as the boastful and ambitious trumpeter Levee. He not only dares to deride the elder musicians, but he dares to seduce Ma's girlfriend under her nose. But his explosive temper leads to a tragic end to his story. If Wolfe is nominated for his helming, he could become the first Black director to win a Best Director honor.
5. "One Night in Miami" (Amazon Studios): Regina King, the Oscar-winning actress for 2018's "If Beale Street Could Talk," makes her feature directing debut in this film that portrays a fictionalized meeting between Nation of Islam leader Malcolm X (Kingsley Ben-Adir), football star Jim Brown (Aldis Hodge), singer Sam Cooke (Leslie Odom Jr.), and Cassius Clay (Eli Goree) after a 1964 heavyweight title fight in Miami. Verbal sparring ensues as Malcolm X tells Cooke he is a sell-out for pandering to white patrons rather than the black community. Clay shares he is going to convert to the Nation of Islam while Brown is considering a career as a film actor. But Malcolm X is nervous about his own future while being harassed by the FBI and considering leaving the Nation of Islam. While the hotel room backdrop makes it feel a bit like a play, listening to the quartet debate issues of the day proves transfixing enough. King could make history two ways—by being the second woman to win Best Director and the first Black director to win.
6. "Promising Young Woman" (Focus Features): Emerald Fennell, an actress and Emmy-winning Season 2 showrunner for "Killing Eve," makes a wham-bang feature directing debut that takes the #MeToo movement to the next level of accountability. Carey Mulligan stars as a 30-year-old medical school drop-out who still lives with her parents. By day, she is a barista. By night, she entraps men into picking her up by acting drunk at bars. When they invariably take her to their place to take advantage of her inebriated state, she reveals that she is stone-cold sober and questions what they are up to. That is her way of dealing with the loss of her best friend who was raped by a classmate while she was drunk. She takes on other targets such as the female dean of the medical school who refused to look into the case. The twisty ending to the film is up for some debate. But there is no denying that this is quite a timely and much-needed story to tell. Fennell could also be in the running for the second woman to claim the Best Director prize.
7. "Mank" (Netflix): The word on the street is that, much like Netflix's "The Irishman" last year, "Mank" will likely amass a mountain of nominations, both above and below the line. But despite Martin Scorsese's mob tale's 10 nominations, it went home empty-handed. As for David Fincher's depiction of the alcoholic screenwriter Herman J. Mankiewicz played by Oscar winner Gary Oldman (2016's "Darkest Hour"), the film focuses on his struggles to finish the script for Orson Welles's 1941 classic "Citizen Kane." A trophy for its black-and-white cinematography might be its best bet along with costumes, hair and makeup and production design.
8. "The Father" (Sony Pictures Classics): Dementia was a common theme in many movies this season, from the acclaimed documentary "Dick Johnson is Dead" to "Supernova" with Stanley Tucci as a writer whose memory is fading as he takes one last road trip with his partner, Colin Firth. But "The Father" is a step above in this feature debut by French director Florian Zeller. He is helped by a cast headed by two of the most acclaimed Oscar-winning actors of our time, Olivia Colman (2018's "The Favourite") and Anthony Hopkins (1991's "The Silence of the Lambs"). Colman's Anne decides to move in with her ailing dad and takes on the task of being his caretaker while the audience is placed into the mind of someone whose memories are being erased.
9. "Da 5 Bloods" (Netflix): What does Spike Lee have to do to finally win a Best Picture or directing Oscar? Perhaps those awards will come for this epic story of four aging Black Vietnam War veterans who return to the country to find the remains of their fallen squad leader, as well as the treasure they left behind. The under-appreciated Delroy Lindo might finally get a shot at an Oscar nomination while Chadwick Boseman might get a second posthumous nod in the supporting category for his "Stormin" Norman Earl Holloway, the men's fallen leader. Also Lee's in-house composer Terence Blanchard might get a second nomination for his original score, following his first for 2018's "BlacKkKlansman."
10. "News of the World" (Universal Pictures): Set in 1870 and directed by Paul Greengrass, Tom Hanks is front and center as Confederate Captain Jefferson Kyle Kidd, a widower—who along with the rest of the country—is trying to come to terms with the division, death and devastation still haunting the country. He makes a living traveling from town to town and reading aloud from newspapers. He gets waylaid when he encounters a girl named Johanna (12-year-old German newcomer Helena Zengel) beside a overturned wagon. He agrees to return the girl, who was living with Native Americans, to her surviving family.