Sundance 2021: The Sparks Brothers, Amy Tan: Unintended Memoir, Rita Moreno: Just A Girl Who Decided to Go For It, Ailey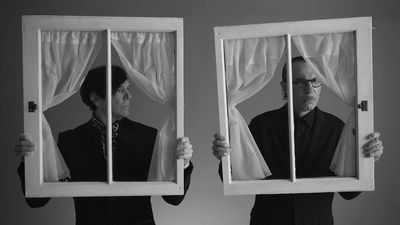 Edgar Wright really wants you to listen to the music of Russell and Ron Mael, also known as Sparks. And instead of just recommending a song, or making a playlist, he's assembled "The Sparks Brothers," a 140-minute tribute to the brotherly duo's long career. Wright has brought in a group of famous faces to show just how well-known they are by the people you like, and he's made it all honor the feel and theatricality of the band's live performances. It's a mighty convincing recommendation to start listening to Sparks.
From a technical standpoint, Wright has made a more whiz-bang documentary when it comes to this ilk. There are zillions of documentaries out there about musical artists who never got the recognition they deserved, and while those films can be reliable for recommendations, they're not always the brightest harbors for filmmaking. But Wright counters that with clear energy and enthusiasm from the jump, showing the chronology of this group from one hooky song to the next, presented with cleverness, lots of quick cuts, and an unpredictable style—you never know if the next passage is going to have claymation or stick figures for a reenactment, or which celebrity is going to pop in with a meaningful reflection on what the band symbolizes. Given the band's own sense of humor, which the movie includes you in on by showing Russell and Ron interviewed with such lack of self-seriousness, the kooky, lively approach is fitting.
Wright credits himself as "Fanboy" when he speaks on camera, but everyone interviewed here, including Beck, Mike Myers, "Weird Al" Yankovic, Amy Sherman-Palladino, Todd Rundgren and more, has an infectious enthusiasm. Many of them look up to the group for their integrity, and their ingenuity.
It should be noted that Wright keeps the personal live of brothers Russell and Ron—who are not British, despite everyone thinking so—relatively secret. Rather this is a focused, historical background on the battle for their creativity with records that proved how they could evolve while staying true to themselves; they clashed with record executives, had a hot-and-cold presence on the pop charts, and have been cast as perpetual underdogs as a result. It becomes a comforting way to trace the falls and highs of this band, anticipating developments that show them breaking through. Even midway through, you feel like you "get" the band, and you want them to succeed as someone recounts their expansive history.
"The Sparks Brothers" is so entertaining that you almost—almost—forget the movie's ambitious length, because it's not like you get tired of learning about the next Sparks song or creative movement (the movie struggles to wrap itself up, though). That becomes one of Wright's best touches with this documentary, as he convinces you that don't want to just hear a handful songs, but that you want to go back and trace the band album by album.
One of the very last films to premiere at Sundance this year was "Amy Tan: Unintended Memoir," a US Documentary Premieres title from the late director James Redford. The documentary is a touching celebration of Tan's prolific career as author, and also a celebration of the personal relationship we have with what we create. That larger notion makes "Unintended Memoir" an especially bittersweet but touching final project from the late Redford, who passed away last October.
Whether one is familiar with Tan's books or not (including The Joy Luck Club, which started her career), the documentary provides a detailed background to her family and her mother, a personal story that Tan has tackled throughout her books. Redford's film has an intimate approach in going through this history— Tan is shown physically handling old family photographs, detailing the people in the picture and their backstories, including us in their experiences as immigrants who also wanted the American dream. It is a complicated background, with a great deal of trauma and sadness, but the documentary covers it with the ease of a discussion on a sunny Sunday afternoon. Tan's mother was a large influence on her work, it becomes known throughout the interviews, and by celebrating Tan, Redford is also giving more of a background to her mother.
Tan is more than an author, and the inspiration from the documentary comes in seeing someone who is in love with writing, but has also found other ways to express herself. She also has a history of rocking out with fellow writers (like Dave Barry and Stephen King) and later in the documentary shows her hobby of drawing birds. As Redford celebrates her prolific nature (sometimes going from one major book to the next), he paints a picture of book projects that came from personal places, but also from certain incredible pressures. But how freeing it is to see someone like Tan still pursue different ways of creativity, while still understanding how much creativity must come from within, and not primarily from an expectation. Redford's enthusiasm about Tan—proof of the lifelong relationship between one soul and the process of writing—is a gift.
"Rita Moreno: Just A Girl Who Decided to Go For It" is the kind of exciting profile documentary that truly gets a viewer up close and personal to its subject. In one of the many charming touches from this documentary by Miriem Pérez Riera, the EGOT winner is practically sitting across from you, just feet away, as she tells the incredible story of her career, and the personal struggles that have previously received less recognition. It's an even more direct approach than "Amy Tan: Unintended Memoir," and both have their purposes. In this case, it lets us know Moreno as if we were finally being let in on the truth, and that it's coming from someone staring right back at you, sharing the story in her own words.
Mixing these interviews with cultural analysis, "Rita Moreno: Just A Girl Who Decided to Go For It" capably balances the present and the past, and brings in outside viewpoints to emphasize her points. An extended passage is dedicated to the types of tropes that Moreno had to navigate if she wanted to work as a young woman from Puerto Rico in the white/male-dominated business of Hollywood; it's a harrowing clip show that could be used in media and race studies classes, accompanied with footage of entertainers like Eva Longoria elaborating on how she has received similar directions to use broken English or "make it spicy" or "shut up and be sexy." It's an important history that the documentary's nimble balance of tone tackles head-on, and it makes you appreciate all that Moreno has achieved. From the beginning, Moreno presents her Hollywood story of a dream that came true that also nearly lead to her suicide, given the horrific abuse that she faced and the dehumanization inflicted upon her by racist, sexist Hollywood powers.
Rivera is keen to balance this with who Moreno is now, and every now and then it will dip into the present with reflection. What does it mean for a sexual assault survivor and storied activist like Moreno to then watch Christine Blasey Ford's testimony against Brett Kavanaugh while getting ready for work on "One Day at a Time"? The footage of the present is a triumph, and so are the later passages that detail when she won the Oscar for "West Side Story," or how she used that opportunity to get roles in Broadway and on television, adding to her legacy, leaving no question as to what someone like her can do. "Just A Girl Who Decided to Go For It" is a loving film about Moreno, but it feels so resonant because it makes you feel both the highs and lows of being such a trailblazer in Hollywood.
"Ailey" has a clear love for dance and the American master it focuses on, but it has a hard time passing along a vocabulary for that passion. Watching this documentary by Jamila Wignot (which was picked up for distribution by NEON this past weekend), you get a strong sense of choreographer Alvin Ailey's prominence in and influence of the world of dance. And yet as someone who admits to being illiterate about dance, the documentary's presentation this artform felt distant, that I was watching hard-labored movement that I know meant something, but wanted more of an understanding as to what.
Wignot balances images of the present and the past, showing how the modern Alvin Ailey School of Dance has taken Ailey's choreography that built above and beyond blues and spiritual influences to make him one of the most revered choreographers who ever lived. Original members of Ailey's company, dancers and figureheads, reflect upon how the group became a worldwide success, but also at the toll of immense dedication and long touring. Ailey's personal life had its own privacy, with brief relationships with men that still were nothing like the deep bond he lost when his mother passed. Wignot's film is effective with conveying that melancholy, putting a deeper context to its footage of Ailey teaching, and dancing. It's clear that he was a brilliant mind, and a complicated soul.
"Ailey" takes a more experimental approach with B-roll when telling stories it does not have the images for, using blurry, more frantic pieces of city imagery or wind-blown fields to accompany the story—a welcome, impressionistic idea. But the editing is more erratic in a way that does not feel intentional, as the documentary tends to jump around without always making it clear as to when certain developments (professional or personal) are happening in Ailey's life. And Wignot displays a great deal of Ailey's pieces, (including his best known, Revelations), but there isn't enough of a sense of what defines them, or how to appreciate them. You can see the passion in this film but it's more difficult to feel it.