Sundance 2021: The Pink Cloud, The Dog Who Wouldn't Be Quiet, El Planeta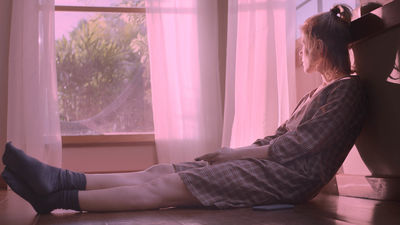 Three films from Ibero-America premiered in the World Dramatic section at this year's Sundance Film Festival. Peculiarly enough they all feel related to each other, almost as if part of the same thought wavelength, in theme and tone, straddling the line between introspection and finding humor in the absurdity of human nature.
From Brazil, Iuli Gerbase's not-so-dystopian drama "The Pink Cloud" might feel too close to our current reality for some to enjoy. However, the way it builds a microcosm that exacerbates the worst in human dynamics and fears is outstanding. Prophetic rather than reactive, the movie comes with a disclaimer explaining the screenplay was written in 2017 and the movie was shot in 2019, ahead of the COVID-19 outbreak.
The rose-tinted gas that gives title to the movie can kill a person within the first 10 second of contact. It appeared without warning or clear origin, and, since it's so deadly, when it arrives everyone around the world had to shelter in place exactly where they were. Luckily for Giovana (Renata de Lélis) and Yago (Eduardo Mendonça) the cataclysmic event caught them as they woke up in her apartment. With the prospect of being trapped together for years to come, what could have been a one-night stand between strangers turns into each other's most crucial decision. The plot's similarities to what we've collectively experienced are uncanny, from how all of our jobs and hobbies adapted to our new reality trapped indoors to how our relationships with others have become entirely virtual beyond our household.
Ambitious in her scope, Gerbase tracks this relationship to its lowest points, like the pair scheduling activities so they don't have to cross paths, and then to the elation of renewed hope. In those dramatic ebbs and flows, she investigates what is unchangeably important to our spirits in order to endure even the most unimaginable events. De Lélis plays a woman angry at the universe for stripping her freedom, while Mendonça's Yago refuses to acknowledge the tragedy of their circumstances. Her apprehension and his denial react explosively. Even if the entire story takes places in such a limited space, the filmmaker's layered writing and meticulous execution to mark the passage of time keeps it consistently intriguing. We'll never know what it would have been to watch this film without lived knowledge of what the characters are going through, but perhaps the strangest effect of "The Pink Cloud" is that, in comparison, it makes one grateful that our current situation isn't so extreme in its direness.
Curiously, the third act of Argentine storyteller Ana Katz's "The Dog Who Wouldn't Be Quiet" also involves a bizarre global occurrence that alters how people interact. Watching these two works back to back makes it impossible to not notice the similarities, not only in speaking about how we adapt, but in how it addresses the things that give us meaning. Laced with plenty of farcical humor, this black-and-white, succinct ode to simple, yet fulfilling living packs a delicate punch.
Upon meeting the kindhearted hero, Sebastian (Daniel Katz, the filmmaker's brother), we learn that the source of his troubles is his dog, or better said other people's discomfort with how it cries when left alone. His office job is also not pet friendly, so he moves to the countryside. But as destiny throws him a curveball, his only option is to reinvent himself as many times as necessary. What ensues is a transient but poetic series of vignettes that take him away from the pretentiousness of modern living and into a state of contentedness—even when not everything goes as planned.
Katz decidedly confronts the raging capitalism that dictates our every step and cares more about appearances of professionalism with little room for compassion. It's precisely in how simple the concept seems that one finds the many nuggets of tenderness and smart silliness she writes for Sebastian to enjoy or struggle through. One of Katz's most fanciful aesthetic choices is the use of simple illustrations to convey what's too cruel to show or what the budget didn't allow for. Their inclusion comes across as an ingenious tool of resourcefulness that at the same time gives the piece an extra touch of wonder. The director, who is also an actress, elicits unassuming turns from her sibling and the vast number of cast members that populate each sequence. It doesn't matter if what they are portraying is something ridiculous; they all play it straight for deadpan effect. At 73-minutes, this is a life-affirming oddity in bite-size form.
Also showcasing black-and-white cinematography that's more casual in its look than evocative, this tragicomedy observes an emotional crisis through amusing, escapist antics. Argentine-born director Amalia Ulman sets her debut "El Planeta" in the coastal Spanish city of Gijon, the town where she grew up, days before Martin Scorsese receives the most prestigious local award. The rainy and picturesque location, as well as this major celebration of the arts, feels fundamental to the narrative.
Ulman stars as Leonor, a stylist adrift and living with her cash-strapped and zany mother María (played by the director's real mom Ale Ulman). Initially, the particulars of their situation remain unclear, but as the instances of theft and lies accumulate we understand their finances are not in disarray but nearly flatlined. Amid failed romantic encounters and trips to fancy department stores, the parent-child banter comes alive. The pain these women hide, in the aftermath of the death of their father and husband respectively, never makes it onto the screen. We only inhabit their denial and the pleasures preventing for collapse. This is both the appeal and, at times, the weakness of the piece, to never give in to the darkness even if that's what brought them to this point. Director Nacho Vigalondo ("Colossal") makes a quick cameo as a man looking to fulfill a fetishistic fantasy.
"El Planeta's" most memorable asset is María, as embodied by Ale Ulman, who is making her screen debut. What starts out as a caricature of a superstitious woman who's lost touch with reality, wears expensive coats, and puts pieces of paper with the names of her enemies in the freezer, is later peeled to reveal someone trying to stay afloat without much skill. But even if there is plenty to admire, such as the sort of elegant irreverence that invokes the films of Pedro Almodóvar, the scattered brain construction is not always conducive of our engagement with the characters. It's a good time, sometimes too cool for its own good.