Sundance 2021: Playing With Sharks, Taming the Garden, Misha and the Wolves, Captains of Zaatari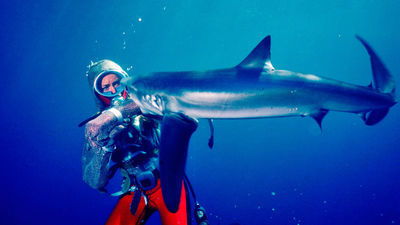 Valerie Taylor is a badass. For decades, she and her husband Ron have worked tirelessly as conservation-divers to protect sharks, creatures often misunderstood as violent toward humans. Valerie often claims sharks are as harmless as dogs. But Ron and Valerie weren't always environmentalists. Ron once held the world's spearfishing title, while Valerie maintained the women's championship. The pair quickly changed course after Ron's transformational fishing expedition for great whites resulted in the deaths of five sharks at the hands of his fellow fisherman. In Sally Aitken's "Playing with Sharks," Valerie recalls an inspiring life and marriage that not only demonstrates her free-spirited will, but also her passion for the safety of marine life.
From the outset, Aitken aims to capture Valerie's adventurous edge. Among a bevvy of talking heads, Aitken nestles Valerie's playful narration to explain how she first explored the seafloor by spearfishing for meals for her father, only to soon transition into the male-dominated world of competitive spearfishing. In this universe she had to be "stronger, sharper, better than everybody to make it." It's her go-getter personality on the circuit that attracts her future husband Ron to her, later leading the pair to quit their competitive careers to focus on documenting marine life, specifically sharks, for publications like "National Geographic."
While "Playing With Sharks" is inherently Valerie's story, by way of Aitken repurposing Ron's immaculate 16mm underwater footage, the documentary becomes as shared as the life this aspirational couple experienced. Aitken covers the pair's work on the groundbreaking film "Blue Water, White Death," and the blockbuster "Jaws," the latter of which caused the couple to regret their accidental hand in the shark-hunting boom of the '80s.
"Playing With Sharks" has a heartbreaking underbelly. The vitriol towards sharks by an ignorant public—displayed in phrases like "the only good shark is a dead shark" or "God's mistake"—is especially pronounced in the startling footage of these creatures' deplorable deaths. It's enough to bring you to the same tears that Valerie sheds. Aitken's "Playing with Sharks" works as a remarkable environmentalist documentary that not only stands as a testament to a remarkable woman, but will make you see sharks in a totally different light.
Another documentary, this one hailing from Eastern Europe, dispels the notion that money doesn't grow on trees. Unless you live in the country of Georgia, and the laborers employed by the country's billionaire ex-Prime Minister Bidzina Ivanishvili appear. Ivanishvili is sketched as a mysterious Gatsby figure buying up the biggest ancient trees, some scaling as high as 15 stories. His name consumes the locals yet we (and they) barely catch a glimpse of him. Rather we see and hear his effect unfurl upon the land: the bulldozer rumbling in the modest stream, a chainsaw's grind shredding the timid air, metal pipes corroding into the untouched red Georgian clay, and the industrial smoke that crawls against the oil-painted wooded landscapes. If one were to snatch the trees from all the Renaissance paintings to populate their own zen garden, it'd be akin to Ivanishvili's actions.
Salomé Jashi's environmentalist documentary "Taming the Garden" engrossingly chronicles the aesthetic valuation of nature with regards to hindrance and legacy. For instance, in return for adjourning their trees, fixtures among the quaint rural villages for decades, some even centuries, Ivanishvili offers very little in terms of compensation—either 500 lira to the owner or the promise of a new road. Some inhabitants are all-too willing to dispense with their hamlet's blight, especially if it means paved pathways in-and-out of town. The removal of these heirlooms, planted by descendants, rooting memories and local history together, crushes others. One wonders why Ivanishvili, ignoring the great expense of excavating these trees from their earthen beds, then transporting them by barge over water, so desire these majestic plants?
Though Jhansi incites more questions than answers, a mystery that leaves one famished, the lyrical conclusion, timed to the choral strains of "Le Chant Des Oyseaux," shows us the new resting place for these gorgeous trees, and imbues Jhansi's film with a nightmarish nobility amid the placid scenery. "Taming the Garden" is often too elusive, but offers rare pleasures the few times it's captured.
Another story filed under the too amazing to be true category finds an eccentric Belgium immigrant named Misha Defonseca occupying the small town of Millis, Massachusetts. Misha, a new resident in the cozy hamlet, shares with her neighbors, in enrapturing fashion, the story of surviving the holocaust. She recounts watching the Nazis deport her mother and father to Germany, staying with her cruel Catholic relatives, and escaping their spiteful farming household into the woods She leaves her relatives in the vain hope of finding her parents by walking from Belgium to Germany. And in the process of her trek: hides, steals, and becomes part of a wolfpack. Yes, a wolfpack.
To tell anymore would spoil the shocks and surprises at the heart of Sam Hobkinson's roller coaster film "Misha and the Wolves." An at times stylistically overcooked investigative thriller that's as much about the preservation of a people as the woman concerned with protecting her crafted reality.
With a tale as provocative as Misha's, sometimes as a director, it's best to step away. Hobkinson opts to throw himself headlong into the fray by relying on fanciful tableaus, plaintive historical footage of Nazi Germany, and a too-on-the-nose score to introduce the film's players. Much of this visual attention seeking distracts from an already unpredictable story. As though Hobkinson wanted to add melodramatic order to Misha's web, when he should have let the events' already intrinsic drama speak for itself.
The innate drama, along with its fascinating cast of characters, thankfully, survives these missteps. The captivating Misha forms a book deal with Jane Daniel, comes close to appearing on Oprah, sells millions of copies of memoir worldwide, only to sue Daniel for fraud. The investigation that occurs as a result, finds genealogists, a holocaust survivor, a journalist, and historians working to uncover how much of Misha's story is true. The veracity, of course, is murky. Apart from the wild ride Hobkinson takes us on, what's highlighted are the multiple ways the Jewish people preserved their culture in the face of destruction. It's a truth whose power far outweighs Misha's ability to conjure an audience under her spell. And when the two are working together Hobkinson's "Misha and the Wolves" finds painful realities in even the most fanciful of tales.
Finally, one of the strongest works in the World Documentary competition comes from Jordan. Amid the white aluminum shacks, the barbed-wire fences, and the graffiti-covered walls of the Syrian-populated Zaatari refugee camp, are kids carousing in the mismatched jerseys of their idols, playing a game they hope will be their getaway from this interminable place. They are footballers. And every time they take to the grey gravel-laden pitch, where the battered ball kicks up dust as high as their dreams, they play with a grittiness for their families and for one another. Ali Elarabi's "Captains of Zaatari" isn't solely the football equivalent of "Hoop Dreams;" it's a heartwarming tale of friendship between two boys bound by love for the game and each other.
Away from the pitch, the mature Fawzi, the skilled captain of this ragtag team, is desperate to support his downtrodden family, teach his sister Rose how to read English by the glow of candlelight, and return his father to them. His dad was sent to Al-Azraq camp as punishment for job hunting outside Zaatari. Among his mountain of problems, his only companion, other than the game he loves, is his best friend Mahmoud—who due to the hopelessness of their situation, disagrees with his father over the importance of school. To both footballers: The game represents their one chance at escape. That chance arrives once every three months when Aspire Academy hosts its tournament to select the players who will travel with them to the rich land of Qatar.
Setbacks happen for both Fawzi and Mahmoud, but especially Fawzi: He faces failure, injury, and a family emergency in his pursuit of stardom. But Fawzi never breaks. Because no matter their tribulations—bearing the pressure of either underperforming or braving deportation back to Zaatari—these friends face the competition head-on. Elarabi's "Captains of Zaatari," in its poetic sundrenched photography juxtaposed to its chiaroscuro gloom, triumphs as an inspirational love letter to football, friendship, and the asylum seekers who chart their dreams without fear.