Sundance 2021: Luzzu, Hive, Fire in the Mountains, One for the Road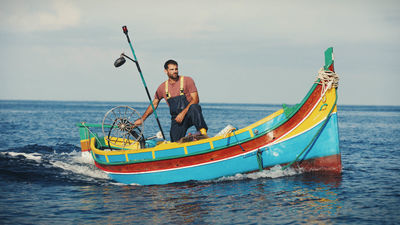 Closing out our coverage of the World Dramatic Competition program brings us to four films, two from small European countries with burgeoning national cinemas and two from East Asia. Three of them deal with traditions, the fight to maintain or change them, and all of them are affected by masculinity—its fragility and its evolution.
Though you've seen the beautiful coastal views of Malta on the big screen mined by Hollywood as dazzling locations, you've probably never watched a movie about the people who live there. Crafted with humanistic grace, "Luzzu," the debut feature from Maltese-American writer-director Alex Camilleri, contributes to filling that void. The only other production from the island nation this critic had seen prior is "Simshar" by Rebecca Cremona, when it was entered into the Oscar race in 2014.
Born from a lineage of fishermen, Jesmark (first-time actor Jesmark Scicluna) goes out to sea every day on his luzzu, the traditional and colorful boats that give name to this story. His vessel has been in his family for generations, with countless repairs over the years of course, and features details that distinguish it: a pair of longing carved eyes and Jesmark's baby footprint. But the waters are not the same anymore, and neither are the laws, which means there are less fish to catch and more regulations to follow. Tied to the water like salt itself, he can't fathom the thought of doing something else, but he's a father and his partner Denise (Michela Farrugia) demands he consider moving on. With pressure mounting, selling illicit catch for a kingpin is the only thing keeping him financially afloat.
Understated in a way that would make the gods of neorealism proud, the film is anchored by the alluring, underlying rage in Scicluna's lived-in performance. Jesmark's weathered face, piercing stare, and few words denote the pride he feels for his dying trade wrapped in the frustration of not being able to make a living any more. Faced with ravaging ways of the modern word, he must choose. Is he still a fisherman without his luzzu? Is he tarnishing the legacy of his father and his father's father if he gives it up? Camilleri's writing imbues every scene with great intentionality that feels organic to what the protagonist is undergoing internally, while cinematographer Léo Lefèvre complements with modest and spontaneous camerawork. It doesn't hurt that the place inherently teems with old-world beauty. A ravishing portrait of tradition in transition, "Luzzu" brings Malta to the forefront.
Driving for her life, the woman at the center of Blerta Basholli's auspicious tale of female resilience "Hive" is also struggling with the way ingrained customs operate in the 21st century. Set in Kosovo during the early 2000s, the movie is based on a true story. Amid the characters' fight for autonomy, the director also tackles the open wounds of a deadly episode in the history of the young Balkan country.
Economic adversity has pushed Fahrije (Yllka Gashi) to look for ways to supplement the little income she gets from selling honey. She is a mother of two whose husband—like those of many other women in this small town—disappeared several years ago at the hands of Serbians. Her father-in-law, Haxhi (Cun Lajci), is the de facto head of the household, but his limited mobility prevent from being a provider. That's a problem for the family, because in this extremely patriarchal society, the mere suggestion of a woman working outside of the home or learning to drive a car is taboo and equated with immorality. So when Fahrije decides to get behind the wheel and start a business selling ajvar, a red pepper spread, to a supermarket, the men in town turn on her and anyone who helps her.
Notwithstanding its predictable story beats, common in inspirational accounts of people coming together and overcoming obstacle for a mutual benefit, "Hive" is another work that thrives thanks to its lead. Gashi's strong features and resolute demeanor convinces at every turn that she will not let others intimidate her. In every step there's a sense of purpose, not only to support her children but also to encourage others to challenge the status quo. In creating her own hive of women to make the smoky paste, Fahrije makes a statement. Basholli's first feature calls to mind the documentary "Honeyland" or even the more recent Irish drama "Herself," yet its specific cultural backdrop keeps it mostly enthralling. You've seen this, but surely not from the Kosovan lens.
Keeping in theme, the provocative Indian drama "Fire in the Mountains" also a features self-assured woman standing up against the inflexibility of entrenched superstition. Director Ajitpal Singh, making his first feature in his mid-40s, places his narrative in a remote mountain village near the Himalayas where tourism is the backbone of people's livelihood.
Through the perspective of resourceful Chandra (Vinamrata Rai), we enter a reality caught between the promised future and the revered past. Together with her husband Dharam (Chandan Bisht), she runs a small hotel off the beaten path. Whatever money comes, Chandra saves to construct a road that would facilitate access to their business. Her industriousness, however, awakes feelings of emasculation in Dharam. The recent death of his sister's husband, the fact that he is unable to grow anything on their land, and that their son Prakash (Mayank Singh Jaira) hasn't been able to walk for several months, prompt him to believe they are cursed. He believes the only way out of their misfortune is to pay for a ritual, a solution that goes against Chandra's plans for their money.
Breathtaking vistas of green hills, waterfalls and snowy mountaintops—courtesy of DP Dominique Colin—contrast with the high stakes conflict the ensemble cast carefully weaves. Since each character withholds a secret, their interactions are laced with passive aggressiveness prone to devolve into full-blown violence. Aside from what we see on the foreground, the director astutely uses the radio broadcasts we hear in passing to expose the disconnect between the deceitful claims politicians preach about Indian and the reality for people like Chandra and her family. As those in power celebrate historic events for a country on the verge of becoming a superpower, the citizenry doesn't have access to basic services. With a scorching final act, Singh questions the ignorance that leads some to disregard common sense for and give in to the irrational fear that leads to dangerous practices. Ultimately, he abstains from making any conclusions, but what he does present is a strong indictment.
Finally, there's the broad and mostly formulaic buddy dramedy, "One for the Road." The latest effort from Thai director Baz Poonpiriya, whose 2017 film "Bad Genius" earned international recognition, delivers a cloying narrative that could be described as the less sophisticated child of "Y Tu Mamá También" and "50/50." Acclaimed auteur Wong Kar-Wai serves as one of the producers.
Cocktail-obsessed Boss (Thanapob Leeratanakajorn) runs his own bar in New York City, an operation he uses in great part to meet women. That bachelor fantasy is interrupted when his best friend Aood (Ice Natara) reveals he has leukemia. Boss returns to his native Thailand to help with a final wish: visiting all of his girlfriends to say goodbye without disclosing he's dying of cancer. The pair embarks on road trip that's heavily interspersed with flashbacks to their glory days. As one of the movie's most prominent subplots, Aood is also dealing with the loss of his father, a famous radio DJ. Expectedly, at every stop there's a lesson to be learned or a twist that strengthens or challenged the fraternal bond between the co-leads. Late in the journey, a montage detailing Boss' most significant romantic relationship stands out as the segment that most reflects Wong Kar-Wai's work in its use of moody neon lighting for romantic interactions.
Poonpiriya makes films that flaunt great production value and this one is no exception. Perhaps there's also a sizeable music budget if the director plans to keep the many famous pop songs that bombastically score the action (e.g. Elton John's "Tiny Dancer"). The artificial aesthetic, editing choices for saccharine emotional effect, and the comedic tone point to a title similar to what a major American studio would release for a wide audience. As such, subtlety isn't the priority here. That's not say some moments aren't successfully humorous or even moving, but for a plot about men deepening their friendship in the face of hardship it's harmless but uninterestingly artificial.