Sundance 2021: Human Factors, Pleasure, Prime Time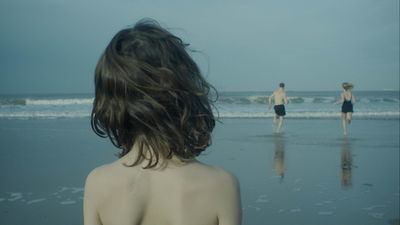 Though often overlooked in the hype-chasing fever of the Park City festival, and even this year in its COVID-imposed virtual edition, the international stories in the World Dramatic section continue to demonstrate there are gems outside the star-studded fare. Three of them are unsettling works by directors from Italy, Sweden, and Poland. These stories tackle larger social issues, in varying degrees, with an intimate gaze.
The standout among these, and honestly one of the very best offers in the entire festival, is "Human Factors" from Italian-born writer-director Ronny Trocker. Already touted as a Haneke-like family story, and for good reason, the multi-language drama follows a well-off family on holiday at their vacation home. That the plot is set in motion by a mysterious home invasion, perhaps tied to the protagonists' business, only sparks more parallels to "Funny Games" and "Hidden." But it's the direction that the movie takes, both emotionally and structurally, that earn its own merits.
The parents, Nina (Sabine Timoteo) and Jan (Mark Waschke) run an advertising agency. Jan has secretly just taken a job that won't sit well with Nina. Their children, teenage Emma (Jule Hermann) and grade school Max (Wanja Valentin Kube), are unaware of the conflict. The young boy is much more concerned about the whereabouts of his pet rat Zorro, lost in the break in. In the aftermath of the incident that left all of them rattled, the truth remains unsettled and other wounds come undone. Playing a busy father who's lost touch with those in his household, Waschke acts as a pragmatic agent even as, in "Force Majeure" fashion, his role as protector is questioned. Meanwhile, Timoteo, as the character who witnessed the crime most, carries a quiet storm.
Trocker ditches linear narrative and instead shows the events from several perspectives, even the ones we never expected to see, to construct an elaborate puzzle of a movie that reveals itself in small doses or conflicting accounts of or reactions to the single, collective experience. Underlying all the segments is commentary on how we choose to blame outside factors for our inner troubles. That could mean searching for reasons to explain a couple's marital problems or having a xenophobic stance that blames foreigners for all of a country's ills. The way the director works with fear on a psychological level at first, and on occasionally with a more visceral aim, turns "Human Factors" into an utterly intelligent thriller.
Shocking but not gratuitous, Ninja Thyberg's "Pleasure" easily takes the title of the most explicit title at Sundance this year. It comes with a trigger warning for its depiction of sexual violence. The Swedish director expands on her 2013 short film by the same name, set amid the adult-film industry, but takes the action to Los Angeles, a production hot spot for this type of content.
In the feature-length version, 19-year-old Linnéa (Sofia Kappel) travels from Sweden to California to start a professional career in porn. On screen and in social media she goes by Bella Cherry. Sharing a house with other young women with the same aspirations, she sure realizes that the climb to stardom is far more grueling that she imagined. Determined to succeed, she takes on increasingly more extreme scenes to get the attention of top producers. In this controversial field, it seems, the more physically strenuous and demeaning the acts are, the more value to them. Yet, even if the scenarios are fictional and those involved in the production are accommodating when the cameras are not rolling, she is scarred by the hardcore degradation and psychological torture.
Through it all, Kappel's jaw-droppingly fearless performance blurs fiction and reality, as one wonders if the pretending to be acting in some of the most disturbing sequences took a toll on her. Thyberg depicts the transactional nature and male-driven culture of this world with an unflinching, direct visual aesthetic. Not glossy and not dark. What the writer-director accomplishes is making a movie about a maligned profession that's far from sexualized in any voyeuristic sense, but it's also not merely anthropological. It's a story of dreams shattered, of friendships lost in that pursuit, and it doesn't go for expected tropes like blaming a dysfunctional home as reason for the character's choices.
"Pleasure" also calls to mind "Holiday," another Scandinavian film that premiered at Sundance in 2018 and explores similar ideas of exploitation from a woman's point of view.
Lastly, there's the Polish chamber piece "Prime Time" from writer-director Jakub Piatek. Of the three this stands as the weakest link, but not without its merits. The filmmaker sets a hostage situation inside a television studio during New Year's Eve at the turn of the millennium. Y2K fears mixed with the promise of a new era collide in a young man's campaign to broadcast a message, perhaps his grievances, to the entire nation.
At gunpoint, Sebastian (Bartosz Bielenia) infiltrates the TV station where a popular game show is happening live. But as he tries to get in front of the camera, the production shuts it down and stops the program. With two prisoners to bargain with, the host Mira (Magdalena Poplawska) and a security guard (Andrzej Klak), he demands they let him express himself via the massive platform. Soon, a team of negotiators arrives to try to reason with him, but as time goes by, and more people interfere in the ordeal, tensions rise. We don't know what this distressed individual wants to say so ardently, but we know it must be important.
Bielenia, recently the star of the Oscar-nominated religious drama "Corpus Christi," has the ability to compel our attention. His interpretation of Sebastian doesn't resort to maniacal behavior or uncontrolled anger, but a deep personal hurt. He is not there to kill anyone. Unfortunately, the premise is stretched too thin without enough substantial material to keep it afloat. After a major emotional confrontation between the inexperienced assailant and someone close to him, the plot is unable to maintain the same level of intensity and engagement. At its core, "Prime Time" is dealing with ideas about Poland's youth and their lack of prospects for a promising future. Intermittently, as the drama unfurls, we see clips from demoralized citizens hoping to migrate west, all while their present regurgitates tired platitudes and calls for unity. The thematic intent has legs, but not enough, in part because the two other characters sharing the space with him aren't fleshed out to add discernible dramatic layers.