Sensitive Souls: Goro Miyazaki on Earwig and the Witch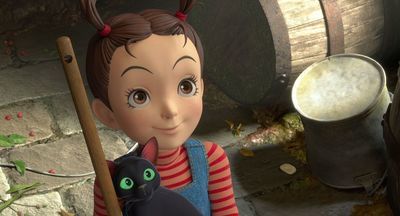 Studio Ghibli is back this week with their first film since 2014's "When Marnie Was There" (excluding the co-production of "The Red Turtle"). The controversial "Earwig and the Witch" represents the landmark company's first foray into fully 3DCG animated work, and it's directed by the son of the legendary co-founder of the company Hayao Miyazaki. Goro Miyazaki, director of the company's "From Up on Poppy Hill," adapts the book by Diana Wynne Jones (who also wrote the source material for "Howl's Moving Castle"). It's the story of a precocious girl named Earwig who is adopted by a mysterious couple and learns she has an unexpected back story of her own. The U.S. dub includes voice work by Richard E. Grant and Dan Stevens and will be available stateside this week after the film's Japanese TV debut back in December. Miyazaki got on a Zoom call with us to discuss the influences on the film, the state of animation, and how it's been impacted by the pandemic.
Note: This interview was conducted through a translator.
You said in an interview that this project was inspired by the fact that there are more adults now in your country than there used to be and less children because of changing birth rates. Can you go into more detail as to how that influenced this story?
Yes, before I started working on this film, it was something that I had been thinking about. In Japan, in population, we have a lot of people in my generation. One generation older than me, like Toshio Suzuki's generation, they have a much bigger population. And then when I see my son's generation, it's a very small population in their age group. Looking around my neighborhood, in the old days you would see children running around and playing all over the place, but now, because there are less children, all you see is older people walking around. I was thinking when the children nowadays are surrounded by adults and when they go out into the world, they are face with an environment where they have older people in their workplace that they have to deal with. It must be a very challenging thing for them. I was thinking of those things when I read the original story for "Earwig and the Witch". In this story, you see a girl who is surrounded in a house with two adults. She doesn't just take orders or be obedient. She tries to work around them. She gets what she wants. That was quite encouraging I thought and a fun story to tell for young people.
You've also said that LAIKA influenced this film, particularly "Kubo and the Two Strings." How did they influence it and why are you impressed by what they do in general?
In "Kubo," I personally very much enjoyed the film. It was just around the time when I was thinking of what to do with the look for "Earwig and the Witch". We knew it was going to be 3DCG. And we knew that with 3DCG, you can go very photo-real but that was not what we wanted. We knew that we needed some sort of transformation but at what level or which direction we wanted to do that, especially with things like the hair. That was around the time that I saw "Kubo and the Two Strings," but also the people from LAIKA came to the studio and showed us the actual puppets. That struck me as a look that might fit what we are trying to do with "Earwig and the Witch." Instead of photo-real more stop-motion could be fitting for what we're trying to do here.
How has animation changed since "Poppy Hill" and how do you think it will change in the next decade?
Myself or in general?
All of it. Or both.
For myself, "Up on Poppy Hill"—that was like an experiment for myself in trying to tell a story through a very average everyday life. The acting and the performances were very restrained. From there, I was very interested in how we can make the characters act and perform in these animation films. That was when I discovered 3DCG. People always talk about the camerawork and effects and photo-realism, but I was more interested in the possibility it had in expanding the acting and performance and characters and what we could bring out in each character.
In terms of animation in general, I'm not too familiar with what's happening internationally but in Japan I feel that a lot of the animation still looks like it's hand-drawn but a lot of studios are incorporating 3DCG while maintaining the hand-drawn look. Using the best of both worlds.
You've said that Earwig is different than any Studio Ghibli heroines. How so?
She doesn't endure or persevere. She doesn't hold back. She doesn't quietly endure whatever is happening.
So that was important to your version of the character.
With a lot of Japanese people, they feel one thing, but they don't show it. They act in a different way from how they actually feel. Earwig doesn't have that. She doesn't hold back her feelings. She's very honest in that way.
Music is a big part of this film. How important was it to you to get that right?
One of the things was since this is the first full 3DCG films for Studio Ghibli, I thought we might as well go first with everything. With the music, I decided to use rock music, which I was a huge fan of growing up. When you think of Earwig, she's not someone who whines or is discouraged, but she is someone who knows what she wants to do and what she wants in her life and thinks how to achieve them. Its' very active and energetic. When you think if the music that would fit her character, it wouldn't be classical. From there, I thought that rock music would be quite fitting.
How has the pandemic impacted your industry?
For "Earwig," the film was almost completed by the end of March because we were aiming to finish it so we could present at the Cannes Film Festival in May. So it was finished by the time the Japanese Government made an announcement for a state of emergency and we went into lockdown. So we were very fortunate in that way. We weren't hugely impacted by the pandemic. However, if you look at the industry, obviously we have been encouraged to stay home and so people have to work remotely. The voiceover process has people in a very closed environment and that has been difficult to get around. A lot of the films that have been made have been forced to push back their release date. So there has been an economic impact for our industry too.
With a lot of the animators, they're also artists and very sensitive souls. And so in these times like the pandemic, there's a lot of uncertainty and worries and concerns. Even if we tell them that's it's a very clean environment, it still takes a toll on them mentally and so they can't physically draw. So it has been very difficult for a lot of people.
"Earwig and the Witch" will be in select theaters on February 3rd and on HBO Max on February 5th.