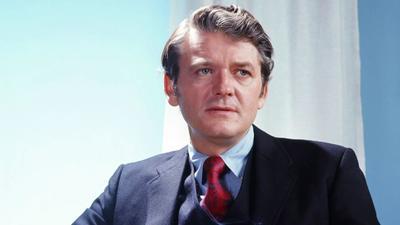 If you were to look at a picture of Hal Holbrook without knowing who he was, you might not immediately tag him as an actor. With his blandly handsome and strait-laced appearance, he gave off the appearance of someone who was the head of the local Rotary club or maybe a mid-level government functionary. However, when he opened his mouth, there was no doubt that he was born to be an actor, and he proved to be an unusually gifted one in an award-winning career that spanned more than seven decades. He played everything from historical figures to ordinary guys to equally convincing effect, and, in one memorable case, brought one of the great enigmas of our time to vivid life.
He was born Harold Rowe Holbrook Jr. in Cleveland, Ohio on February 17, 1925, one of three siblings raised by their paternal grandparents. Holbrook attended Ohio's Denison University and then served in World War II in Newfoundland, where he acted in a number of theatrical productions. While studying at Denison, he worked on an honors project about the life of Mark Twain and this eventually led to him playing Twain for the the first time in 1954 at Pennsylvania's Lock Haven State Teachers College and to begin developing a one-man show on the life of the writer while as a member of the Valley Players, a summer stock company in Holyoke, Massachusetts. He got his first national exposure in the role when Ed Sullivan had him on his show in 1956 and began performing the show Mark Twain Tonight in 1959.
Over the next few years, he would perform the role around the world in venues ranging from behind the Iron Curtain to the 1964 World's Fair in New York. Mark Twain Tonight went to Broadway in 1966, where he won a Tony Award for his performance. The next year, he presented the show on television and received his first Emmy nomination as a result. Throughout his career, he would continue to perform the show, including additional Broadway runs in 1977 and 2005, until he finally retired in 2017.
However, Holbrook's long and varied career would show him to be more than just a one-trick pony. On stage, he would originate the role of the Major in Arthur Miller's Incident at Vichy in 1964 and served as a replacement for Richard Kiley during the original Broadway run of Man of La Mancha. On television, he appeared as the son in a production of "The Glass Menagerie" opposite Shirley Booth and he made his big screen debut in the 1966 screen version of Mary McCarthy's "The Group." Over the next few years, he would become a familiar face on television with appearances on shows such as "The F.B.I.," "The Name of the Game" and "The Bold Ones: The Senator," where he received his first Emmy, and in films like 1967's "Wild in the Streets" (where he would play the first of a number of political figures), "The People Next Door" (1970) and "The Great White Hope."
His next big breakthrough came in 1973 when he appeared in "That Certain Summer," a made-for-television movie about a teenaged boy (Scott Jacoby) coming to terms with the fact that his father (Holbrook) is gay and in a relationship with another man (Martin Sheen). At the time it was broadcast, the film was enormously controversial but it was acclaimed as a sensitive depiction of a subject that was all but verboten on television up to that point and would earn Holbrook another Emmy nomination. The next year, he would receive two more Emmy awards for "Pueblo," a film made about the capture of the U.S.S. Pueblo. He world receive another Emmy in 1976 for portraying Abraham Lincoln in "Sandburg's Lincoln."
On the big screen, he contributed his voice to the big-screen version of "Jonathan Livingston Seagull" (1973) and let us speak no more about that. He took the persona of a man of great moral rectitude that he had attained throughout his career and cleverly twisted it with his appearance in "Magnum Force" (1973), the "Dirty Harry" sequel in which he played a clean-cut police lieutenant who turned out to be the leader of a group of rogue cops going around executing suspected criminals. Although the film was pretty dumb, he brought a nice degree of quiet menace to the part and it opened him a new avenue for him to portray an array of characters who were outwardly friendly but were hiding dark secrets.
In 1976, he would take on what would be, with the exception of Twain, the most iconic role of his career when he portrayed the mysterious informant known only as "Deep Throat" in "All the President's Men." Holbrook was initially one of the many actors considered for the role of Washington Post editor Ben Bradlee (eventually played by Jason Robards) but he would eventually land the part of Deep Throat instead and in a film brimming with great casting choices, it was perhaps the most inspired of the bunch. Since the character spends all of his screen time literally lurking in the shadows and giving out cryptic bits of information to Woodward (Robert Redford), an actor with a distinct voice and way of speaking was clearly needed to help give the scenes real impact. This was accomplished in spectacular fashion—his intonation of the phrase "follow the money" continues to resonate today to such a degree that even though the identity of the real Deep Throat would eventually come out, most people continue to imagine Holbrook in their mind when they think of him.
Over the years, Holbrook would continue to divide his time between film and television. On the big screen, he turned up in the World War II epic "Midway" (1976), co-starred in "Rituals," a surprisingly effective 1977 "Deliverance" knockoff, and played the NASA official behind the massive conspiracy at the heart of the popular thriller "Capricorn One" (1977). He was the local priest of a town founded on a murderous secret in John Carpenter's cult hit "The Fog" and appeared in one of the segments of George Romero's "Creepshow" as a hen-pecked husband who finds an unusual way of disposing of his marital problems. In "The Star Chamber," he played a character not unlike the one he essayed in "Magnum Force," and in Oliver Stone's "Wall Street" (1987), he briefly turned up as one of the few moral voices of morality amidst a sea of greed and avarice. Holbrook went back to the dark side as one of the senior partners in "The Firm" (1993) and would receive his first Oscar nomination in 2007 (making him the oldest actor nominated up to that time) for his affecting supporting turn in Sean Penn's "Into the Wild."
On television, he received additional Emmy nominations for "Our Town" (1978) and for episodes of "Portrait of America" in 1988 and 1989, winning his final Emmy for the latter. He played John Adams in the miniseries "George Washington" (1984) Abraham Lincoln in "North & South" (1985-1986) and General George Marshall in "Day One" (1989). He would also prove to be a familiar face making guest appearances in a number of long-running television shows, including "Designing Women," where he worked opposite third wife Dixie Carter and even directed a few episodes, "The West Wing," "NCIS," "The Sopranos" and "E.R." He was also a co-star of the popular sitcom "Evening Shade" from 1990 to 1994.
In his later years, he appeared in such films as the acclaimed independent drama "That Evening Sun" (2009), "Water for Elephants" (2011) and "Promised Land" (2012) and played Preston Blair in Steven Spielberg's historical epic "Lincoln" (2012). On television, he turned up on such shows as ""The Event," "Sons of Anarchy," "Bones," "Grey's Anatomy," and "Hawaii Five-O." In 2011, he published his autobiography, Harold: The Boy Who Became Mark Twain and, of course, he would continue to portray Mark Twain, joking that as he got older, he required less time in the makeup chair to get prepared.
When he finally stopped performing the role of Twain in 2017, after more than 2,100 performances over the decades, many joked that he played Twain longer than Samuel Clemens himself. While that inimitable voice may now be silent, his rich legacy of work remains to be enjoyed for years to come.