Christopher Plummer: 1929-2021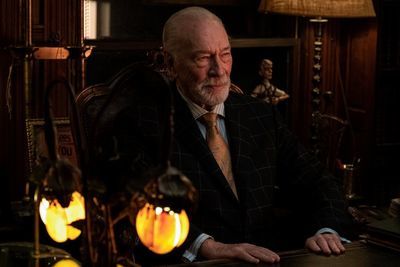 Christopher Plummer knew that he would remain best known to a mass audience as Captain von Trapp in "The Sound of Music" (1965), a worldwide mega-hit that he sometimes called "The Sound of Mucus," but he had come to terms with its popularity by the end of his long life. That very wholesome picture needed the elegance and the perversity that Plummer brought to his role; in her review Pauline Kael likened him to "a spider on the valentine."
No less an authority on sex appeal than Mae West said in an interview with John Kobal that "The Sound of Music" was so successful not so much because of Julie Andrews but because of Plummer. "I told Bob Wise after I saw that picture he did with him, you know, 'Sound of Music,' I said, 'There's your sex person, there's your box office, him,'" West said. "He carried that picture."
Plummer was born in Canada, and he was inspired to become an actor after seeing Laurence Olivier in his 1944 film of "Henry V." His very entertaining 2008 memoir In Spite of Myself details how he paid his dues in summer stock, learning comedy timing from Edward Everett Horton and emotional grandeur from Ruth Chatterton.
Plummer made a name for himself as a Shakespearean actor when he played Henry V in 1956 at the Stratford Shakespeare Festival, and he had the talent and the nerve to play Jason opposite Judith Anderson in "Medea" and excel in several live TV appearances with Julie Harris; his demanding Torvald in a 1959 production of Ibsen's "A Doll's House" was particularly vivid.
Plummer made his feature film debut in 1958 when he played in Sidney Lumet's "Stage Struck," which was set in the theater world, and as an ornithologist in Nicholas Ray's "Wind Across the Everglades," a wild-spirited, tender, and neglected film that centers on Plummer's slyness. Several years later, he was a memorably depraved Commodus in Anthony Mann's "The Fall of the Roman Empire" (1964) and he did a perverse and deliberately unattractive Hamlet for TV that same year in "Hamlet at Elsinore," which was shot in Denmark, before he played the Captain in "The Sound of Music" and hinted at dark urges that were decidedly not family friendly.
Plummer wrote in his memoirs about a drinking problem that began to engulf him in the 1960s, and though he continued to work regularly in theater and film he started to get stuck in supporting roles and in obscure projects. He joined Olivier's National Theatre in the early 1970s but was fired from a production of "Coriolanus" in 1971 and replaced by Anthony Hopkins due to his bad behavior.
Plummer won a Tony in 1973 for a musical version of "Cyrano de Bergerac," but it was only in the early 1980s that he came to broad attention again for his Iago in "Othello" opposite James Earl Jones, which was highly praised. Plummer's Iago was called "quite possibly the best single Shakespearean performance to have originated on this continent in our time" by critic Walter Kerr.
He added to his classical repertoire with a Macbeth opposite Glenda Jackson in 1988, and Plummer won a second Tony for his one-man show "Barrymore" in 1997, in which he played John Barrymore at the end of his life. I saw Plummer on stage in this showcase, and what lingers in my mind is his physical authority, the way he commanded the space with his body and also with his voice, but also one moment of silence where he got across Barrymore's agonized disappointment in himself, how he threw away his chance for theatrical greatness in favor of hedonistic living. There was the sense that Plummer was using some of his own feelings here to inform what he was doing as Barrymore, that for all of his fine and varied work there was a chance at greatness that he had just narrowly missed.
This performance on stage in "Barrymore" was two years before a major comeback for Plummer on film as Mike Wallace in "The Insider" (1999) at age 70. After that movie, which seemed to re-awaken interest in Plummer and his talent, he worked with renewed energy and appetite all through the 21st Century on a full range of projects: a King Lear for Broadway in 2004, films of "Barrymore" (2011) and "The Tempest" (2010) and George Bernard Shaw's "Caesar and Cleopatra" (2009), and a popular success in "Beginners" (2010).
As a man who tentatively starts to embrace his homosexuality late in life, Plummer had scenes in close-up in "Beginners" that were so exposed and so vulnerable that he seemed to be opening up his soul for the camera, and the reward was an Academy Award for Best Supporting Actor. At age 82, Plummer became the oldest winner of an acting Oscar, and at 88 he became the oldest ever nominee when he replaced the disgraced Kevin Spacey as rich J. Paul Getty in "All the Money in the World" (2017).
In 2019, Plummer played the murder victim in the intricate "Knives Out," a hit in which he was as authoritative as ever. There was a sense that Plummer really could just go on forever, that the crust of age and acting both enjoyably hammy and rigorously insightful could take him up to 100 years old and past it. Plummer worked for over 70 years as an actor, and he had tried many different modes of playing and flourished in most possible areas of his profession. As a young man, he seemed to want to keep us at arm's length and displease us, as if the success of "The Sound of Music" had left him rebellious and disenchanted. But as an older man, in the last 25 years of his life and career, he had let himself look like he wanted to be loved, and hired, as men both bad and good.
Plummer was married to the eccentric musical comedy performer Tammy Grimes from 1956 to 1960, and they had a daughter, Amanda Plummer, who has been one of the most consistently adventurous and original performers of her time. In his memoir, Plummer remembered seeing his daughter in a very tough and confrontational film called "Butterfly Kiss" (1995) and wondering if he himself would have the nerve to go as far out on a limb emotionally as she did. Maybe it was partly an urge to impress his daughter that made him push himself back center stage in the late 1990s.
Plummer distinguished himself in practically all of the major Shakespeare roles. He was there for the blossoming of live TV, and he was open to both Nicholas Ray and Anthony Mann before landing up with Captain von Trapp. He has 217 credits on IMDb, not all of them distinguished, but many of them as colorful and vital and reckless as he was.