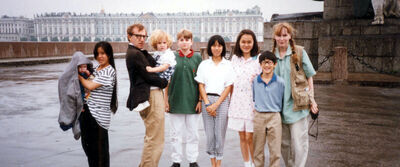 "Allen v. Farrow" concerns what happened to a seven-year-old girl, and her decision to talk about it decades later. "It has taken me a long time to reconcile that you can love somebody and be afraid of them," Dylan Farrow states at the beginning, and how cathartic it is to see her ready to talk about something we have wanted to know more about for years. But this is her story, and that of her mother Mia Farrow and Dylan's family of biological and adopted siblings, told not through the filter of media warfare. Instead it's of a thoroughly investigative and empathetic perspective, one that collects a slew of first-person accounts, retraces the case's evolution as an imbalanced public scandal, and educates viewers about the real experiences of living with abuse. It is the exact type of expansive analysis that this horrific Hollywood saga has needed, and I urge both those who believe and don't believe the Farrows' side of the story to watch it.
The incident is well-documented and unresolved: in August 1992, Woody Allen allegedly sexually abused his daughter Dylan Farrow inside the Farrow family's Connecticut home. But the personal angle has been less known, given that Dylan has rarely spoken publicly about the matter until recent years, and that Allen's public persona as one of Hollywood's most celebrated directors has dominated the focus. The four-part docuseries "Allen v. Farrow" levels the playing field like the previous fearless HBO documentary "Leaving Neverland," about Michael Jackson's alleged abuse of multiple children; it is another major addition to the slowly evolving public conscience about the honest behaviors of our celebrated creators. It seeks answers, and in the process it ends up discrediting a great deal of Allen's side while giving Farrow a platform she has never had previously.
The documentary is directed by Kirby Dick and Amy Ziering, who have made a vital career out of supporting victims with unflinching investigations, while informing the public with concrete statistics about abuse. Previous movies like Dick's "The Hunting Ground" (about rape on college campuses) and Dick & Ziering's "On the Record" (about abuse in the hip-hop industry) have led Dick & Ziering to this point, examining one of the most infamous abuse cases in public discourse. The docuseries (which will premiere one episode a week, starting February 22) is a testament to their editorial incisiveness, and how their allegiance to a victim's on-camera courage always helps us see the more honest power dynamics within certain cultural entities.
The first episode alone is damning enough to Allen's character, establishing a pattern of inappropriate behavior he had with his young daughter Dylan—family friends and Farrow herself recall how he would steal her away from family time, and then there would be strange moments like allegedly seeing him make her suck his thumb while sitting on the front porch steps, or laying in bed with her, with Allen dressed down to his underwear. ("I was always in his clutches," recalls Dylan. "He was always hunting me.") Such disturbing ideas are within the framing of an otherwise harmonious home, and the documentary initially communicates this using a personal lens—it's more about talking head interviews depicting the family life that Mia Farrow and Woody Allen had as girlfriend and boyfriend creating a home with children, many of them adopted by Farrow. In previously unseen home footage, Farrow has never appeared more removed from her chameleon-like screen-presence. Alternately, images of Allen's "intense affection" for Dylan—pictures from family photo albums that have literally cut him out—show Allen in a candid light that has never been more concerning.
In its second half, "Allen v. Farrow" interrogates the culture that believed—or wanted to believe—Allen's side of the story, while accepting Farrow as a girlfriend and mother scorned after Allen left the relationship to be with Farrow's adopted daughter Soon-Yi Previn. The custody battle that came in the middle of the investigation, in which Allen vengefully sought custody of Dylan and son Satchel (now known as Ronan), is another gruesome development. The series is for the most part focused as it goes from one big chapter to the next, and its impact comes from the accumulation—to see all of these developments within the same narrative provides a richer sense of how skewed the public's sense of justice was, and still can be.
There's something very sharp about how this documentary balances the Farrows' personal experience, while reckoning with the public aspect. It knows that many viewers will enter into it with some love for Allen's films, and provides them with an honest but non-affectionate analysis of what his movies of young and old romance mean while acknowledging the "good art, bad behavior" argument. And its investigation is prepared for the deniers and devil's advocates, covering many angles—the narrative that Dylan was coached by Mia, or the more recent statement from Farrow sibling Moses that can be disproven with the original court testimony, or the report that initially "cleared" Allen, despite it not having the authority to do so. It is incredibly comprehensive across its four-plus hours without being repetitive, and like previous Dick & Ziering documentaries, it is ready for a fight.
If you want to hear Allen's side of the story, just refer to how the media talked about it as it was unfolding. But while Allen does not appear in the documentary (he denied requests to be interviewed) he is heard—just last year, he recorded an audiobook for his memoir Apropos of Nothing, and this series factors in his take on certain chapters on his relationship with Farrow, the kids, and his recollection of the incident. A more disturbing version of Allen comes out in taped phone recordings, his vindictive, monotone voice while gaslighting a calmly defensive Farrow an especially disturbing and telling spectacle. There are clear patterns of manipulation, while the film reckons with his loyalty as a public figure, well aware of how to alternately sway an audience and control those closest to him. For all the dots that it connects between his narcissism and his romantic, semi-autobiographical movies that we all know, it confirms that there is so much we cannot claim to know about his behavior. His career has taught us to see him as someone who is relatively small, but this documentary takes a step back from the world he has presented, showing just how huge and shameless he can choose be as an elite star.
"Allen v. Farrow" weighs all of this with the Farrows' side, depicting a more universal story for countless family stories with episodes of abuse. Theirs is a saga of a coming to terms with it in their own way; to understand more of what Mia was thinking while Allen succeeded in smearing her credibility as a mother despite her storied dedication to children; to understand how the Farrow siblings dealt with it at the time by using radio silence. That Dylan's brother Ronan would go from not wanting to ask her about it for years, and then to publicly supporting his sister, and then countless others with his own explosive investigative journalism, is a beautiful example of the vital support that can come from being a listener. The series' footage of Dylan in modern times, detailing her thoughts as a young girl and then teenager coming to terms with an event she knows to be 100% true, exemplifies the power in someone finally being heard.
Everyone in "Allen v. Farrow" emerges more human than we've ever known them before, whether they've spent a life on-camera or not. Among its many successes, it prevails at getting you to see this no longer as a Hollywood scandal buried by a celebrated filmography, but as the wrenching tale of an American family traumatized by a father's choices and held together by unfathomable courage; a saga of revealing actions that are deeply horrific or heroic, always based in how one person chooses to treat another. Despite what some future headlines about this docuseries might say, there is nothing particularly explosive about "Allen v. Farrow," so much as profoundly humanizing.
Premieres on HBO on Sunday, February 22, with a new episode each week.