The Nostalgia of Epix's Bridge and Tunnel is Filled with Wrong Turns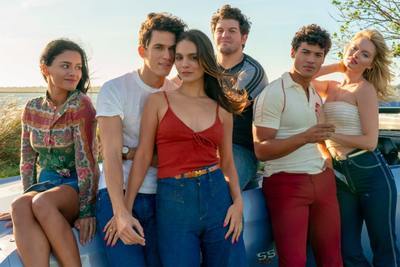 I hope your post-college life wasn't this insipid. It's Spring 1980 on Long Island, and six friends have returned to their neighborhood to hammer out their love lives. Hopeless romantic and photographer Jimmy Farrell (Sam Vartholomeos), whose former flame Jill (Caitlin Stasey) returns to respark their relationship, must decide between true love or recording wildlife in Alaska. The territorial Stacey (Isabella Farrell), leaping into her former fling with the buff accounting major Mikey (Jan Luis Castellanos), weighs the idea of friends with benefits against her boyfriend living in the city. The law school-bound Pags (Brian Muller), Jimmy and Mikey's best friend, is smitten by Jill and Stacey's girlfriend Tammy (Gigi Zumbado), while Tammy has a crush on Mikey.
These friends, who have known each other since grammar school, not only reflect upon where they've been, but also where they're going. Their quandaries would elucidate some entertainment a la "That '70s Show," if the writing showed any interest in them. In the four episodes provided to press, Edward Burns' six-episode hangout series "Bridge and Tunnel" is a nostalgic period piece that offers insignificant storylines to mark its meandering journey down memory lane.
The show's main focus of Jimmy and Jill's relationship troubles rushes into view in the premiere's opening scene—the pair passionately crashing into a bathroom for a very quick quickie. The couple broke up last year because of their divergent career paths: Jimmy is awaiting a six-month photography gig with National Geographic while Jill works as a designer's assistant, in an office that lampoons her Long Islander accent by calling her "bridge and tunnel" (Burns never defines the meaning behind the insult). While their friends and parents believe their relationship is doomed to fail, neither Jimmy nor Jill are sure whether either can live with or without the other.
Burns unfurls Stacey and Mikey's relationship to an equally frustrating measure. Mikey, stuck between pursuing a lackluster accounting career and this true passion for the arts, entangles himself with a taken Stacey. They share very few conversations, so how they came to be in a long-term fling makes zero sense considering their polar opposite temperaments. Both couples occupy a frustrating middle ground between seriousness and no-strings attached, but Burns provides few compelling reasons why we should care. Pangs and Tammy, the two spares to this four wheeler, are ill-defined as well.
Burns wants to transport audiences back to the 1980s, but his series reeks of cosplay. The set decoration sees bedroom walls plastered over by posters—from "Rocky" to "Styx"—and in the case of Jimmy, his collage of National Geographic covers. Needle drops from Minnie Ripperton, Anne Murray, David Bowie, etc. color the nostalgic fest. Feathered hair, flared jeans, and muscle cars also garnish the set. But nothing in "Bridge and Tunnel" feels lived-in, mostly because we're missing the small details. Tammy, for instance, waitresses at a diner, but Burns doesn't provide the establishment's name. There's a nondescript body of water the friends hang by with their cars, but neither the name or its importance to them is recalled. The only haunt Burns shows any attachment to is their neighborhood bar, Larry's Pub. Yet even here, we don't see the bartender, their favorite spot at the bar, or even their favorite table—the features that say "I was raised here, and I'll always remember being here."
Speaking of raised, these friends spent their childhoods on the same block, but you wouldn't know it by their chemistry. The dialogue is stilted by over explanation—if I have to hear again how Jill broke Jimmy's heart one more time—and when it comes to building out characters, Burns relies on needless telling, but rarely intuitive showing. And Pags liking Styx doesn't qualify as a personality (sorry, Cornerstone fans). When Burns does build his characters by showing, it's by way of flat sex scenes, where two long-time lovers appear alien to each other's bodies.
These faults glare under the show's uninspired stories. Are they friends milking their last spring before unknowable adulthood? Or are they already slackers, but they just don't know it yet? "Bridge and Tunnel" never anchors itself to a theme. Instead, the series wanders from episode to episode to loosely unravel precarious romances, only to double back for another "will they or won't they" tease. In "Bridge and Tunnel," Burns has the building blocks for a "That's '70s Show" guide through post-college life, but not the laser focus needed to excise those fears, those doubts, those two distinct crossroads. "Bridge and Tunnel" needn't guide viewers back to their post-college years if all it'll provide are wrong turns.
Four episodes screened for review.