The 2020 Frontrunners for Best Director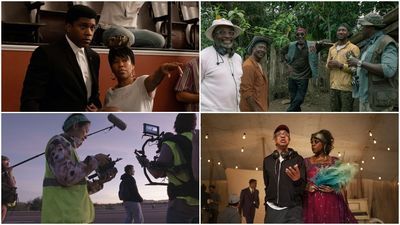 The bad news about this upcoming award season is that the pandemic has kept several major studio titles out of the running. The good news is that this might be the most diverse list of possible contenders in some time. History could be made in many ways, especially when it comes to female directors. Using insight from the nearly 4,000 readers of the showbiz awards site Gold Derby who have posted their Oscar 2021 predictions, this list below will likely reflect the field of filmmakers who will compete in the Best Director category.
So far, only five women have ever competed in this category in the Oscars' 92 years of existence: Lina Wertmuller (1976's "Seven Beauties"), Jane Campion (1993's "The Piano"), Sofia Coppola (2003's "Lost in Translation") and Greta Gerwig (2017's "Lady Bird") and Kathryn Bigelow, who won for 2009's "The Hurt Locker."
At least three lady lensers could make the cut this year, with the added bonus of racial diversity attached. Meanwhile, three African-American helmers could be in the running. That includes Spike Lee, who is one of only six black filmmakers to ever make the cut, thanks to 2019's "BlacKkKlansman." The others are John Singleton (1991's "Boyz N the Hood"), Lee Daniels (2009's "Precious,"), Steve McQueen (2013's "12 Years a Slave"), Barry Jenkins (2016's "Moonlight") and Jordan Peele (2017's "Get Out").
As for Asian auteurs, Taiwan native Ang Lee won the prize for 2005's "Brokeback Mountain" and 2012's "Life of Pi"—becoming the first person of color to do so—while South Korea's Bong Joon-ho became the second Asian to win the prize, thanks to 2019's "Parasite." Here is the rundown of this year's front-runners for Best Director:
Chloé Zhao ("Nomadland"): This Chinese filmmaker was previously praised for her debut feature, 2016's "Songs My Brothers Taught Me," which focused on the bond between a Lakota Sioux brother, his younger sister and their extended family who live on the Pine Ridge Indian Reservation in South Dakota. Her second film, "The Rider" (2018), starred a real-life rodeo rider who suffers an accident and no longer competes. Her latest film "Nomadland" won the Golden Lion at the Venice Film Festival and the People's Choice Award at the TIFF, becoming the first movie to claim both prizes. The movie's greatest asset by far is its star Frances McDormand, who plays a feisty 60-something former plant worker who decides to sell most of her belongings and buy an RV to live in as she looks for job opportunities while connecting with her fellow vagabonds. Watching McDormand genuinely bond with her real-life nomad co-stars is an emotional road trip indeed, along with soul-stirring backdrops courtesy of Mother Nature and terrific cinematography.
David Fincher ("Mank"): Fincher, who was previously was nominated in this category for 2008's "The Curious Case of Benjamin Button" and 2010's "The Social Network," ambitiously dips into the truths and myths about the making of Orson Welles' "Citizen Kane" (1941), which is considered one of best movies ever made. Instead of focusing on Welles, Fincher's first feature since 2014's "Gone Girl" zeros in on alcoholic screenwriter Herman J. Mankiewicz (Gary Oldman), whose main character is inspired by media mogul William Randolph Hearst (Charles Dance). Fincher, who usually has visual panache to spare, insisted on shooting "Mank" in black and white as an homage to the subject at hand. We will see if his nostalgic time-machine to Hollywood's golden era finally snags him a win.
Aaron Sorkin ("The Trial of the Chicago 7"): In an awards season rife with top-notch ensemble casts, Sorkin has gathered quite an interesting mix of characters based on the real-life Vietnam War protestors who were accused of inciting riots during the 1968 Democratic Convention in the Windy City. Sorkin, directing for the second time, mostly stages the action in a courtroom with a motley crew of opinionated males, most notably Yippies Abbie Hoffman (Sacha Baron Cohen) and Jerry Rubin (Jeremy Strong) along with Tom Hayden (Eddie Redmayne). Meanwhile, Mark Rylance takes on the chore of being their lawyer William Kunstler, opposite Frank Langella as the hissable Judge Julius Hoffman who mistreats Black Panther party co-founder Bobby Seale (Yahya Abdul-Mateen II) in one of the film's most dramatic scenes. Snappy dialogue is one thing. But given all the anti-racism protests that continue to take place in the streets of our country and Trump's previous use of military force to stage to a creepy photo op, there might not be a more relatable film at this moment.
Regina King ("One Night in Miami"): King seems to have the Midas touch whenever awards season comes around. She has amassed quite a load of gold in her career, in the form of an Oscar, four Emmys, a Golden Globe and a SAG ensemble honor. But this time, she might just win with her film debut behind the camera. The actress has been in training for a while, thanks to helming TV episodes of "This Is Us," "Insecure," and "Scandal." Based on a Kemp Powers play, this what-if drama imagines what might have happened during a 1964 meeting at a Miami hotel between Muhammad Ali (Eli Goree), Malcolm X (Kingsley Ben-Adir), Sam Cooke (Leslie Odom Jr.) and Jim Brown (Aldis Hodge). What transpires is a black male all-night gab fest, where adult beverages are served, vanilla ice cream is shared, and opinions are the main course. King's best move was casting such charismatic actors, who are talented enough to play four black icons from the past and make them seem current again.
Paul Greengrass ("News of the World"): This British director is best known for directing three of the "Jason Bourne" sequels. His lone Oscar nomination was for his 2006 9/11-inspired drama "United 93," which recreates what entailed on that fateful hijacked flight as passengers would crash the plane and save countless lives. Greengrass' latest effort reunites him with Tom Hanks after 2013's sea-faring true-life thriller, "Captain Phillips." This time, they take on a Western drama about a Civil War veteran, Jefferson Kyle Kidd, who makes his living by traveling from town to town and charging attendees 10 cents to hear him read newspaper articles aloud. In his travels, he happens upon Johanna (Helena Zengel), a stranded young white German lass who was taken from her family by Native Americans. He reluctantly agrees to return her to her surviving family even though they have trouble communicating. The film has echoes of "True Grit" as well as "The Miracle Worker," but ultimately it's about a nation divided struggling to recover from the emotional wounds of a horrible war and the death of loved ones, while embracing a new way of life. Without being too blunt about it, isn't this a reflection of the current state of our nation right now?
Lee Isaac Chung ("Minari"): Chung based this heartfelt, often amusing film about a South Korean immigrant family with a curious six-year-old son David (Alan S. Kim) and an older grounded daughter Anne (Noel Kate Cho) on his own upbringing. Husband Jacob (Steven Yeun), who puts on a macho façade under his gimme cap, is determined to grow and sell Korean vegetables grown on his 50-acre plot in Arkansas, while wife Monica (Yeri Han) is less than pleased to be living in a mobile home. To keep the peace as the family searches for their own American dream, the couple recruits Jacob's grandmother to join them, and it's a good thing she did since actress Yuh-Jung Youn's arrival not only binds the family, she also enlivens the whole movie with her passion for profanity, wrestling, and Mountain Dew. She also eventually charms her great-grandson, who initially isn't that excited to share his bedroom with someone that he says "smells like Korea." The film won both the U.S. Dramatic Competition Grand Jury Prize and U.S. Competition Audience Award at the 2020 Sundance Film Festival—a good omen for eventual trophies to come.
Spike Lee ("Da 5 Bloods"): You would think that this highly influential and ground-breaking filmmaker would have multiple Oscars by now. But you'd be wrong. Lee received an honorary Academy Award in 2016 but had to wait until 2019 to bring home his first competitive Oscar for his adapted screenplay of "BlacKkKlansman," a movie that also earned him his first-ever bids for Best Director and Best Picture. His latest, "Da 5 Bloods," is a tale of four aging black Vietnam vets who return to the country to find the remains of their fallen squad leader and dig up a treasure that they left behind while serving. There is action and intrigue galore as well as welcome catharsis, with the under-appreciated Delroy Lindo as a standout along with the late Chadwick Boseman who is seen in flashbacks as their leader, Stormin' Norman. Lee's film digs deep, exposing the racism inherent in warfare while adding some grindhouse-movie escapism to the landscape.
Florian Zeller ("The Father"): The insidious disease that is dementia showed up in numerous 2020 films, ranging from the horror film "Relic" to the documentary "Dick Johnson is Dead." But this heartbreaking title based on French writer and first-time director Zeller's play has earned the most critical plaudits as it unites two Oscar-winning actors. Anthony Hopkins plays an elderly Englishman whose pride causes him to deny his condition while he continues to lose grip on what is real and what is an illusion, sometimes being forced into silence. Olivia Colman plays the man's daughter, who can't make daily visits any more, and grieves the loss of her father although he is still alive. The last time a first-time director took the prize in this category was when Sam Mendes won for 1999's "American Beauty." And the last time a French-born director won an Oscar was Michel Hazanavicius for 2011's "The Artist."
George C. Wolfe ("Ma Rainey's Black Bottom"): This stage veteran has won two Tonys for directing plays, one for 1993's Angels in America: Millennium Approaches and another for the 1996 musical Bring in 'da Noise, Bring on 'da Funk. As for his film work, Wolfe directed 2008's Nicholas Sparks adaptation "Night in Rodanthe" and also 2005's "Lackawanna Blues," which aired on HBO. One could surmise that Wolfe's stage background came in handy as he and his crew adapted August Wilson's play "Ma Rainey's Black Bottom" for the big screen. There are a few outdoor scenes, including the opening that introduces the title character played by a stellar Viola Davis in all her bluesy glory, as well as her cocky trumpet player Levee Green, who takes a solo as they perform in a tent in the woods. Played by Chadwick Boseman in his final role before he died in August last year, Levee brings down the house as an ambitious musician who writes catchy tunes and is itching to be discovered. Given that most of the action takes place in a cramped rehearsal room and a recording studio in 1927 Chicago, Wolfe focuses on the hot-headed whippersnapper Levee, who is driven by anger and ambition, and on the three elder musicians who talk amongst themselves while waiting for Ma to show up. But it's the crackling dialogue and sometimes testy interactions as the Mother of the Blues tries to manipulate her white manager and producer to do her bidding, which includes bringing her three ice-cold Cokes before she sings a note. Yes, these men are exploiting highly talented artists for their own gain—a situation that isn't that unusual even now.
Emerald Fennell ("Promising Young Woman"): The show-runner for the second season of TV's "Killing Eve," who also plays Camilla Parker Bowles on Netflix's "The Crown," Fennell has quite an eye for details in her big-screen directing debut, "Promising Young Woman." The film is a lethal revenge thriller starring fellow Brit Carey Mulligan as Cassie—short for Cassandra, the Trojan priestess who told true prophecies that were never believed. The devil, however, is in the details. Cassie is a 30-year-old med-school dropout who dons girly pastel sweaters and rose-adorned dresses to her day job as a barista, but at night she wears revealing outfits, sexy hairdos, and piles of make-up in order to pretend to be wasted at clubs, waiting for a "nice guy" to take her home. When they do, she suddenly reveals she is stone-cold sober and shames them for taking advantage of her. Not since Gerwig's "Lady Bird" has there been such a marvelous spot-on debut of a new female director.