Sundance 2021: President, The Most Beautiful Boy in the World, Flee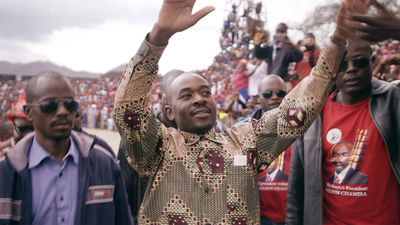 Fairness has been long delayed and denied in Zimbabwe. Following a military-backed coup of the country's president-dictator Robert Mugabe after a 38-year reign, his former Vice President and successor President E.D. Mnangagwa is running for reelection against an upstart challenger, the young MDC (Movement for Democratic Change) leader Nelson Chamisa. Camilla Nielsson's "President" retells the battle for the soul of a nation through the prism of Zimbabwe's controversial 2018 presidential election.
Nielsson immersed herself in Chamisa's camp, four weeks prior to the contest, to juxtapose Chamisa's passionate campaign from his larger, richer rivals. For decades under President Mugabe, the country held rigged election after rigged election. Now, the younger generation, which includes the 40-year old Chamisa, believe this is their opportunity to reshape the nation. In fact, the candidate makes several references to "the Obama effect" to describe how they should campaign. And when one sees his fervent rallies, where he plays the raucous rally with a maestro's precision, the comparison seems apt. But problems abound: The MDC hold significantly less money than President Zanu's PF party, as evident by Mnangagwa's building-sized pristine billboards. The ruling party also controls the police and military. They use the food aid provided by the UN as means to buy people's votes. Most of all, they command those tasked with overseeing the contest—the Zimbabwe Election Commission.
When the enrapturing images of the inspired multitudes jubilantly supporting Chamisa fade into election night, these factors collide for a damning combustion. Ballot stuffing. Voter data manipulation. Fabrication of polling stations. The police deployed in riot gear dispensing live ammunition. The eviction of journalists from press conferences. These are the levers of unprincipled power employed by Mnangagwa. Chamisa, his deputies, and supporters—ignoring death threats and the real chance of violent political retribution—fight to the country's supreme court to prove the justness of their cause, only to see justice denied. Measured and methodical, Nielsson's "President" is a devastating, heartened report of democracy in peril against a dictator, a report that suddenly feels all-too familiar to Americans.
Cinephiles will remember him from Luchino Visconti's queer classic "Death in Venice," others, from his brief appearance in "Midsommar;" and even more, from his swooning likeness in the manga "The Rose of Versailles." Decades later the shadow of Björn Andresen's visage, once boasted by Visconti as the most beautiful boy in the world, still casts itself not only across the world, but onto man himself, as well. Co-directors Kristina Lindström and Kristian Petri's "The Most Beautiful Boy in the World" recounts the travails of a child destined for stardom, yet born for tragedy.
In 1970, the legendary Italian auteur Visconti traveled to Stockholm to cast his cinematic adaptation of Thomas Mann's novella "Death in Venice," a film concerning an aging composer pining for an adolescent boy. The long-gestating project forced the director to travel to Hungary, Poland, Finland, and Russia in search of a teen to play the boy Tadzio. In the footage from Andersen's audition, one can see Visconti's leering countenance toward the feather-haired 15-year old, and the surprise on the teen's angelic fair-skin face when the director asks him to remove his shirt. Andresen wins the part, becoming a kind of Timothee Chalamet—an idol of male beauty to women and men alike.
Seeing Andresen today, however, his face obscured by cigarette smoke, his mouth enveloped by his lengthy grey beard, one recognizes the spiritual scars wrought by a child star left unprotected by the adults around him. Andresen intimates accusations of sexual assault on "Death in Venice," illicit drugging in Japan, and sexualt assault in Paris—and recounts his mother's probable suicide. For a time, "The Most Beautiful Boy in the World" is an agonizing watch, not just because of the anguish Andresen suffered, but how he recalls these miseries from a distance. We feel for Andresen's depression, his reclusion, his emotional barriers from loved ones, but we're not totally sure of the filmmakers' connective thesis. That is, until Andresen pours forth one more unthinkable family calamity.
In the final minutes of Lindström and Petri's distressing film, Andresen, graced in a black leather trench coat, his slender frail body sashaying through the cracked-painted hallways of the past, becomes akin to the elegiac gent in Caspar David Friedrich's romantic painting "Wanderer above the Sea of Fog." He exists outside himself, barely traceable to family and friends, yet somewhat at peace. "The Most Beautiful in the World" is a haunting, gut-wrenching exploration of a timeless idol and the weight of his success.
Produced by Nikolaj Coster-Waldau and Riz Ahmed, and based on a true story, Jonas Poher Rasmussen's "Flee" follows in the footsteps of Ari Folman's "Waltz with Bashir" to bring a unique Middle Eastern refugee story to the screen in the shape of an animated documentary. "Flee" unfolds by way of Amin's hybrid interview-therapy session. He recounts the string of events that led his family to escape to Europe at the start of Afghanistan's 1978 Civil War. Now living in Copenhagen, separated from his family, Amin is on the verge of marriage to his partner Jasper, but a few anxieties leave him reticent: his shaky immigrant status, his acceptance into Princeton's postdoc program, and most importantly, his haunting childhood memories.
The animation in "Flee" is as much a practical choice, as an aesthetic one. Like the pseudonyms that Rasmussen gives these characters, the animation allows Anim, living in Sweden illegally, to tell his unthinkable story. For instance, the present-day sequences—his impending marriage to his partner and the interview sessions—along with his most vivid childhood memories in Afghanistan and Russia, use conventional 2D animation, while the gruesome recollections—him enduring dangers of human trafficking—as well as memories that aren't his own, the abduction of his father, are drawn in abstract terms. Both narrative tracks are massaged by way of Amin recalling his gay sexual awakening, told by way of A-Ha needle drops and steamy references to Jean-Claude Van Damme.
As a final element, jolting us back to the conventional documentary form, Rasmussen also avails historical footage of the Afghan Civil War and the fall of communism in Russia. The blended visuals transcend the temporal constraints of documentary storytelling to translate Amin's myth and memory into his present-fractured yet forged identity.
Though Rasmussen often leverages this hybrid form to ingenious and intimate effect, the potential to fully excavate Amin's psychological fears through the same abstract representation feels untapped. That is, if we can enter inside his mind, then why not totally submerge ourselves rather than feeling at a distance? That's probably a minor quibble, however, in a story as powerful as Amin's, but a criticism nonetheless. Rasmussen's "Flee" covers its difficult topics—the immigrant-refugee experience, a sexual awakening, and long-term romantic commitment—in sometimes overlong strides. But its ambition is as challenging as it is gorgeous. The images in "Flee" will remain seared in the mind long after they depart from the screen, even if their departure leaves us at a loss.