Sundance 2021: In the Same Breath, Censor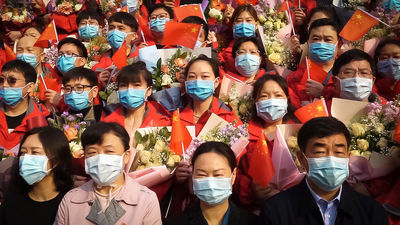 Given how Sundance is such an of-the-moment festival, we can expect that there will be a great deal of stories being told regarding our current trauma, a saga we are still just starting to understand (you know which one). Let us hope the films are as eye-opening and vital as "In the Same Breath," the latest documentary from Chinese-born American filmmaker Nanfu Wang (her previous documentary about China's one child rule, "One Child Nation," played the festival in 2019). Our understanding of this issue is better for her thoughts, and her dedication to capturing that of many others. The film is both a thorough damnation of how China and America lied to their people about the threat of COVID, and a feat of disarming empathy for those who have been gravely misled.
"In the Same Breath" is Wang's biggest documentary so far, and yet it has the undeniable guidance of Wang's approach to storytelling. It is informative about what Wuhan was like during the first days when Coronavirus was spreading unbeknownst to the larger public, and incisive when it comes to government. (A shot of nine state-supported Chinese news channels, reading off a strict script in unison, is particularly chilling.) That sense of disinformation naturally leads to outrage, and a sense of horror. "In the Same Breath" is of course a tough watch, but it's a must-see for its expansive, heartfelt perspective on this worldwide catastrophe.
What's particularly amazing about this movie is the scope, and the poignancy that nonetheless defines numerous sequences that could fill separate documentaries. Wang covers both China and America with different experiences of medical workers, and those who have suffered terrible loss. Some passages in the film are lead by pure emotion, documenting the faces of healthcare workers as they share traumatic experiences from their jobs while fighting the virus. "In the Same Breath" can have a cathartic, watching people get things off their chest that has been buried by their duty, or forcefully by the government (in China, and in America). You can easily imagine the four-hour cut of this movie that focuses more on people's faces finally letting loose of some feelings, and that film would be just as great.
In other passages, Wang shares her outrage—however muted—with a strong dynamic of fact vs. fiction. While one might be aware of both COVID-19's toll and also the fact people are denying, Wang makes a heavy, tragic statement about this disconnect of information by showing both parts in great detail. She is not a provocative filmmaker, but she does want you to sit with the pain of COVID, showing numerous faces of whose who suffer from something that countless others will write off as "just the flu."
As in "One Child Nation," Wang remains a director who is fascinated by propaganda, but not because of its size. Instead, she very clearly sees the individuals in the image, even if it's one of many Chinese ceremonies with countless bodies in concert. She wonders about why people believe what they believe, and how their sense of patriotism could be so damaging to their own livelihood. By framing the toil of COVID as equally a Chinese and American tragedy of misinformation from authoritarianism, she proves again that she is not only one of the most empathetic documentarians working today, but one of the wisest.
Playing in the festival's Midnight section, Prano Bailey-Bond's "Censor" focuses on a unique office job that can have its mundane, tedious days—that of being a film censor in the 1980s, and having to watch horrific acts of violence and then provide exact notes on which nasty things have to go. Enid (Niamh Algar) has such a job and she is no horror fan. Her job is starting to eat away at her, in tandem with the trauma that she has about a sister who went missing decades ago. The mystery has never been solved, and it has made her especially vigilant about what the public sees. She shudders when someone thinks she has a job about entertainment—she sees her full-time job as an act of protection.
Enid does not view horror the same way that you and I might—she sees the gut-ripping and the pouring blood as real acts of violence, something that is just as offensive as the real act. This proves to be a great hook for the story's character-based horror, and co-writers Bailey-Bond and Anthony Bond slowly develop it. Maybe too slowly, as some scenes of her at work, sitting with the violence as if it were sickening, can hit repetitive notes. There's also a semi-ineffective subplot in which one of the movies Enid was in charge of censoring inspires a heinous act in real life, making her a target at work, and in the news. It all adds to the pressure in a state of torment one could certainly call in full effect.
But "Censor" and its clever approach to media literacy takes off when it focuses on Enid's psychosis, especially after Enid thinks she sees something in a ghastly horror movie that is very real. The movie wanders off to some dreamy places, without director Bailey-Bond holding one's hand to explain why a film set is depicted as just two lights in the woods. With a winning confidence, she instead guides the viewer to a frightening, disorienting, and frankly shocking third act that builds with one strange image after another, breaking our notion of reality (the last few shots are great).
Algar's performance is a fascinating centerpiece—at first it's cold, the way that she keeps herself in isolation while hanging out in an otherwise social office, or sits about in a barely populated apartment. She shows the deep fear within that stoicism, especially as Enid is triggered and disturbed by the images she must look at closely for her work. "Censor" is incisive about how overpowering fear can be, and how it can twist how one sees the world. The movie is so good that it even bypasses the conceit that Enid clearly should have quit long ago, as she approaches this job like it were a duty foisted upon her by a dystopian society.