Sundance 2021: CODA, Summer of Soul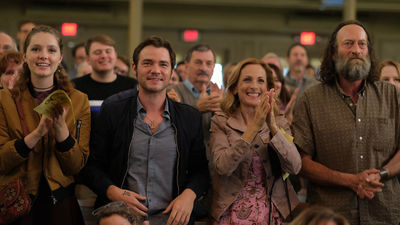 Almost as if the programmers knew that they needed to set the right tone for the largely virtual Sundance Film Festival in 2021, they launched the event on January 28th, 2021 with a pair of undeniable crowdpleasers, two films that will have loyal, large fan bases when they can be widely seen, and two films that would have absolutely destroyed large premiere audiences in an era without COVID. With that bittersweet taste aside, these are both early delights in a film festival that has weathered its share of drama in even getting off the ground in 2021. They may be formally different as can be, but they're both movies that are incredibly difficult to dislike, wrapping their empathetic spirits around viewers all over the world, bringing some of that Park City warmth that comes with a rapturous response to a premiere to places far outside of Utah.
"CODA," which stands for Child of Deaf Adults, is the story of Ruby Rossi (Emilia Jones, giving a true star-making performance after impressing last year on Netflix's "Locke & Key"), a hearing daughter of deaf parents and sister to a deaf brother. She works every morning with her father (Troy Kotsur) and brother (Daniel Durant) to help keep their struggling Gloucester fishing business from going under, going to school smelling like fish to keep everyone happy. From early in "CODA," it's clear that Ruby has long endeavored to make the people around her happy, often being the sign language interpreter for her family at the expense of her own interests.
Ruby breaks out of her shell in this unusual coming-of-age narrative with two changes—young love with a boy at school named Miles (Ferdia Walsh-Peelo of "Sing Street") and joining a choir class run by a teacher (Eugenio Derbez) who realizes that this young lady can really sing. Can Ruby find a way to balance her own dreams for the future and stay true to her family? Writer/director Siân Heder tells multiple stories here, placing familiar narratives like teen romance and an introvert coming out of her shell against a backdrop we haven't really seen before in a deaf family in a fishing community. The contrivances and sitcom elements, particularly in the more traditional parts of the story, are undeniable, but they're crushed by the massive heart of this movie. You come to care deeply about these characters, especially the members of the Rossi family. Heder is comfortable presenting them in all of their flaws and strengths, allowing all four of them to feel fully formed by the end, making the inevitable emotional moments incredibly powerful.
Heder's nuance with the Rossi family wouldn't be as effective without stellar performances from all four actors who play them. Kotsur gets to a lot of broad comedy bits as the dad who lacks a filter, even via sign language, but he also really imbues his role with a deep sense of working-class sadness, watching his business fade away to crushing regulation and realizing things are going to change in every way. Matlin makes a welcome return to features with a natural, lived-in acting turn, and she absolutely destroys a late scene with her daughter about the day she was born that would crack the coldest heart. Even Durant gets more development than one might first think, and he too gets a major scene in the end that he nails. However, this is Jones' film and she gives one of those young performances that feel like a pronouncement of someone who will be around for years. Think early Emma Stone, Saoirse Ronan, or Kate Winslet. She's just great.
All of that wonderful stuff in the Rossi family is offset a bit by the other elements of "CODA," including a pretty broad, familiar turn from Derbez and an underdeveloped love story. It's not really the fault of either actor that their material just doesn't resonate as much, feeling much more the product of a familiar Sundance indie. "CODA" comes to life around the Rossi dinner table or on the ship in the morning as they go about their business, and sinks a bit when it's forced to hit familiar beats. By the end, you won't care about the latter. You'll care too much about the Rossis, one of the most three-dimensional, genuine families in a Sundance dramedy in a long time.
A very different kind of joy erupts from every frame of "Summer of Soul (…Or, When the Revolution Could Not Be Televised)," a powerful reclamation of a major cultural event that was lost to history. In 1969, the same summer as Woodstock, a different concert unfolded in a park in Harlem as more than 300,000 people attended something called the Harlem Cultural Festival. It was filmed and then the footage sat in a basement for fifty years, assembled into a documentary here by the insanely talented Ahmir "Questlove" Thompson of The Roots, who brings together many of the performers, attendees, and other cultural icons of the era to discuss what went down that day and how it reflected so much of Black history and Black future. It's a joyous piece of filmmaking, something that I could have watched for literal hours, and contains quite simply some of the best concert footage ever put on film. It's stunning to consider what else might be sitting in a basement somewhere.
Questlove alternates interview footage, often accompanied by images of the interview subjects seeing the concert clips for the first time since that day, with lengthy segments of performance. Being an artist himself, he balances the music of the event with its greater meaning well, sometimes feeling like he's biting off a bit more than the film can chew in terms of capturing so much of the Black experience through the filter of one day, but often justifying that ambition. He presents the Harlem Cultural Festival as a major turning point in New York history, a coming together of various races and cultures, and a reclamation of the word Black. Instead of just giving people a you-are-there sense of the event—and he does that with stunningly restored video and audio—he places the event in the context of history, noting when it happened in relation to events like the assassination of Martin Luther King Jr., Malcolm X, and the Kennedys. The concert even happened on the same day as the moon landing, and interview segments in which Harlem residents wonder why that money couldn't have been spent on them give the piece added context. It's not just a concert—it's an examination of a turning point in culture.
And yet Questlove doesn't dismiss the power of the music itself. Some of the performances here are breathtaking, including great ones from Gladys Knight and the Pips, Stevie Wonder, Sly and the Family Stone, and, most of all, a performance of "Take My Hand, Precious Lord" by Mavis Staples and Mahalia Jackson that tears the roof off wherever one watches this movie. Introduced by Jesse Jackson himself as one of Martin Luther King Jr's favorite songs (a request to hear it was reportedly his final words), the performance riches a different level of history and emotion. It's something else.
The empowerment and inspirational aspect of "Summer of Soul" is tempered by the sense that generations were robbed by not seeing it earlier. Why didn't this film, gorgeously shot and edited, gain as much cultural traction as "Woodstock," inspiring viewers decades before now? And how many other life-changing events are waiting to be reclaimed?