Sundance 2021: 12 Films We Can't Wait to See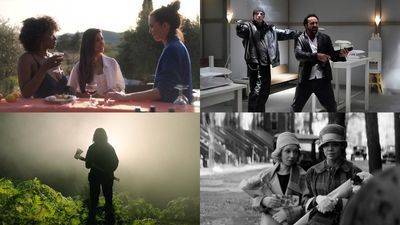 This year's Sundance Film Festival (running January 28 – February 3) is a little bittersweet, as you might imagine. The good: Bathrooms have never been more accessible during festival time, and every viewer has a better shot at getting a good seat, instead of scurrying for the ones on the aisle inside the festival's "cozy" Library Theater (sigh, I already miss it). The sad: The movies will not be premiering to eager crowds of film-lovers in Park City. Instead this new class of selected movies (following last year's "The 40-Year-Old Version," "Kajillionaire," "Minari," "Palm Springs," "Promising Young Woman," "Relic," and "Shirley," among other celebrated alumni) will be experienced via home theaters, computer screens and the like, thanks to the festival's efficient scheduling and viewing system. One big upside to all this is that more people will get to view the movies, which also means more writers will have access for coverage. And sites like this one right here will be reviewing practically every feature that premieres.
But while this Sundance is smaller than usual years, the promise of discovering great talent, or a new favorite movie, is no less pertinent. As Sundance veterans, we're still just as excited for what lays ahead during the festival's run from January 28 – February 3, and below is only the beginning for all the films we're eager to see (with descriptions taken from the program). Be sure to check back here throughout the weekend for reviews by myself, Brian Tallerico, Kristy Puchko, Carlos Aguilar, and Robert Daniels.
"Coda"
Starring: Emilia Jones, Eugenio Derbez, Troy Kutsur, Ferdia Walsh-Peelo, Daniel Durant, Marlee Matlin
Written and Directed by Siân Heder
Category: US Dramatic Competition
Ruby (Emilia Jones) is the only hearing member of a deaf family. At 17, she works mornings before school to help her parents (Marlee Matlin and Troy Kotsur) and brother (Daniel Durant) keep their Gloucester fishing business afloat. But in joining her high school's choir club, Ruby finds herself drawn to both her duet partner (Ferdia Walsh-Peelo) and her latent passion for singing. Her enthusiastic, tough-love choirmaster (Eugenio Derbez) hears something special and encourages Ruby to consider music school and a future beyond fishing, leaving her torn between obligation to family and pursuit of her dream.
"Cryptozoo"
Starring: Lake Bell, Michael Cera, Angeliki Papoulia, Zoe Kazan, Peter Stormare
Written and Directed by Dash Shaw
Category: NEXT
Cryptids are creatures whose existence is disputed or unsubstantiated. When Amber and Matt get lost in the woods during a sex date, they stumble upon a high-security fence. On the other side, they find a cryptid—a unicorn—that would change their lives.
Military brat Lauren spent her childhood nights in a nightmarish state, until a mythical baku came to eat her dreams, releasing her from nocturnal torment. Lauren decides to dedicate her life to rescuing and sheltering cryptids from those who seek to exploit them, so she becomes a cryptozookeeper. But when Lauren's and Amber's paths cross, Lauren begins to wonder if displaying these rare beasts in confinement is better than enabling these mythical creatures to remain hidden and unknown.
"In the Earth"
Starring: Joel Fry, Ellora Torchia, Hayley Squires, Reece Shearsmith
Written and Directed by Ben Wheatley
Category: Premieres
As a deadly virus ravages the world, Dr. Martin Lowery embarks on a mission to reach test site ATU327A, a research hub deep in the Arboreal Forest. The arduous journey, guided by park scout Alma, is set back by a nighttime attack that leaves the two bruised and shoeless. When they run into Zach, a man living off the grid, they gratefully accept his help. Zach's intentions aren't exactly what they seem, however, and a path out of the forest and into safety quickly fades as the line between myth and science blurs.
"Knocking"
Starring: Cecilia Milocco, Krister Hern, Albin Grenholm, Ville Virtanen
Directed by Frida Kempff
Written by Emma Brostöm
Category: Midnight
What. Is. That. Noise. When Molly hears knocking coming from the ceiling in her new apartment, she naturally searches for the source. The upstairs neighbors don't know what she's talking about and dismiss her with cool indifference. Is this all in her mind? After all, she's still processing a traumatic event that left her mentally unwell, and the unprecedented heat wave isn't helping her think clearly. As the knocking intensifies and gives way to a woman's cries, Molly becomes consumed with finding out the truth. Could it be Morse code? Is someone trapped? And more importantly, why doesn't anyone care?
"Ma Belle, My Beauty"
Starring: Idella Johnson, Hannah Pepper, Lucien Guignard, Sivan Noam Shimon
Written and Directed by Marion Hill
Category: NEXT
Newlywed musicians Bertie and Fred are adjusting to their new life in the beautiful countryside of France. It's an easy transition for Fred, the son of French and Spanish parents, but New Orleans native Bertie grapples with a nagging depression that is affecting her singing. Lane—the quirky ex who disappeared from their three-way relationship years ago—suddenly shows up for a surprise visit, bringing new energy and baggage of her own.
"Marvelous and the Black Hole"
Starring: Miya Cech, Rhea Perlman, Leonardo Nam, Kannon Omachi
Written and Directed by Kate Tsang
Category: Premieres
Thirteen-year-old Sammy is struggling to cope with the death of her mother. After she is caught vandalizing one of her school's restrooms, her father, fed up with her wild behavior, enrolls her in a summer course—if she fails, she'll be sent to a boot camp for delinquent youth. After storming out of her first class, Sammy meets Margot, a surly magician. Margot forces Sammy to be her assistant for a performance, and although Sammy seems uninterested, she seeks Margot out after the show and asks to become Margot's pupil. Margot agrees, and as their unlikely friendship grows, we learn that she and Sammy understand each other more than they expected.
"On the Count of Three"
Starring: Jerrod Carmichael, Christopher Abbott, Tiffany Haddish, J.B. Smooove, Lavell Crawford, Henry Winkler
Directed by Jerrod Carmichael
Written by Ari Katcher and Ryan Welch
Val (Jerrod Carmichael) has reached a place where he feels the only way out is to end things. But he considers himself a bit of a failure—his effectiveness lacking—so he figures he could use some help. As luck would have it, Val's best friend, Kevin (Christopher Abbott), is recovering from a failed suicide attempt, so he seems like the perfect partner for executing this double suicide plan. But before they go, they have some unfinished business to attend to.
"Passing"
Starring: Tessa Thompson, Ruth Negga, André Holland, Alexander Skarsgård, Bill Camp
Directed by Rebecca Hall
Written by Rebecca Hall, based on the novel by Nella Larsen
Irene Redfield (Tessa Thompson), a refined, upper-class 1920s woman, finds breezy refuge from a hot summer day in the grand tearoom of New York City's Drayton Hotel. Across the room, she spots a blond woman staring her down. Irene wants to steal away, but before she can, Clare Kendry (Ruth Negga) rushes over to stop her. It turns out the two were in high school together, and while both are African American women who can "pass" as white, they have chosen to live on opposite sides of the color line. Now, their renewed acquaintance threatens them both.
"Prisoners of the Ghostland"
Starring: Nicolas Cage, Sofia Boutella, Nick Cassavetes, Bill Moseley, Tak Sakaguchi, Yuzuka Nakaya
Directed by Sion Sono
Written by Aaron Hendry and Reza Sixo Safai
In the treacherous frontier city of Samurai Town, a ruthless bank robber (Nicolas Cage) is sprung from jail by wealthy warlord The Governor (Bill Moseley), whose adopted granddaughter Bernice (Sofia Boutella) has gone missing. The Governor offers the prisoner his freedom in exchange for retrieving the runaway. Strapped into a leather suit that will self-destruct within five days, the bandit sets off on a journey to find the young woman—and his own path to redemption.
"R#J"
Starring: Camaron Engels, Francesca Noel, David Zayas, Diego Tinoco, Siddiq Saunderson, Russell Hornsby
Directed by Carey Williams
Written by Carey Williams, Rickie Castaneda, Alex Sobolev
In fair Verona, a war as old as time is brewing between rival houses—but it's being captured in a new way. Montague and Capulet Gen Zers are using their cell phones to document the eruptions of violence plaguing their communities. In the middle of it all, Romeo discovers Juliet's artwork at a party, and the two inevitably fall in love. As tensions between their families escalate, the two plead for peace and desperately search for a way to escape their star-crossed destiny.
"We're All Going to the World's Fair"
Starring: Anna Cobb, Michael J. Rogers
Written and Directed by Jane Schoenbrun
Late on a cold night somewhere in the U.S., teenage Casey sits alone in her attic bedroom, scrolling the internet under the glow-in-the-dark stars and black-light posters that blanket the ceiling. She has finally decided to take the World's Fair Challenge, an online role-playing horror game, and embrace the uncertainty it promises. After the initiation, she documents the changes that may or may not be happening to her, adding her experiences to the shuffle of online clips available for the world to see. As she begins to lose herself between dream and reality, a mysterious figure reaches out, claiming to see something special in her uploads.
"Wild Indian"
Starring: Michael Greyeyes, Chaske Spencer, Jesse Eisenberg, Kate Bosworth, Phoenix Wilson, Julian Gopal
Written and Directed by Lyle Mitchell Corbine Jr.
Makwa, a young Anishinaabe boy, has a rough life. He often appears at school with bruises he says he got falling down, but no one believes him. He and his only friend, Ted-O, like to escape by playing in the woods, until the day Makwa shockingly murders a schoolmate. After covering up the crime, the two boys go on to live very different lives. Now, as adult men, they must face the truth of what they have done and what they have become.