Spike Lee Recieves American Cinematheque Award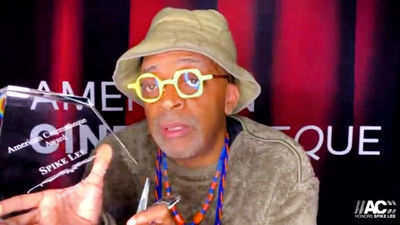 Oscar-winning filmmaker Spike Lee became the 34th recipient of the American Cinematheque Award during a two-hour virtual ceremony held yesterday, January 14th, and I couldn't agree more with their choice of recipient. Lee was a filmmaker greatly admired and championed by my late husband, Roger Ebert, and I shared his admiration of Lee. I have watched Spike's career from the beginning, and watching a "Spike Lee" film is always interesting and enjoyable, irrespective of whether you agree with some of his choices. He is quite simply a talented auteur and watching some of his films in a shot-by-shot format is like going to film school. Off the screen, Spike also deserves kudos for leading the charge to admit more diverse filmmakers to the unions. And I admire his courage and passion in speaking truth to power when it comes to issues affecting African-Americans, and America as a whole. His continued efforts for equality in Hollywood have been noted around the world and make him an ideal elder statesman. But fortunately he is not resting on his laurels, he has many more films to direct.
Hosted by Jodie Foster, who co-starred in Lee's 2006 thriller, "Inside Man," the ceremony featured heartfelt tributes from many of the filmmaker's cherished collaborators, who conversed in pairs to reveal the particulars of his genius. Guests included "Chi-Raq" star Angela Bassett, "Malcolm X" editor Barry Alexander Brown, "Bamboozled" costume designer Ruth E. Carter, "BlacKkKlansman" casting director Kim Coleman, "Black Panther" director Ryan Coogler (one of Lee's former students at NYU), "Mo' Better Blues" cinematographer Ernest Dickerson, "Do the Right Thing" producer Jon Kilik, "4 Little Girls" cinematographer Ellen Kuras, "Do the Right Thing" star Rosie Perez, "Jungle Fever" editor Sam Pollard, "Clockers" casting director Robi Reed, "Do the Right Thing" producer Monty Ross and "She's Gotta Have It" production designer Wynn Thomas.
"You have to work on your craft no matter what it is — you have to work, you have to work, you have to work," Lee said in conversation with Foster. "If you love what you are doing you can delay Father Time, so I have some more joints to make. At the very beginning I wanted to build a body of work because I noticed the artists I admired kept building their body of work. It wasn't just a one-and-done thing. Over the years they kept working on their craft. For me that was the model."
The director also paid tribute to the late star of his latest acclaimed narrative feature, "Da 5 Bloods," Chadwick Boseman (who played a heroic platoon leader), saying, "The character in 'Da 5 Bloods' is so enormous — you just can't cast anybody. He is described as mythic. You are talking about a guy who played Jackie Robinson, James Brown, Thurgood Marshall, Black Panther." Boseman's "Da 5 Bloods" co-stars—Norm Lewis, Delroy Lindo, Jonathan Majors, Clarke Peters and Isiah Whitlock Jr.—appeared together to virtually give Lee his award.
"There are filmmakers who create entertainment for the world. and there are those who create commentaries for our world," said Jonathan Majors. "Personally I don't know another person that so naturally and so honestly creates both time and time again. Hopefully all artistic artists grow in their craft, Spike, but you started with compassion and guts and truth. Vision ferocious before anyone knew who you were, and passion before anyone knew that you are. I know that from courtside at the Knicks game and hanging out with you, and having a beer with you in Thailand, you don't speak through your art, you speak through your humanity."
Two of Lee's movies cracked the top five of RogerEbert.com's combined list ranking the best films of 2020: "David Byrne's American Utopia" (#3) and "Da 5 Bloods" (#5). And Roger famously vowed to boycott the Cannes Film Festival when "Do The Right Thing" did not win an award there. He said that film was one of the few movies that ever made him shed a tear. He wrote in his four-star review of "Do the Right Thing," "I believe that any good-hearted person, white or black, will come out of this movie with sympathy for all of the characters. Lee does not ask us to forgive them, or even to understand everything they do, but he wants us to identify with their fears and frustrations."
You can find links to all of Roger's writing on the career of Lee here.
Also be sure to watch Lee's virtual conversation with "Moonlight" director Barry Jenkins held last year by the American Cinematheque in the video embedded below.