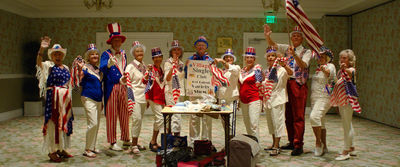 Robert Browning promised that old age would be "the last of life for which the first is made." But in "Some Kind of Heaven," a documentary about a retirement community with a population the size of New Haven, we see that for better and worse and despite the best efforts of all involved, the last of life is filled with many of the same uncertainties, conflicts, loneliness, and fears of all the other ages.
Sometimes referred to as "God's waiting room," The Villages in Florida is designed to create a problem-free world for financially comfortable over-55 residents who want to live in a gentle fantasy of perpetual fun and companionship. The over 3,000 group activities include belly dancing (to Dean Martin singing "Let it Snow," not the obvious choice for more than one reason), a marching band, water ballet, Parrothead meetings (for fans of Jimmy Buffett and margaritas), and the Golf Cart Precision Drill Team. There seems to be a group made up exclusively of women named Elaine. Over 20,000 70- and 80-something singles go clubbing every night. "Blurred Lines" takes on a second meaning when the dancing couples wear bifocals.
Even the "news" comes from a Villages-only television station and newspaper. A front-page story might be about a resident's new red sports car. "I don't see slums. I don't see death and destruction," a resident says with relief. Like a perpetual luxury cruise ship or a residential all-inclusive resort, The Villages have everything the community could ever want or need within its gates. Indeed, everything is designed to make sure they never want or need to leave. "Everything here is just so positive I'm at a loss for words," one resident says cheerfully. Like the lotus eaters who forget everything but the pleasures of the present moment described in Tennyson's poem, it is "a land in which it seemed always afternoon." Everything is designed to keep the residents free from worry. Even a sales pitch about pre-paid funerals glosses over the icky part—death—to focus on the relief from having to worry about rising costs.
One of the most intriguing revelations in the film comes from the son of the community's founder. Like Disneyland's iconic Main Street, the look of The Villages was specifically created to inspire a comforting sense of nostalgia, created for aging baby boomers to represent an idealized past. It was so idealized that early visitors insisted on knowing "the story." They did not mean the real story of how the idea for The Villages was envisioned. They wanted a pretend story, a kind of bedtime story. And so, the buildings in the town center have mythic and completely imaginary backstories. We see a close-up of an artistic fake crack in the fake adobe facade of one storefront.
There are a dozen different movies you could make about The Villages. The recent feature films "Poms" and "Just Getting Started" have used a setting like it for dramedies starring aging Oscar winners, and the horror movie "Vivarium" has a young couple in a similarly idyllic-seeming housing development. I would like to see a documentary that focuses on the staff that keeps everything looking so pristine and seamless. Or one based on the New York Times articles referring to The Villages as a "nation-state" and analyzing the shift away from the residents' overwhelming support of Donald Trump's candidacy in 2016 toward Biden in 2020. Or a look at the kind of self-selection that characterizes the people who want to live in a place like this, all of whom appear to be white, and whether freedom from everyday worries makes for a happier life. This film, though, made in partnership with the New York Times and executive produced by Darren Aronofsky, and the first full-length documentary by writer/director (and Florida native) Lance Oppenheim, is more interested in a few of the individuals than in the larger story.
That includes Reggie, who has decided to spend his final years a bit buzzed but whose lack of filters and communion with the spirits may be the result of a series of small strokes in addition to the weed and cocaine. A dapper 81-year-old lives in a van and sneaks in to The Villages pools to try to meet a rich woman willing to take him in. A recent widow makes her first tentative efforts at a new romance with a friendly golf cart salesman known for his potent margaritas at the Parrothead gatherings. The film can get fractured and lose momentum, but the way it cuts back and forth between her description of their conversation and the conversation itself is charming.
It is also a reminder that even in the paradise of The Villages, starting a new relationship can be scary and painful. As can being alone, even in the world of fake cracked adobe and senior citizen water ballet.
Now playing in theaters and available on demand.