Preparations to Be Together for an Unknown Period of Time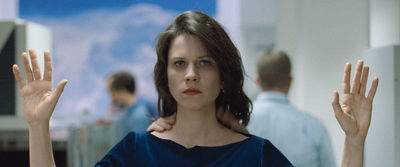 Aptly matched by its descriptive title, writer/director Lili Horvát's "Preparations to be Together for an Unknown Period of Time" (Hungary's submission for this year's Best International Feature Film Oscar) boasts an intriguing premise. The movie is like a psychological labyrinth with many possible exits, but only one can set its disconcerted heroine free—or so it seems.
Exemplary neurosurgeon Márta Vizy (Natasa Stork), for whom reality is increasingly becoming elusive, flies back home to Hungary from the U.S. after 20 years. Her return isn't prompted by a longing for homeland or even family, so much as a love pact she made with a fellow Hungarian doctor named János (Viktor Bodó) after they met and fell in love at a convention in New Jersey. The deal was to meet at Liberty Bridge in Budapest a month later. She kept the promise, he didn't.
Instead of coming to terms with the ill-advised impulse behind traveling half the world for a spontaneous rendezvous with a stranger, Márta searches for János, only to learn he doesn't recognize her. In fact he has no memory of ever meeting her. As if she were haunted by an apparition, Márta starts to see him everywhere and begins to doubt her sanity. The movie's puzzling plot then bends in ways that could make Christopher Nolan salivate, but which are deployed with a narrative elegance that keeps it grounded.
As it leads us down confounding roads, "Preparations" fashions Stork's stoic expression, a perpetual poker face, as a barrier protecting her inner world. But rather than generating disinterest, her unemotional state allows the movie to disclose its twists only in small doses as she tries to rationalize them. Obsessed with objectively finding out whether János' dismissal means a hurtful betrayal on his part or the symptom of a pathology afflicting her, Márta arranges to live and work as close to him as possible.
Márta soon settles into a new job at a local hospital, and it's obvious she's not welcomed. However, this puts her in direct contact with János and his colleagues, and she ramps up her efforts to unmask him and unveil what she believes is an attempt at gaslighting her. The position also brings another, younger suitor Alex (Benett Vilmányi), whose attraction seems primarily attached to her profession. He is a med student who aggressively courts her.
As Mara shares with her therapist the possibility she might have built this romantic castle in the sky, Horvát shoots Márta from different angles that perhaps point to a shift in personality, as if implying a rupture in Márta's psyche. The spaces Márta interacts with further corroborate the director's wish to bewilder viewers, with endlessly curving spiral staircases and hallways illustrating cinematographer Róbert Maly's visual representation of the mind's complex web of thoughts.
"Preparations" is at its most fascinating when it engages the link between our emotions, what we believe is our reality, and the tangible nerve endings that compose the abstraction of who we are. How can we know if anything we feel or do is a manifestation of the personality that we've formed cognitively, or the consequence of failure in our wiring? That both of the film's protagonists are highly trained individuals who literally touch the brains of others to solve their malfunctions provides an even more absorbing angle.
And so we question how Márta, someone so vastly educated in the everything that affects how we behave from a physical standpoint, becomes a victim of her own yearnings. For her, it would be much easier to be able to pinpoint to an illness, to blame it all on a chemical imbalance and not a deeply rooted, unfulfilled desire for companionship. Horvát never debates the validity of medical practices, but notes that maybe certain aspects of the human condition are unexplainable, so much so that even science and those who practice it can completely unroll them in neat, irrefutable terms.
Though never overtly bizarre, "Preparations" exists in a wavelength uninterested in total realism. Márta and János' quirky, sidewalk mating ritual surely isn't meant to reflect everyday interactions, but it's an exalted way of conveying how close and yet how far they are from the image they have of each other. And while the film loses some of its mesmerizing potency in the climax and subsequent wrap-up, it's still a beautiful and acute rendering of what could be if some of the most implausible lies we tell ourselves were in fact true.
Now playing in virtual cinemas.