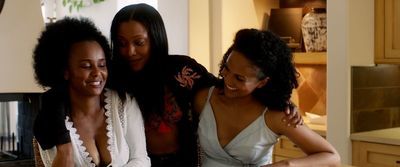 Four friends in high school seem inseparable. They stick together through a failed over-the-top prom invitation and in a moment of crisis when one of them goes into labor and becomes a single mom just before college. But over the years, life takes its course. Tyra (Meagan Good) managed to graduate at the top of her class and her daughter, Jillian (Lexi Underwood) is already 15 years old. However, a car accident has led Tyra to an opioid addiction, and her friends rally to get her help. But they too are facing their own struggles. Patrice (Tamara LaSeon Bass) works in healthcare and is dating a doctor, however she's reluctant to continue with a relationship that sees kids in her future. Deidre (Meagan Holder), is a divorced dancer whose career has taken unexpected turns after she became a divorced mother. Now, her ex-husband wants a second chance. Suzanne (Mekia Cox) looks like she has it all, but in reality, she's hiding the pain of a cheating husband, an affair of her own, and an upcoming baby she's not sure she wants.
All of this backstory sets the stage for an understated story about enduring friendships in "If Not Now, When?" The friends clash, they make up. They experience highs and lows in their romantic relationships. Unfortunately, the drama never comes to life. It's on a strange middle ground where there's no surprises even when there are life-changing revelations. There's a lack of connection even when the friends have supposedly let bygones be bygones. Between its amateurish direction, pedestrian cinematography, and overly plotted script, the narrative and visuals don't coalesce into a story that feels restorative, cathartic or even joyful.
"If Not Now, When?" is the feature directorial debut of two of its stars, LeSeon Bass and Good. (LeSeon Bass also holds the writing credit.) And while their intention to bring a well-meaning story about Black women and friendships to the screen is admirable, there's just something missing in the final result. The movie borrows a fair amount from "Waiting to Exhale," which also follows four Black career women, their friendships and their romantic lives, as well as other films about a group of women who don't always get along but love each other anyway. Central to each of these movies is that tension within strained friendships that come together by the end. The friendships in "If Not Now, When?" are so strained that even the reconciliations don't feel all that much more different from when we first meet them on the outs.
It's strange too that Tyra, Good's character, is essentially isolated from the others for long periods of time while in rehab. Her road to recovery has the look and feel of a made-for-TV movie about opioid addiction—it's fairly surface level without getting into too much detail. It's as if it made for a convenient source of conflict, enough to build out around without digging into it. You expect her to rejoin the group by the film's end, but she misses the healing process the other three go through. It doesn't feel like she's back to being part of the group even when they're celebrating together.
For much of "If Not Now, When?", I couldn't find why it wasn't working for me. It took a second watch before I made peace with the narrative's convoluted structure. It was one of the film's most emotional scenes, when Suzanne finally tells Deidre her problems, that revealed why the visual style was even more alienating. In this emotional moment, the first few shots of the women sitting down feature more of the room to their side than each other. Suzanne sits in front of a door with a large window that quite literally steals her spotlight. It creates an imbalance between the two as Deidre looks evenly lit, almost glowing in that moment. The camera finally closes in on their faces and expressions during their conversation, but then distractingly moves along a dolly track, which adds a lot more movement and distraction to a scene that needed to let the actors shine. I'm not sure if this was cinematographer Craig Dean Devine's call or a misstep from the movie's first-time directors, but there are many of these small distractions throughout the film that kept leading my attention away from the story.
Although "If Not Now, When?" may not be the smoothest movie, its core cast—Good, LeSeon Bass, Holder and Cox—is fun to watch. Cox is excellent at playing prim and tightlipped until she reaches her breaking point. Her restraint as Suzanne in those scenes is matched by the fight-or-flight spirit of LeSeon Bass' character, Patrice. She creates a tough exterior much like Suzanne and Tyra's, all of whom as we learn, develop those shields to protect themselves from being too vulnerable. Holder's Deirdre is the kindhearted one who holds them together. Their dynamics don't always work out, but they are the highlight of the movie, which is fittingly more about these four women than everything else going on in their lives.
Now available in theaters, on demand, and on digital.