Home Entertainment Guide: January 2021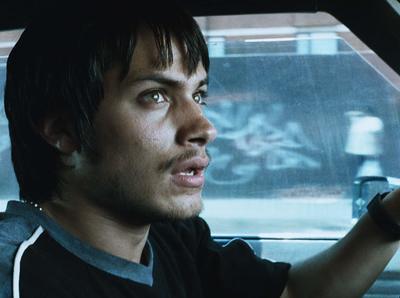 10 NEW TO NETFLIX
"The American President"
"Bonnie and Clyde"
"Cloudy with a Chance of Meatballs"
"The Departed"
"Enter the Dragon"
"The Girl with a Dragon Tattoo"
"Mud"
"The Naked Gun!"
"Passenger 57"
"What's Eating Gilbert Grape?"
8 NEW TO BLU-RAY/DVD
"Amores Perros" (Criterion)
The feature debut of Alejandro G. Iñárritu was a stunner, a film that earned raves and tons of attention on the international arthouse scene. With a crosscutting structure that recalled the work of Quentin Tarantino but a voice that felt like none other in the world at that moment, it hit like a ton of bricks. It's the story of three strangers whose lives are changed by how exactly their paths cross. What's so wonderful about this Criterion release is the treasure trove of new material, including new insight from Adriana Barraza, Vanessa Bauche, Gael Garcia Bernal, Gustavo Santaolalla, and Iñárritu himself, who appears in a conversation with Pawel Pawlikowski ("Cold War"). Music videos, deleted scenes, rehearsal footage, and a new 4K restoration make this one of the most impressive Criterion releases in months.
Special Features
New 4K digital restoration, supervised by director Alejandro G. Iñárritu and director of photography Rodrigo Prieto, with new 5.1 surround DTS-HD Master Audio Soundtrack on the Blu-ray, supervised by Iñárritu
New conversation between Iñárritu and filmmaker Paweł Pawlikowski
New conversation among Iñárritu and actors Adriana Barraza, Vanessa Bauche, and Gael García Bernal
Perros, amores, accidentes, a new documentary on the making of the film featuring behind-the-scenes footage
Rehearsal footage with reflections by Iñárritu
New interview with composer Gustavo Santaolalla
New video essay by film scholar Paul Julian Smith
Deleted scenes, with optional commentary by Iñárritu and Prieto
Music videos for songs from the film's soundtrack by Control Machete, Café Tacvba, and Julieta Venegas
Trailer
New English subtitle translation
PLUS: Essays by critic Fernanda Solórzano and author Juan Villoro
Now streaming on:
---
"Crash" (Criterion)
More David Cronenberg in the Criterion Collection is always a good thing. Completely unavailable on streaming as of this writing, the only way you can see one of the master's most controversial films is to buy last month's Criterion release of "Crash." Adapting J.H. Ballard's novel, Cronenberg tells the story of sadomasochistic car-crash fetishists, people who get turned on by twisted metal and near-death experiences. It won a Special Jury Prize at Cannes "for originality, for daring, and for audacity" and shocked audiences when it was released. It feels like a film growing a deeper following and appreciation with each passing year, making it a perfect fit for Criterion. Sadly, almost all of the supplemental material is archival, which is neat but it would have been nice to have something new to dissect other than a great essay by Jessica Kiang.
Special Features
New 4K digital restoration supervised by cinematographer Peter Suschitzky, and 5.1 surround DTS-HD Master Audio soundtrack on the Blu-ray, both approved by director David Cronenberg
Audio commentary from 1997 featuring Cronenberg
Press conference from the 1996 Cannes Film Festival featuring Cronenberg; Suschitzky; author J. G. Ballard; producers Robert Lantos and Jeremy Thomas; and actors Rosanna Arquette, Holly Hunter, Elias Koteas, James Spader, and Deborah Kara Unger
Q&A from 1996 with Cronenberg and Ballard at the National Film Theatre in London
Behind-the-scenes footage and press interviews from 1996
Trailers
English subtitles for the deaf and hard of hearing
PLUS: An essay by film critic Jessica Kiang
---
"Dreamland"
Miles Joris-Peyrafitte directed this period piece about a young man (Finn Cole) who ends up finding a gorgeous criminal in his barn. The film is a bit too flat in terms of storytelling, too reliant on overcooked narration and languid compositions, but there's something this movie has that every movie could use: Margot Robbie. As the Bonnie on the run in this story, she steals every single scene, reminding people what it's like to watch a true movie star walk away with a project. She's just on another level compared to what everyone else is doing. It's like Cole or the rest of the cast are bad, but they can't reach her level. Sadly, she's not quite enough to save it, but I thought I'd include this for her most loyal fans.
Special Features
None
Now streaming on:
---
What's the future for movies like "Jungleland"? Max Winkler's character study is the kind of film that feels increasingly rare in the world of theatrical releases. Even this one barely got out, waiting 14 months between its TIFF premiere and a VOD release. I hope people find it because it's a smart, well-acted piece of filmmaking, starring Charlie Hunnam and Jack O'Connell as two brothers caught up in a bad deal after agreeing to transport a young woman (Jessica Barden) to Reno. Jonathan Majors fills out a very accomplished cast, all of whom really sink their teeth into these parts. As Sheila O'Malley said a couple months ago, "With a script by Theodore Bressman, David Branson Smith, and Winkler, and featuring three very strong central performances and eye-catching poetic visuals, 'Jungleland' is more of a mood-piece than anything else, and on that level it works beautifully. The mood is strange, sad, and hypnotic." Sadly, this one is available DVD only for now, perhaps another sign that this kind of filmmaking is disappearing.
Special Features
None
Now streaming on:
---
"Minding the Gap" (Criterion)
Bing Liu's Sundance darling became one of the biggest documentary stories of 2018 after its Park City premiere. A bidding war resulted, with Hulu landing the rights to an audience hit that would find such success that it landed an Oscar nomination for Best Documentary just over a year later (losing to "Free Solo"). Criterion has a strong documentary presence in its collection, but their non-fiction releases are typically older than this recent hit, which allowed the company to bring in the major players for fascinating new special features. Without spoiling anything, there are questions about the relationships in "Minding the Gap" that linger after it's over, and Liu, Keire Johnson, Zack Mulligan, and the people who made the film (including the legendary Gordon Quinn of Kartemquin) address some of those here. There are also outtakes and a short film. This is a special movie and a great addition to the Criterion catalog.
Special Features
New high-definition digital master, approved by director Bing Liu, with 5.1 surround DTS-HD Master Audio soundtrack on the Blu-ray
New audio commentary featuring Liu and documentary subjects Keire Johnson and Zack Mulligan
New follow-up conversation between Liu and documentary subject Nina Bowgren
New programs featuring interviews with professional skateboarder Tony Hawk and with Liu, Minding the Gap executive producer Gordon Quinn, and producer Diane Quon
Four outtake scenes with introductions by Liu
Nước (2010), a short film by Liu about two Vietnamese immigrants growing up American
Trailer
New English subtitles for the deaf and hard of hearing
PLUS: An essay by critic Jay Caspian Kang
Now streaming on:
---
Justin Benson and Aaron Moorhead are two of the most important direcors in genre filmmaking. Their movies, including "Spring" and "The Endless," don't conform to typical audience expectations, and they have built a following by taking risks. The recent news that they would be collaborating with Marvel on their series for "Moon Knight," starring Oscar Isaac, was great for Marvel and the clout the guys can carry into future projects, but I really hope they don't leave behind their brand of personal filmmaking for good. Their latest is their biggest, the story of a drug that can basically produce time travel. It's kind of like "Bringing Out the Dead" meets "Inception," and you know you need to see that. It's not quite as successful overall as their last two films, but it's another ambitious, unique piece of storytelling that seems likely to find an audience at home. Marvel was lucky to get these guys.
Special Features
Audio Commentary with Directors and Producer
Making of – Fetaurette
Previsualization – Featurette
VFX Breakdown – Featurette
Deleted Scene
Alternate Ending
Trailers
Now streaming on:
---
"Three Films by Luis Buñuel" (Criterion)
There are only four reviews by Roger Ebert of works of Luis Buñuel on our site and all four are perfect scores. And that's just the tip of the iceberg when it comes to this influential and remarkable career. While it's in no way comprehensive, one of Criterion's most recent releases is a wonderful sampler of the legendary filmmaker, including his final three films: "The Discreet Charm of the Bourgeoisie," "The Phantom of Liberty," and "That Obscure Object of Desire." It captures a filmmaker completely freed from restrictions, able to bring his crazy visions to life. And the special features are typically wonderful, including archival and new material.
Special Features
New high-definition digital restorations of all three films, with uncompressed monaural soundtracks
The Castaway of Providence Street, a 1971 homage to Luis Buñuel made by his longtime friends and fellow filmmakers Arturo Ripstein and Rafael Castanedo
Speaking of Buñuel, a documentary from 2000 on Buñuel's life and work
Once Upon a Time: "The Discreet Charm of the Bourgeoisie," a 2011 television program about the making of the film
Interviews from 2000 with screenwriter Jean-Claude Carrière on The Phantom of Liberty and That Obscure Object of Desire
Archival interviews on all three films featuring Carrière; actors Stéphane Audran, Muni, Michel Piccoli, and Fernando Rey; and other key collaborators
Documentary from 1985 about producer Serge Silberman, who worked with Buñuel on five of his final seven films
Analysis of The Phantom of Liberty from 2017 by film scholar Peter William Evans
Lady Doubles, a 2017 documentary featuring actors Carole Bouquet and Ángela Molina, who share the role of Conchita in That Obscure Object of Desire
Portrait of an Impatient Filmmaker, Luis Buñuel, a 2012 short documentary featuring director of photography Edmond Richard and assistant director Pierre Lary
Excerpts from Jacques de Baroncelli's 1929 silent film La femme et le pantin, an adaptation of Pierre Louÿs's 1898 novel of the same name, on which That Obscure Object of Desire is also based
Alternate English-dubbed soundtrack for That Obscure Object of Desire
Trailers
New English subtitle translations
PLUS: Essays by critic Adrian Martin and novelist and critic Gary Indiana, along with interviews with Buñuel by critics José de la Colina and Tomás Pérez Turrent
---
"The Trip: Four-Course Meal"
In 2010, BBC broadcast a TV series called "The Trip," which was then edited down to a feature film version that earned rave reviews and led to an unexpected franchise. Steve Coogan and Rob Brydon play loosely adapted versions of themselves in the story of two actors who go on a restaurant tour of Northern England, using the heavily improvised structure to examine celebrity, ego, friendship, and midlife crises. Three more films would follow: 2014's "The Trip to Italy," 2017's "The Trip to Spain," and 2020's "The Trip to Greece," which will reportedly be the final chapter in this story. Own all four films in one reasonably priced DVD collection and read our reviews (all 3-3.5 stars) at the links above.
Special Features
None
Now streaming on: