Cloris Leachman: 1926-2021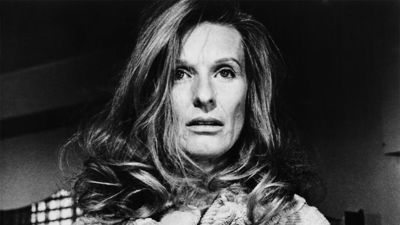 Robert Aldrich's brutal, rough and unapologetically bleak 1955 Mike Hammer film "Kiss Me Deadly" opens with a frantic woman running down a dark highway while wearing nothing but a trenchcoat. The soundtrack fills with her terrified grunts and the sound of her bare feet slapping the asphalt. After attempting to flag down several cars, she is almost run over by the film's hero, who begrudgingly picks her up. As the credits roll down the screen rather than up, the frightened woman's labored pants and groans uneasily mix with the Nat King Cole song playing on Mike Hammer's car radio. The juxtaposition sounds obscene, and the ultimate fate of this doomed dame is beyond horrific. But what an opening scene this is, marking the unforgettable big screen debut of Cloris Leachman.
Since 1947, Leachman amassed 285 credits on stage and screen, some comedic, some dramatic and many of them brilliant. There's a very good chance she appeared in some of your favorite movies and television shows. In her illustrious career, she earned 8 Emmy Awards, one Oscar, immeasurable amounts of laughter and more than a few tears. She did sitcoms, dramas, exploitation pictures, comedies both broad and subtle, and the occasional cartoon. Like the Method trouper she was, she worked until the very end which, sadly, occurred on January 27, 2021. She was 94.
Cloris Leachman played characters who were always convincing, which is no easy feat when appearing in one of the most memorably disturbing episodes of the "The Twilight Zone." In 1961's "It's A Good Life," Leachman is once again impeccable at projecting fear and worry, this time as the mother of the episode's horrible brat of a villain played by Bill Mumy. TV Guide voted this number 31 on their Top 100 Most Memorable TV episodes list, and its popularity eventually led to Leachman and Mumy reuniting in 2002 for a sequel.
Being convincing is also no easy feat when your director is Mel Brooks at his zaniest and most parodic. Leachman created a trio of deranged and determined characters for him, using masterful comic timing, extreme physical appearances and exaggerated accents for each. The zaniness began with 1974's "Young Frankenstein," where she played Frau Blücher, the strict and imposing German whose name strikes fear into the hearts and whinnies of horses within earshot. Frau Blücher's job is to welcome Gene Wilder's "Dr. Frederick Fronkensteen" to his grandfather's estate, the site of those experiments Mary Shelley wrote about in her book. Frau Blücher hilariously gives him fashion advice ("I suggest you put on a tie"), does product placements for Ovaltine and, in the film's greatest line reading, drops the salacious bombshell about Frederick's grandpa, Victor: "yes! Say it! He…vuz…my…BOYFRIEND!!" Leachman digs into that accent, too, turning the word "treacherous" into a threat more ominous than the actual staircase she's describing.
Next, there's Nurse Diesel, the Nurse Ratched-like villain of Brooks' 1977 homage to Hitchcock, "High Anxiety." On a 1 to 10 scale, Leachman's clothing, hairstyle, facial expressions and accent are all ratcheted up to 11. Her nurse hats are gigantic, her visage an eternal scowl and she's not below catering to the BDSM whims of her colleague, Harvey Korman. Though she's incredibly funny, Nurse Diesel is also a monster who doesn't like when her rules are violated. "Dinner is at 8pm," she tells Brooks' hapless, anxiety prone protagonist. "Those who are tardy do not get fruit cup." And she means it! While trying to keep Brooks from solving the film's asylum-set mystery, Leachman uses her accent to commit line readings that sear themselves into your brain. In a nod to "The Cobweb," Nurse Diesel mentions an argument about curtains, saying "Oh yes, Dr. Ashley felt that color…has a great deal to do with the well-being…of the emotionally disturbed." The way she says those last four words is indescribably delectable.
Last but not least, there's "History of the World Part I"'s Madame Defarge, whose inn has served the scum of Paris for over 300 years. "Hello scum!" she says when greeting the folks who will bring about the French Revolution. Leachman's costume and voice here are a bit less extreme, but she's armed with a great prop of knitting needles that she uses to knit imaginary wool (and to accidentally deflate her ample cleavage). "We are so poor," declares Mme. Defarge, "that we do not even have a language! Just this stupid accent!" She also sells one of Brooks' most obvious jokes: "Let's end this on a high note," she tells her constituents before, you guessed it, hitting a high note.
A different Brooks offered her one of the most memorable characters of 70's era sitcoms. As part of "The Mary Tyler Moore Show," James L. Brooks created Phyllis Lindstrom, the neurotic and often naïve friend of Moore's Mary Richards. Phyllis is at times intensely unlikable, yet Leachman finds the heart beating under her character's many layers of self-protection and social awkwardness. In Phyllis, one can find the origins of later cringe sitcoms like "Curb Your Enthusiasm," which might explain why her MTM spinoff only lasted two seasons. But the role proved fruitful for Leachman, earning her two Emmys and several nominations.
Though Phyllis is off-putting, she's still quite funny and, at times, even touching. For example, in "The Lars Affair," Mary Richards learns that Phyllis' never-seen dermatologist husband, Lars, is having an affair with Betty White's Sue Ann Nivens. Ed. Weinberger's script gives Phyllis a variety of beats to hit: denial, comedic attempts at reinvention to save her marriage, rage, anxiety and vengeance. Leachman plays them all to the hilt, culminating in an inspired bit of soufflé-flattening slapstick. On the aforementioned TV Guide Top 100 Episodes list, this one came in at number 27.
I could go on and on, mentioning Leachman's work in "Malcolm In The Middle" and "Raising Hope" on TV and in animated features like "The Iron Giant" or the one that traumatized me for life, "The Mouse and His Child." And my trash-loving heart would love to wax poetic about "Crazy Mama," the 1975 Jonathan Demme movie she made with Ann Sothern, Mr. Magoo and Ralph Malph from "Happy Days." You owe it to yourself to see that. Even "Bad Santa" warrants some consideration.
However, I'll end this tribute with the role that showed just how versatile Leachman was as an actor, her Oscar-winning performance as Ruth Popper in Larry McMurtry and Peter Bogdanovich's "The Last Picture Show." Neglected by her football coach husband, Popper enters into an affair with one of his players, Sonny Crawford (Timothy Bottoms). She knows it's a bad idea, and so does he, but really, what else is there to do in this town? The film is frank in its sexuality, showing how carnal acts can stave off an unbearable sense of hopelessness for a little while. Bogdanovich loves Leachman's face, letting his camera drink it in as it speaks volumes of hurt or relief. You can see little sparks of joy dancing in her eyes while the rest of her physical being telegraphs cautious reservation and restraint. We feel her pain when she is thrown over by Crawford for his crush, Jacy Farrow.
Yet Popper's story arc refuses to make her an object of pity or tragedy. Instead, in the last scene of the film, she becomes an avenging angel wielding white-hot rage and soothing mercy in equal measure. Leachman strikes an amazing balance here, cycling through her emotions with impunity, ending on a note of cathartic grace. Watch how she takes Bottoms' hand in the last scene, and listen to the way she utters her final line of dialogue. The emotional complexity is astonishing enough to move one to tears. It's as fine a piece of acting as I have ever seen, a testament to what I'll miss most about her.
Rather than say "Rest In Peace," I'll scare the horses by simply saying "Good night, Frau Blücher."