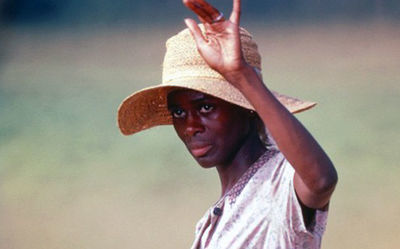 It seemed as if Cicely Tyson would go on forever. With the news of her passing yesterday at the remarkable age of 96, we all have to come to terms with what we have lost. She saw nearly a century of extraordinary change and progress, but also of ongoing struggle and resistance. Yet she always maintained her dignity, class and resolute determination.
What Ms. Tyson wanted to be more than anything else was to be a working actress, and she was that for seven decades. A record like that would be any actor's lifelong dream, and it's one that very few in the business actually achieve. And in this unpredictable business it could not have been easy to continue a career with some 95 film and TV roles, not to mention her prolific work on the stage. It came as a result of hard work, a strong belief in one's considerable talents, nerves of steel and the confidence that by being a Black woman all things were possible.
As with so many who have achieved so much, she came from humble beginnings. Born in Harlem in December 1924 to West Indian immigrant parents, she started off as a model for Ebony Magazine during the early 1950s, making her film debut in the just recently rediscovered low-budget independent B-movie "Carib Gold" with Ethel Waters and Geoffrey Holder. Within a few years came her first two breakout performances. First, a major role in French writer/playwright/political activist and ex-con Jean Genet's controversial satirical play about racism and stereotypes The Blacks in a cast including Maya Angelou, James Earl Jones, the still overlooked groundbreaking comedian Geoffrey Cambridge, Roscoe Lee Browne, and Louis Gossett Jr. The play was such a smash that for the better part of the decade it was the longest running off-Broadway play in New York.
But it was the second breakthrough which bought Ms. Tyson into much wider public attention on the 1963-'64 CBS drama "East Side/West Side," starring George C Scott as a dedicated but cynical New York City social worker dealing with urban turmoil and strife. The show pushed the boundaries of what the network censors would allow on the air during that period, as episodes dealt with topics such as racism, prostitution and sexual assault. Tyson played the role of Scott's secretary, but her character evolved and became a social worker herself. However, her character was written out of the show before the end of the season when Scott's character became a congressman's aide in a desperate effort to boost the low ratings of the show. Ms. Tyson had made TV history. It was the first time that a Black woman had a non-stereotyped regular role in a TV drama series. There had been black women as regulars in TV comedies such as "Amos and Andy" and "Beulah," but never before in a dramatic show.
However, there was another groundbreaking controversy in regard to Tyson's role, and that was her hair. She wore a short Afro on the show, and keep in mind that back in 1963 that was about as radical and subversive as one could imagine. Very few black women had the audacity to wear their hair natural back then and let alone on an important primetime TV series on a major network. She was protected by the show's progressive producer David Susskind, but the backlash was fierce, and not including just white viewers but from black women who took particular offense. It was simply not the thing to do. How were they going to be accepted into the white mainstream society without straightening their hair? The controversy even made the cover of Ebony Magazine. But that was her. Fearless, honest and being who she was without artifice. She made her own path and either you were along with her or you weren't. She could not be concerned. She had to be true to herself. Naysayers be damned.
After Tyson was dropped from the show, she continued her work on television doing "galley years" guest spots on numerous series such as "Mission Impossible," "The F.B.I.," "Gunsmoke" and a beautifully nuanced performance on an episode of now forgotten "The Bill Cosby Show" (decades before he became persona non grata) a 1970 CBS half hour dramedy in which Cosby played a high school coach. In the episode, Tyson played a current girlfriend of Cosby whom he eventually falls head over heels in love with and proposes to her only to have her turn him down devastating him. The breakup scene is so emotionally charged in subtle ways thanks to Tyson's committed portrayal.
There were some astonishing film performances too during this time such as her haunting work in Leo Penn's intense and risk taking 1966 film "A Man Called Adam," in which she played the love interest (a rarity itself for most Black actresses during the 1960s) of Sammy Davis Jr., a tortured self-destructive jazz trumpeter. Tyson is no wallflower. She deeply loves and supports Davis, but she knows that he can only help himself when he wants to help himself. (A new 4K restoration Blu-ray of the film will be released next week by Kino Lorber with an extra commentary track by the author of this piece.)
Tyson moved on to Robert Ellis Miller's moving tearjerker "The Heart Is A Lonely Hunter," based on the Carson McCullers' novel, with Alan Arkin as a deaf mute in a small Southern town isolated, alone, looking for companionship and reaching out to other people broken in spirit. In the film, Tyson plays the bitter daughter of a local doctor with "daddy issues" until Arkin helps to reunite the pair after Tyson's father finds himself at his most vulnerable point.
But then, of course, there was yet another breakout role to come in 1973, for which she was nominated for a Best Actress Oscar. In Martin Ritt's "Sounder," Tyson played Rebecca, the wife of a sharecropper played by Paul Winfield, who struggles to keep her 1930s Louisiana family and little farm together when he unjustly serves time in prison for stealing food for his family to eat. The emotional core of the film is their reunion when Winfield returns home to his family and her unbridled emotional joy of being together with him again never fails to move viewers. What makes the movie and that scene even more powerful is the raw honesty of the moment. Tyson wasn't just playing a character but transformed herself into so many Black women through the ages who have endured and remain a tower of strength for so many Black men and young boys who have been punished, vilified and oppressed just for the act of being Black men in America. It is a performance that transcends acting to real human emotion.
"Sounder" was the film that not only skyrocketed her career, but also changed the course and purpose of her life. As she just recently said in a television interview just last week promoting her newly released and long-awaited autobiography, Just As I Am, she recalled an ugly incident during the publicity tour for the film, when an interviewer told her that watching the film made him realize his own racism and said, "I was uncomfortable with your older son in the film referring to his father as Daddy. I said, 'Do you have children and what do they call you?' And he said 'They call me Daddy' And I said My God! This man is thinking that we're not human beings and I made up my mind right there that I could not afford the luxury of just being an actress and that I would use my career as my platform. To have Black people be seen as human beings."
What she is talking about is the belief, though unfair it may sound to some today, that Black performers and artists of her generation knew that they were faced with the responsibility of representing the greatness of Black people to the world. Centuries of negative stereotypes, lies, and distortions have distorted our humanity, and it was their mission to correct that narrative. It was a burden that would make most people crack under pressure, but she felt it as a calling. To show and explore the full range, dimensions, humanity, and pride of Black folk. And it was something that she took on with her characteristic enthusiasm.
She was always careful in what roles she played, and it was never for the sake of just to be on the screen. As she also said in that recent interview: "Whenever I'm offered a script what I'm interested in, who was that character and why did they want me to play it? And when I get to that point where I feel like her skin has fitted my arm or my mind, then I know that there's something about her."
And that could not me more true for her perhaps greatest film transformation in her tour-de-force performance in the CBS 1974 movie "The Autobiography of Miss Jane Pittman," directed by John Korty and based on the novel by Ernest J. Gaines, which chronicles the life of a Black woman from her years as a young slave woman in the South until her old age during the Civil Rights movement in the early 1960s. Tyson gave one of the finest performances of her entire career, both gentle yet filled with a steely resolve. The final, emotionally wrenching scene in which Miss Pittman, after a lifetime of hardship and heartbreak, with some small victories along the way, makes an act of defiance against the hard wall of oppression shakes the very foundations to its core. After the premiere broadcast it was reported that many viewers found the final scene so emotionally overwhelming that they left their living rooms to cry. It was never about big showy scenes but reaching inside to the inner soul of the person she was portraying.
As the decades continued, Ms. Tyson kept working, adding that touch of class that elevated everything she was in with countless film and TV roles, including going toe to toe with the great comic genius Richard Pryor in "Bustin' Loose"; as the pioneering Chicago teacher Marva Collins in "The Marva Collins Story"; in an NBC legal drama series in the mid-'90s called "Sweet Justice"; and more recently in a recurring role for five seasons on Shonda Rhimes' ABC hit drama "How To Get Away with Murder," playing Viola Davis' mother. And she worked with a wide array of directors from the aforementioned (and seriously still underrated) Martin Ritt, Peter Grenville, the late Michael Apted, and even the Hollywood Golden Age legend George Cukor, along with several Black directors from Michael Schulz to Bill Duke to Tyler Perry.
With all the awards and tributes in her life, one thing for sure is that she took pride in being a working actor, always looking for the next opportunity to reveal another dimension of herself. There was always that sense of mystery about her. It was not anyone's business. It was all about her dedication to her art. That was the most important thing. She kept her private life very private. In fact, it wasn't until a few years ago that anyone knew her actual age. And perhaps it was somewhat bittersweet that her book of memoirs was released literally just a few days before her death. It was perfect timing, keeping her secrets until the end.