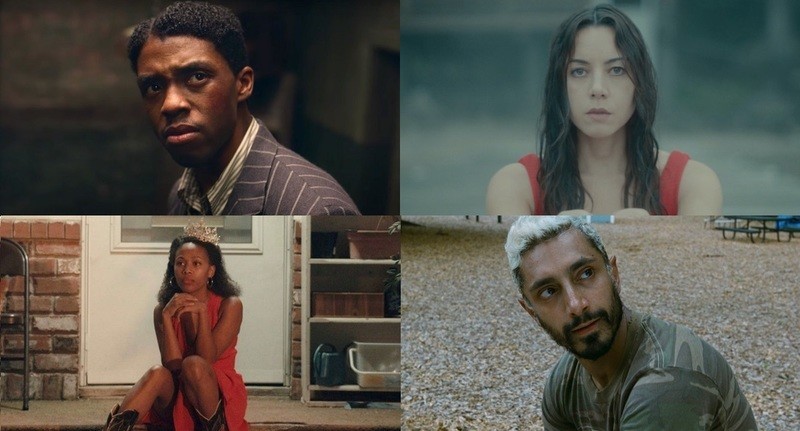 Matt writes: To all of our Ebert Club members, I join my fellow writers at RogerEbert.com in wishing you a safe and rejuvenating 2021! We're kicking off this new year by taking a look back at many of the great performances that lit up 2020 and will likely prove to be major contenders during this most uncertain of awards seasons. Click here to read the essays penned by our writers about the essential work delivered by such towering talents as the late Chadwick Boseman ("Ma Rainey's Black Bottom"), Aubrey Plaza ("Black Bear"), Nicole Beharie ("Miss Juneteenth") and Riz Ahmed ("Sound of Metal").
Trailers
Coming 2 America (2021). Directed by Craig Brewer. Written by Barry W. Blaustein, David Sheffield and Kenya Barris. Starring Eddie Murphy, Arsenio Hall, Jermaine Fowler. Synopsis: The African monarch Akeem learns he has a long-lost son in the United States and must return to America to meet this unexpected heir and build a relationship with his son. Debuts on March 5th, 2021 on Prime Video.

The White Tiger (2021). Written and directed by Ramin Bahrani (based on the book by Aravind Adiga). Starring Priyanka Chopra, Rajkummar Rao, Adarsh Gourav. Synopsis: The epic journey of a poor Indian driver who must use his wit and cunning to break free from servitude to his rich masters and rise to the top of the heap. Debuts on Netflix on January 22nd, 2021.
The Little Things (2021). Written and directed by John Lee Hancock. Starring Denzel Washington, Jared Leto, Rami Malek. Synopsis: Two cops track down a serial killer. Debuts in the US on January 29th, 2021.
Land (2021). Directed by Robin Wright. Written by Jesse Chatham and Erin Dignam. Starring Robin Wright, Demián Bichir, Kim Dickens. Synopsis: A bereaved woman seeks out a new life, off the grid in Wyoming. Debuts in the US on February 12th, 2021.
Sing Me a Song (2021). Directed by Thomas Balmès. Synopsis: As the Internet finally arrives in tiny Bhutan, documentarian Thomas Balmès is there to witness its transformative impact on a young Buddhist monk whose initial trepidation gives way to profound engagement with the technology. Now available in the US.
Atlantis (2021). Written and directed by Valentyn Vasyanovych. Starring Andriy Rymaruk, Liudmyla Bileka, Vasyl Antoniak. Synopsis: A soldier suffering from PTSD befriends a young volunteer hoping to restore peaceful energy to a war-torn society. Debuts in the US on January 22nd, 2021.
JSA—Joint Security Area (2000), Blu-ray release. Directed by Chan-wook Park. Written by Chan-wook Park, Seong-san Jeong, Hyun-seok Kim and Mu-yeong Lee (based on the novel by Sang-yeon Park). Starring Lee Yeong-ae, Lee Byung-Hun, Song Kang-Ho. Synopsis: After a shooting incident at the North/South Korean border/DMZ leaves 2 North Korean soldiers dead, a neutral Swiss/Swedish team investigates, what actually happened. US release date is TBA.
Pretend It's a City (2021). Directed by Martin Scorsese. Synopsis: Wander the New York City streets and fascinating mind of wry writer, humorist and raconteur Fran Lebowitz as she sits down with Martin Scorsese. Debuts on Netflix on January 8th, 2021.
WandaVision (2021). Directed by Matt Shakman. Starring Paul Bettany, Kat Dennings, Kathryn Hahn. Synopsis: Blends the style of classic sitcoms with the MCU in which Wanda Maximoff and Vision -two super-powered beings living their ideal suburban lives-begin to suspect that everything is not as it seems. Debuts on Disney+ on January 15th, 2021.
The Serpent (2021). Directed by Hans Herbots and Tom Shankland. Starring Ellie Bamber, Jenna Coleman, Tahar Rahim. Synopsis: The twisting, real-life story of Charles Sobhraj, a murderer, thief and seductive master of disguise, who was a hidden darkness in the mid-70's on Asia's hippie trail. Now streaming on Netflix.
Night Stalker: The Hunt for a Serial Killer (2021). Synopsis: The limited docu-series tells the true story of how one of the most notorious serial killers in American history was hunted down and brought to justice. Debuts on Netflix on January 13th, 2021.
Search Party (2021). Created by Sarah-Violet Bliss, Charles Rogers and Michael Showalter. Starring Alia Shawkat, John Reynolds, John Early. Synopsis: A dark comedy about four self-absorbed twenty-somethings who become entangled in an ominous mystery when a former college acquaintance suddenly disappears. Season 4 debuts on HBO Max on January 14th, 2021.
Bridgerton (2020). Created by Chris Van Dusen. Starring Jonathan Bailey, Ruby Barker, Harriet Cains. Synopsis: Wealth, lust, and betrayal set in the backdrop of Regency era England, seen through the eyes of the powerful Bridgerton family. Now streaming on Netflix.

Dickinson (2021). Created by Alena Smith. Starring Hailee Steinfeld, Adrian Enscoe, Anna Baryshnikov. Synopsis: An inside look at the world of writer Emily Dickinson. Season 2 debuts on Apple TV+ on January 8th, 2021.
Servant (2021). Created by Tony Basgallop. Starring Lauren Ambrose, Toby Kebbell, Rupert Grint. Synopsis: A Philadelphia couple is in mourning after an unspeakable tragedy creates a rift in their marriage and opens the door for a mysterious force to enter their home. Season 2 debuts on Apple TV+ on January 15th, 2021.
Clarice (2021). Created by Alex Kurtzman and Jenny Lumet. Starring Maya McNair, Erica Anderson, Jayne Atkinson. Synopsis: A look at the untold personal story of FBI agent Clarice Starling, as she returns to the field about a year after the events of "The Silence of the Lambs." Debuts on CBS on February 11th, 2021.
History of Swear Words (2021). Directed by Christopher D'Elia. Written by Bellamie Blackstone. Starring Nicolas Cage, Joel Kim Booster, DeRay Davis. Synopsis: A new series in which Oscar-winner Nicolas Cage teaches viewers the history of various swear words. Debuts today on Netflix.
The Human Voice (2021). Written and directed by Pedro Almodóvar (based on the play by Jean Cocteau). Starring Tilda Swinton, Agustín Almodóvar, Pablo Almodóvar. Synopsis: A woman watches time passing next to the suitcases of her ex-lover (who is supposed to come pick them up, but never arrives) and a restless dog who doesn't understand that his master has abandoned him. Two living beings facing abandonment. Debuts in the US on March 5th, 2021.
Matt writes: Oscar-winner Viola Davis recently joined acclaimed director George C. Wolfe in speaking with our correspondent Katherine Tulich for an exclusive video interview about their experience of making the jaw-dropping Netflix drama, "Ma Rainey's Black Bottom." Watch their full conversation above, and read about it here (also be sure to check out Odie Henderson's review of the film here).
Matt writes: Oscar-winning director Pete Docter joined producer Dana Murray in speaking with Nell Minow about their latest Pixar feature, "Soul," which premiered on Disney+ as a Christmas gift to cinephiles of all ages. You can read their full conversation here.
Free Movies
Angel (1982). Written and directed by Giorgos Katakouzinos. Starring Michalis Maniatis, Dionysis Xanthos, Katerina Helmy. Synopsis: A young gay man in Athens, Angelo, keeps his sexual identity a secret from his family. He falls hard for a rough sailor, Mikhalis, and moves in with him. Mikhalis convinces Angelo to dress in drag and work a corner with other transvestites.
Strip Jack Naked: Nighthawks II (1991). Directed by Ron Peck. Synopsis: Ron Peck talks about his experiences of growing up as a gay man, the attitudes to homosexuality in Britain, and his journey towards making his 1978 film, "Nighthawks."
My Name is Alan, and I Paint Pictures (2007). Directed by Johnny Boston. Synopsis: While many academic categories of art exist, not every artist easily fits into prescribed meanings. Alan Russell-Cowan is one such artist. Afflicted with paranoid schizophrenia, we watch Cowan struggle with the desire to be a great painter, while battling delusions and auditory hallucinations.