10 Upcoming Films That Could Shake Up Oscar Season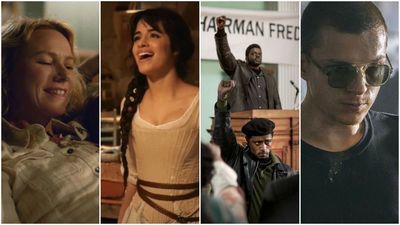 Because of Covid-19 quarantine restrictions, the eligibility period for Oscar contenders has been stretched from the standard December 31 deadline to February 28, 2021. While a considerable number of lauded films have either have had short runs in theaters before landing on streaming platforms or a VOD format already, the extended period into 2021 has led to a flock of possible dark-horse titles that could upset the awards races this year.
Here are 10 spoilers that might bump some of the early favorites off the track. The films are listed by their opening dates during this extra window of time.
1. "The Dig" (Netflix, January 15): If "Promising Young Woman" wasn't enough to get Carey Mulligan on the ballot, this truth-based tale set right before World War II directed by Simon Stone will likely at least get her an extra boost. She plays Edith Pretty, an English widow in Suffolk who hires a self-made archaeologist the reveal what is inside the multiple mounds of dirt on her property. The self-described local excavator Basil Brown (Ralph Fiennes) unearths a burial ground of sorts. But factors like the upcoming war, bad weather, and an interloping, stuffy archaeologist tread on Brown's discovery. It turns out that archaeology is more about the living than the dead.
2. "Penguin Bloom" (Netflix, January 27): This Australian tear-jerker based on a fact-based best-seller stars Naomi Watts as Sam Bloom, a mother who was left paralyzed after a near-fatal accident. Her husband (Andrew Lincoln), her mother (Jacki Weaver), and her three young sons struggle to deal with Sam's situation. But matters take a turn for the better when an injured baby magpie they call Penguin enters the movie, and causes Sam to piece her life together again.
3. "The Little Things" (In theaters on January 29, while simultaneously having a month-long run on HBO Max): Any movie with a trio of Oscar winning actors in the form of Denzel Washington, Rami Malek, and Jared Leto sounds like a must-see to me. This dark crime yarn set in 1990 about a suspected serial killer pits Washington's Kern County deputy sheriff against Malek's strait-laced L.A. detective, with Leto as a possible suspect who forms a strange relationship with Malek's law enforcer.
4. "Cinderella" (In theaters on February 5): This musical romantic-comedy is directed by Kay Cannon, who is best known for writing and producing the three "Pitch Perfect" films. It stars Cuban-American singer Camila Cabello in the title role and Idina Menzel as Cinderella's mean stepmother. Meanwhile, Billy Porter plays Fab G., a genderless fairy godparent. The cast also features Pierce Brosnan as a king, Minnie Driver as his queen, and Missy Elliott as the Town Cryer, while both James Corden and John Mulaney play footmen and mice. The best news is that "Frozen" belter Menzel and Cabello will sing original songs.
5. "Malcolm & Marie" (In theaters in January before being released on Netflix on February 5): Written and directed by Sam Levinson, the creator of HBO's teen drama "Euphoria." The Emmy–winning star of that show, Zendaya, co-stars in the black-and-white film with John David Washington. The shoot took place in a private home in Carmel, California. Covid-19 safety protocol was followed with cast and crew quarantined before filming and after. The premise? Washington plays Malcolm, a filmmaker who returns home after celebrating a movie premiere, hoping it becomes a critical and financial success. But the evening becomes more about the state of his relationship with Marie (Zendaya).
6. "Judas and the Black Messiah" (In theaters on February 12 as well as on HBO Max): This biopic drama, directed and co-written by Shaka King, is based on the life of Fred Hampton, chairman of the Black Panther Party in late 1960s Illinois. Daniel Kaluuya, Best Actor Oscar nominee for 2017's "Get Out," stars while Lakeith Stanfield plays a petty criminal who agrees to work with the FBI and take down Hampton. The cast also includes Jesse Plemons, and Martin Sheen as J. Edgar Hoover. It will have its world premiere at the Sundance Film Festival on February 1.
7. "French Exit" (In theaters on February 12): The surreal comedy directed by Azazel Jacobs stars Michelle Pfeiffer as a Manhattan heiress and widow who moves to Paris with her son with the few funds they have left. They also have a black cat, who she believes is actually her deceased husband. Pfeiffer, who is incredibly overdue for Oscar recognition, earned a great deal of praise for her performance when the film premiered at the New York Film Festival in October.
8. "The Courier" (U.S. release date is February 19): British director Dominic Cooke's historical drama's ace in the hole is Benedict Cumberbatch, who plays an amiable British salesman Greville Wynne. This unlikely hero recruited by M16 helped the CIA penetrate the Soviet nuclear program during the Cold War. He and his cagey Russian sidekick (Merab Ninidze) would also provide crucial intelligence that ended the 1962 Cuban missile crisis. The slow-building plot is somewhat by the numbers but the true-life spy gets a lift from its cast, including Rachel Brosnahan as a CIA agent and Jessie Buckley as Wynne's wife, who thinks his testy outbursts means he is cheating on her, an act he has committed before.
9. "Cherry" (In theaters on February 26 and on Apple TV+ on March 12): Brotherly co-directors Anthony and Joseph Russo, veterans of Marvel Cinematic Universe, turn to the crime genre. In "Cherry," their Spider-Man Tom Holland plays a scary Army medic suffering with PTSD who becomes addicted to opioids and starts robbing banks to feed his addiction. His cast mates include rapper Pooch Hall, Damon Wayans Jr., and Michael Gandolfini. Joe Russo has already declared Holland's performance as Oscar-worthy. As he told Collider, "He is shredding himself, physically and emotionally."
10. "The United States vs. Billie Holiday" (Hulu, February 26): Lee Daniels directs and Andra Day stars as the legendary jazz and blues singer. The film focuses on a period when her career was upended after she was targeted by the Federal Department of Narcotics. She was the subject of an undercover sting operation led by an agent who had a torrid affair with the performer. Day shares the screen with Trevante Rhodes, Garrett Hedlund, Natasha Lyonne, and Da'Vine Joy Randolph.