The Ten Best Films of 2020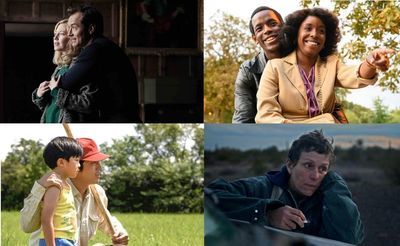 It certainly wasn't a typical year for, well, anything, including movies. As Hollywood packed up shop and pushed a lot of their projects to 2021 or streaming services, questions arose about how to critically assess such an unusual time for cinema. Some groups like the Academy pushed their awards back to make a longer window for inclusion while some writers lamented the lack of quality overall. They just weren't looking hard enough. In the end, it was a very solid year for the form, and the lack of blockbusters only allowed for more room to assess the movies that might have otherwise gone under the radar. Let's just say that it was not hard to come up with 20 films that we feel represented the quality of 2020. And great movies didn't even make the cut. Every single one of the 20 films below will stand the test of time, remaining important works of art even after the din of this horrible year is behind us. Art endures.
About the rankings: We asked our regular film critics and editors to submit top ten lists, ranked or unranked, and then consolidated them with a points system resulting in the list below, with a new entry for each awarded film. We'll publish each critic's individual list on Wednesday. Come back for more.
Runner-ups: "Bacurau," "Bloody Nose, Empty Pockets," "I'm Thinking of Ending Things," "On the Rocks," "Sound of Metal," "Time," "The Vast of Night," "Vitalina Varela," "The Wolf House," and "Wolfwalkers"
10. "The Assistant"
Kitty Green's remarkable "The Assistant" is about #MeToo and Harvey Weinstein without explicitly being about those things. Instead, this quiet, day-in-the-life drama breaks down the many ways employees are forced to tolerate bad behavior. In the film, Jane (Julia Garner) is a hardworking everywoman who treks into the office each morning from Queens when it's still dark out. But today, something is off. She finds an earring in her boss' office. A woman she's never seen before stops by to pick it up. A young woman from Idaho flies in for a job likes hers and the company puts her up at a fancy hotel. When her boss disappears, all her coworkers seem to know where he's gone. When Jane finally works up the courage to report him to a HR representative (a chilling Matthew Macfadyen), he waves off her concerns and warns that her report could end her career. As Jane tearfully gets up to leave, he tells her not to worry: "You're not his type."
"The Assistant" psychologically explores all the little ways someone trying to do the right thing meets resistance. Her boss yells at her and humiliates her to write him an apology for every so-called mistake, pummeling her will into self-preservation. Others in the office know what's happening, but more or less lead by example to look the other way. Jane's supposed to be relieved that she's not on the receiving end of sexual harassment, but what about the other women? Or the next executive she works for? Green's movie, which she also wrote and directed, works not just within the setting of a production company but to almost any toxic workplace that encourages its employees to ignore abuse and give them no tools to stop it. (Monica Castillo)
Now streaming on:
---
9. "The Nest"
There are scenes in Sean Durkin's marital drama "The Nest" that are so raw and real, so specific and vivid, you may feel the need to watch them through splayed fingers. As writer and director, he creates the sensation that you've wandered into an intimate space where you don't belong, watching as a husband and wife tear each other apart with deep-seated resentments and hyperverbal jabs. It's uncomfortable—but you can't look away, because the dialogue is so riveting and the performances from Jude Law and Carrie Coon are so exquisite.
Nine years after his debut film "Martha Marcy May Marlene" (my pick for the best film of 2011), Durkin once again explores themes of seeking and striving, of reinventing yourself into an idealized persona with dangerous consequences. The cult that Law's Rory O'Hara has joined is capitalism, but given that it's the conspicuous consumption era of Reagan and Thatcher, his yearnings are inevitable. Durkin never spells out that notion, though. Rather, it's part of the rich atmosphere he creates, as Rory, Coon's Allison and their two kids relocate from upstate New York to England in pursuit of elusive riches. Rory already lives like he's made it big, but he's hustling and schmoozing, relying on his looks and charm to get him in the door at prestigious investment firms, and it's clear that the tightrope he's walking will snap beneath his feet at any moment. While he insists on moving his family into a sprawling manor they can't afford, a building sense of claustrophobia is inescapable.
Within this slow burn, Law and Coon give career-best performances. This is the role Law has been working toward his whole life, playing on both his golden-boy beauty and sinister charisma. And Coon is just a knockout as Law's fed-up wife. She has a chameleon-like quality as an actress, but no matter the role, she exudes a bracing directness. She always gives you an authentic truth. And when she finally snaps, she's ferocious.
"The Nest" evokes its 1980s setting in inspired ways, from unexpected wardrobe and production design choices to a varied soundtrack of hits ranging from The Cure to Bronski Beat to Al Jarreau. But while the period details are specific, the story of desire and deceit is timeless. (Christy Lemire)
Now streaming on:
---
8. "Never Rarely Sometimes Always"
The title is the list of possible answers to a series of sensitive questions a social worker asks a pregnant teenager seeking an abortion. Real-life social worker Kelly Chapman, who assisted writer/director Eliza Hittman with her research for the film, gently asks Autumn (newcomer Sidney Flanigan) about abuse and consent, in case a safety plan is necessary following the procedure. As she tries to select the right option to answer each question, we see a dozen memories and emotions flicker across her face. It is one of the year's most unforgettable scenes. We never find out who is responsible for Autumn's pregnancy or what the circumstances were, but her answer to questions about whether she consented to sexual contact is not "always."
Autumn and her cousin Skylar (Talia Ryder) take a bus from Pennsylvania to New York because that is the only way Autumn can get an abortion without her mother and stepfather finding out. In an interview, Hittman told me she wanted to "reclaim the narrative" on reproductive rights with a woman's perspective. She tells the story with great tenderness, more protective of the two girls than the other characters are. Hittman's intimate, documentary tone illuminates the girls' vulnerability, their determination, and their resilience. (Nell Minow)
Now streaming on:
---
7. "Beanpole"
Kantemir Balagov's period piece about two Russian women pushing through the debris of World War II and their related trauma was about as depressing as storytelling got in 2020. Its first major tragedy alone, involving the death of a child, may be too much for some to bear. And it's only the beginning of a story that feels like it's constantly folding in on itself, using the arc of two best friends to capture how an entire country heals from the wounds of war, all while it feels like they're sinking into quicksand. It is a masterful film that works on multiple levels—a deeply empathetic character study anchored by two breathtaking performances and also a study in Russian history made with some of the most impressive craft of the year.
The stunningly naturalistic Viktoria Miroshnichenko and Vasilisa Perelygina—both newcomers who should have long careers—play Iya and Masha, two very different survivors. Iya has deep trauma—both physical and mental—that leads to events in which she appears to simply freeze up, lost in horrible memory. Masha's wounds are revealed through the story, but this former Russian soldier will do whatever it takes to get what she wants. Taking place largely at a hospital at which the two women work, "Beanpole" is about two women trying to rebuild something from the wreckage of Leningrad and their lives. It's further proof that cinema is a uniting force, finding the relatable emotion and humanity across culture and time. It's unforgettable. (Brian Tallerico)
Now streaming on:
---
6. "Minari"
There aren't a million different stories to be told. Most stories, even personal ones, contain familiar elements or come from similar sources. But there are different lenses through which to view the familiar, lenses which expand and transform our "shared" collective memory and/or experience. For example, the story of NASA, told in countless films and documentaries, was incomplete until the "hidden figures" of African-American mathematicians and engineers were revealed. And so the lens got wider. The story didn't lessen in relevance, but expands because more people are included in it. Lee Isaac Chung's "Minari," loosely based on his own childhood in Arkansas, is this kind of film.
"Minari" is a familiar immigrant story, and a familiar American story, filled with the dream of owning land, working the land, being your own boss. Jacob (Steven Yeun) and Monica (Yeri Han), Korean immigrants, make the bold choice to leave their jobs as chicken sexers in California, to move to Arkansas with their two small children, chasing Jacob's dream to start a small farm. Jacob revels in the dirt, the sweat, the vision of crops to come. Monica hates all of it, and the children look on, scared, as their parents' marriage disintegrates. Monica's mother, staying with them, adds tension in the small home. Grandma is a live wire, and Yuh-Jung Youn's superb performance is key to "Minari"'s impact (as well as the reason behind its title).
"Minari" captures the rhythms of farm life, while also devoting its attention to into the specifics of the family dynamic, Jacob and Monica's fractured marriage, Grandma's relationship with 6-year-old David, and the family's relationship to the rural town where they now live. Chung sets things up meticulously so the payoffs, when they come, are not just truthful, but carry huge weight and emotion. This is old-fashioned filmmaking, in the very best and truest sense of the word.
In speaking of Marilyn Monroe, photographer Henri Cartier Bresson observed, "She's American and it's very clear that she is—she's very good that way—one has to be very local to be universal." This is what Chung accomplishes. "Minor" depicts a very specific experience, a very "local" experience, and by doing so has created a film shimmering with universal truths about childhood, family, mortality, belonging, dreams, and hope. (Sheila O'Malley)
---
5. "Da 5 Bloods"
In its soul, Spike Lee's "Da 5 Bloods" is about four Black American soldiers returning to Vietnam to reclaim the bones and wisdom of the man who guided them through war. Stormin' Norman, played with holy majesty in flashbacks by the late Chadwick Boseman, is the dominating voice of such wisdom in Lee's gorgeously in-your-face history lesson about how America was never great. And it could never be great, if it treats people as it does and has. During his powerful monologues, Norman reminds his fellow Bloods about how America was built on the sacrifice of Black bodies, like that of Crispus Attucks, the first man killed in the American Revolutionary War. And when the five Bloods learn about Martin Luther King Jr.'s assassination, Norman is the one to steer them away from retaliation. "We control our rage," he assures them. "They can't use our rage against us."
The past is present in the world of "Da 5 Bloods," Lee's Vietnam War movie that honors the PTSD the war has inflicted on the natives, and the soldiers who toured through. It's a lively, multifaceted, and heavily emotional adventure, starting with four reunited veteran friends boogeying inside a club named "Apocalypse Now" (which even uses the logo from Francis Ford Coppola's Vietnam War epic). Our complicated heroes (played by Delroy Lindo, Clarke Peters, Norm Lewis, and Isiah Whitlock, Jr.) experience the country through the pain of the Vietnamese people, and "Da 5 Bloods" distinctly removes jingoism from its dialogue on American history. Parallel to the movie's compassion for how the American War never truly ended in Vietnam is also the context that America used Black lives for war while not supporting them at home; the Bloods were part of a generation sent to die for a country that then killed the leaders of their freedom. (The script was co-written by Lee and Kevin Wilmott, who rewrote a script by Paul DeMeo and Danny Bilson to focus on Black soldiers.)
Along with Norman's remains, these veterans are also searching for the gold they buried back during the war, which Norman always said should go toward Black liberation. Everyone wants their share, but some Americans want to be, as Paul puts it, "the motherf**ker." Paul "believed in Norman like a religion," according to his fellow Bloods, but has become angry at the world and estranged from his son David (Jonathan Majors), who joins the four Bloods on their treasure hunt. Paul embodies a type of MAGA madness, wearing a red "Make America Great Again" cap throughout the movie as a provocative statement and as a distraction from his sense of powerlessness. The story's twisting events send a sweat-drenched Paul deeper into the jungle and into the reasons behind his anger, expressed by Lindo in fourth wall-breaking, close-up monologues of frightening anguish and harrowing loneliness.
"Da 5 Bloods" will always have a special significance being released in the summer where Black Lives Matter received its biggest nationwide coverage yet, inspired in part by the murder of George Floyd and others at the dirty hands of oppressive discriminatory policing. The coda of Lee's film features the many faces of a Black Lives Matter group, and shows the power in their numbers; some speculated the footage was added to be timely, but Lee confirmed it was the first scene they shot, as if it was his own entry into "Da 5 Bloods." Lee never forgets history, but he still has an invigorating, inspiring belief in what America could be.
Now streaming on:
---
4. "First Cow"
"First Cow" opens in the world of today, and a discovery both unsettling and of some archeological/sociological interest. The narrative is then borne back into the past, and eventually it dawns upon the viewer that the discovery is also a giant spoiler, and wishes it weren't.
This kind of narrative sleight-of-hand is not customary for Kelly Reichardt, who directed "First Cow" from a script she wrote with Jonathan Raymond, adapting his novel The Half Life. But it serves well her vision of America as a land of both discovery and dread. In 1820's Oregon, the end of the line for many frontiersmen, a Jewish cook and a Chinaman—exquisitely enacted by John Magaro and Orion Lee—renegotiate their respective statuses as outcasts by teaming up and going into a kind of business together, concocting fried dough treats that tickle the taste buds of hungry trappers. The accidental entrepreneurs optimistically aspire to move south, to San Francisco, and open a storefront business. In the meantime, they find sustenance in each other's company, and in refining their recipes. The one hitch is their source of milk, which doesn't belong to them.
"First Cow" is leisurely paced, letting you get to know and often to laugh with its central characters. If the opening minutes of the movie remind us that, as the blues song says, death don't have no mercy, the end reminds us that history doesn't either. But what's in between shows us what trust, friendship, quick-wittedness, love and a little stolen milk can do to provide comfort amidst the harshness. (Glenn Kenny)
Now streaming on:
---
3. "David Byrne's American Utopia"
"American Utopia" shows what happens when two pop culture giants at the tops of their respective games finally collaborate, bringing a lifetime of experience to bear, and treating their shared love of live performance as a common language. The star, composer, and originator of "American Utopia" is David Byrne, who now holds the distinction of appearing in two of the greatest concert films ever made, the other being Jonathan Demme's 1984 "Stop Making Sense." The director is Spike Lee, whose output as a fiction filmmaker has been so formally innovative and politically engaged that people tend to forget that he's every bit as assured when adapting stage productions (including "Freak," "A Huey P. Newton Story," "Passing Strange," and "Rodney King").
Generously mixing new songs, beloved back-catalog titles, and covers, Byrne and Lee's movie is a celebration of community and personal connection, mirroring the structure of "Stop Making Sense" (which likewise starts with Byrne performing solo, then adds instrumentalists and backup singers until the stage is filled) while establishing its own, very-Spike-Lee aesthetic. Its themes and generous spirit inadvertently made it the perfect antidote to, or virtual escape from, the intense feelings of isolation that gripped people all over the world throughout the first year of the COVID pandemic.
But the sheer beauty of the music, choreography, and images give "American Utopia" a resonance that will outlast the historical moment that framed it. Shooting with multiple cameras (and working closely with cinematographer Ellen Kuras and the show's original choreographer, Annie-B Parson), Lee makes sure that a simple, powerful, stand-alone-gorgeous image appears after every new cut, whether it's close-up of a guitar being strummed; an overhead shot of performers moving in formation or playing possum on the stage floor; or a closeup of Byrne's wondering face. This is the purest sort of filmmaking and the purest kind of art. (Matt Zoller Seitz)
Now streaming on:
---
2. "Nomadland"
Chloe Zhao's "Nomadland" unfolds as a deliberately paced series of observations. As the camera drinks in the gorgeous, sometimes ostentatious views of the outdoors, Zhao allows us to nonchalantly visit the characters who inhabit this small corner of the universe. We sit with them, hear their dreams and concerns, feel their joys and frustrations, and learn how they deal with the day to day drudgeries of their on-the-road lifestyle. These are presented matter-of-factly, without any prettying up or overly dramatic rendering of events. Our central character is Fern (Frances McDormand), a widower whose husband and hometown of Empire, Nevada were both taken away from her within six months. Empire literally disappeared after the gypsum plant closed and the residents left for greener pastures.
For Fern, those pastures involve living outside In her van, driving from place to place while doing seasonal work to make ends meet. She interacts with the temporary communities of fellow employees that sprout up when places like Amazon are hiring. The people Fern meets are played by several non-actors, folks who are really living the life "Nomadland" explores. They bring a beautiful, lived-in and at times mythic quality to the film. Their discussions about hoping to live long enough to fulfill their individual destinies leave a haunting residue long after the credits roll. These people stay with you, like friends who have moved on yet linger in our memories. Zhao wisely refuses to pass judgment or even explain her characters' motivations, instead forcing us to process them through our own personal filters.
At the center of this superb movie is McDormand, giving one of the best performances of her career. She sinks into the role, practically becoming as new a discovery as the non-actors to whom she charitably cedes the spotlight. Even her moments with David Strathairn, the only other familiar face in the cast, have a quiet, rugged, lived-in quality that is miles removed from their celebrity status. We expect them to make us feel for their characters; the bigger surprise is how attached we become to everyone else.
"Nomadland" engenders the empathy our beloved founder, Roger Ebert, believed movies can produce in a viewer. It is filled with people, stories and performances that solicit and demand our understanding, opening our hearts as the best "empathy machines" do. (Odie Henderson)
---
1. "Small Axe: Lovers Rock"
It's hard to believe that British filmmaker Steve McQueen gave us not one, not two, not three … but five new movies this year through his dazzling "Small Axe" anthology. Somehow designed to go straight to streaming (even in a hypothetical non-COVID world) despite their obvious fit to massive cinema screens, this decades-spanning, London-based quintet of films all tell rousing stories about the city's West Indian community. The best one did so with its euphoric optimism.
On the surface, "Lovers Rock" is simply about a circa-1980 house party, a nostalgic notion in today's pandemic-dictated realities where we all dearly miss the kind of fleeting yet memorable human connections intimate soirées used to forge. But the accidental timeliness of McQueen's wistful setting—with its coziness and liberating sway dizzyingly captured by cinematographer Shabier Kirchner—isn't the only thing that charges "Lovers Rock." There is also undeniable purpose in McQueen's understatedly political work that celebrates a culture with specificity. As eager, dressed-up, tipsy strangers who briefly check their troubles and the era's racial injustices at the door dance to and sing along the romantic reggae tunes a DJ spins, McQueen unearths a sense of belonging, a dose of harmonious freedom through their unity.
Brilliantly costumed to reflect the transition from the flamboyant '70s to bold '80s and with the year's most memorable scene in any movie—accompanied by Janet Kay's intoxicating single "Silly Games"—"Lovers Rock" approaches something whole and sexy, even spiritual, with every one of its sensual steps. (Tomris Laffly)
Now streaming on: