The Individual Top Tens of 2020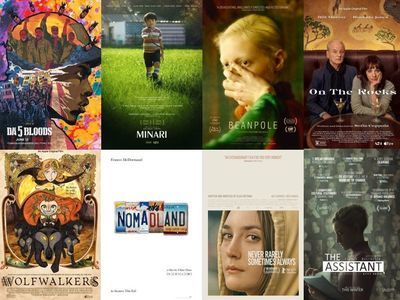 On Monday, we released the RogerEbert.com consensus Top Ten Films of 2020, led by Steve McQueen's "Small Axe: Lovers Rock." Today, we dig deeper, presenting you with all submitted lists from our brilliant critics and independent contributors. There are over 200 films cited below as among the best of 2020, displaying both the diversity in quality at the cinema this year and the unique voices that cover it for our site. It's a huge collection of lists but it should give you an overall picture of the year in film, complete with dozens of links back to our reviews. Enjoy.
BRIAN TALLERICO
1. "Nomadland"
2. "Da 5 Bloods"
3. "Small Axe: Lovers Rock"
4. "Beanpole"
5. "Never Rarely Sometimes Always"
6. "David Byrne's American Utopia"
7. "The Nest"
8. "She Dies Tomorrow"
9. "I'm Thinking of Ending Things"
10. "Time"
Runners-up: "The Assistant," "Babyteeth," "Bacurau," "First Cow," "His House," "The Invisible Man," "Saint Frances," "Small Axe: Mangrove," "Sound of Metal," and "Wolfwalkers"
MATT ZOLLER SEITZ
1. "Bloody Nose, Empty Pockets"
2. "Tommaso"
3. "Marona's Fantastic Tale"
4. "First Cow"
5. "The Nest"
6. "Bacurau"
7. "David Byrne's American Utopia"
8. "Small Axe: Lovers Rock"
9. "Sorry We Missed You"
10. "Cut Throat City"
CHRISTY LEMIRE
1. "David Byrne's American Utopia"
2. "The Nest"
3. "Sound of Metal"
4. "Small Axe: Lovers Rock"
5. "Minari"
6. "First Cow"
7. "Nomadland"
8. "The Killing of Kenneth Chamberlain"
9. "Promising Young Woman"
10. "Collective"
ODIE HENDERSON
1. "David Byrne's American Utopia"
2. "Da 5 Bloods"
3. "Small Axe: Lovers Rock"
4. "Nomadland"
5. "Hamilton"
6. "Ma Rainey's Black Bottom"
7. "His House"
8. "Time"
9. "The Old Guard"
10. "The Truth"
SHEILA O'MALLEY
"Bacurau"
"Beanpole"
"Collective"
"Da 5 Bloods"
"Minari"
"The Nest"
"Never Rarely Sometimes Always"
"Small Axe: Lovers Rock"
"Time"
"Vast of Night"
NICK ALLEN
1. "Da 5 Bloods"
2. "Spree"
3. "Nomadland"
4. "The Climb"
5. "Small Axe: Lovers Rock"
6. "Dick Johnson is Dead"
7. "Driveways"
8. "Rent a Pal"
9. "Boys State"
10. "Coded Bias"
MATT FAGERHOLM
1. "Small Axe: Lovers Rock"
2. "Small Axe: Mangrove"
3. "I'm Thinking of Ending Things"
4. "Beanpole"
5. "Rewind"
6. "Nomadland"
7. "Beyond the Visible – Hilma af Klint"
8. "The Assistant"
9. "Finding Yingying"
10. "The Father"
Runners-up: "Athlete A," "Borat Subsequent Moviefilm," "Crip Camp," "Cuties," "Ma Rainey's Black Bottom," "Small Axe: Red, White & Blue," "Sound of Metal," "The Trial of the Chicago 7," and "The Twentieth Century"
GLENN KENNY
1. "Vitalina Varela"
2. "First Cow"
3. "She Dies Tomorrow"
4. "The Wolf House"
5. "Shirley"
6. "Joan of Arc"
7. "Wasp Network"
8. "Cut Throat City"
9. "Residue"
10. "Possessor"
MONICA CASTILLO
1. "Small Axe: Lover's Rock"
2. "Bacurau"
3. "Bloody Nose, Empty Pockets"
4. "Collective"
5. "The Vast of Night"
6. "The Assistant"
7. "Wolfwalkers"
8. "Mucho Mucho Amor"
9. "Never Rarely Sometimes Always"
10. "I'm No Longer Here"
NELL MINOW
"Mank"
"Miss Juneteenth"
"Never Rarely Sometimes Always"
"Outpost"
"Palm Springs"
"The Personal History of David Copperfield"
"Nomadland"
"Soul"
"The Trial of the Chicago 7"
"The Vast of Night"
Honorable Mentions: "Antigone," "The Assistant," "Banana Split," "Bill and Ted Face the Music," "The Broken Hearts Gallery," "Da 5 Bloods," "Emma.," "The Old Guard," "Onward," "Ordinary Love," "The Photograph," "Small Axe: Lovers Rock," "Sorry We Missed You," "Sylvie's Love," "Words on Bathroom Walls"
SIMON ABRAMS
1. "Son of the White Mare"
2. "Vitalina Varela"
3. "I Wish I Knew"
4. "The Wild Goose Lake"
5. "Time"
6. "On the Rocks"
7. "I Was at Home, But … "
8. "Jallikattu"
9. "The Twentieth Century"
10. "The 11th Green"
Honorable mentions: "Capital in the Twenty-First Century"; "Circumstantial Pleasures"; "Circus of Books"; "The Cordilleria of Dreams"; "Dick Johnson is Dead"; "First Cow"; "Da 5 Bloods"; "Fourteen"; "A Girl Missing"; "Graves Without a Name"; "Hansel and Gretel"; "Heimat is a Space in Time"; "Jinpa"; "La Llorona"; "The Personal History of David Copperfield"; "The Simpsonssssssssss" (Spectacle Theater); "To the Ends of the Earth"; "The Traitor"; "Tomasso"; "A White White Day"; "The Wolf House"; "World of Tomorrow: Episode 3".
PETER SOBCZYNSKI
1. "On the Rocks"
2. "Never Rarely Sometimes Always"
3. "Spontaneous"
4. "Small Axe: Lovers Rock"
5. "First Cow"
6. "Nomad"
7. "City Hall"
8. "Vast of Night"
9. "David Byrne's American Utopia"
10. "Nomadland"
Runners-up: "Bacurau," "The Climb," "Color Out of Space," "Emma.," "House of Hummingbird," "Minari," "Miss Americana," "One Night in Miami," "Sound of Metal," "Zombie Child"
ROXANA HADADI
1. "Saint Frances"
2. "Sound of Metal"
3. "Minari"
4. "Driveways"
5. "First Cow"
6. "Miss Juneteenth"
7. "True History of the Kelly Gang"
8. "The Assistant"
9. "His House"
10. "Small Axe: Red, White, and Blue"
ROBERT DANIELS
1. "David Byrne's American Utopia"
2. "Nomadland"
3. "One Night in Miami"
4. "First Cow"
5. "Night of the Kings"
6. "Martin Eden"
7. "I'm Thinking of Ending Things"
8. "Minari"
9. "Small Axe: Lovers Rock"
10. "Time"
CARLOS AGUILAR
1. "Wolfwalkers"
2. "Nomadland"
3. "Minari"
4. "A Sun"
5. "I'm No Longer Here"
6. "The Climb"
7. "I Carry You With Me"
8. "The Wolf House"
9. "Sound of Metal"
10. "Los Lobos"
SCOUT TAFOYA
1. "About Endlessness"
2. "It Must Be Heaven"
3. "The Amusement Park"
4. "Tesla"
5. "Small Axe: Lovers Rock"
6. "City Hall"
7. "Her Socialist Smile"
8. "Wolfwalkers"
9. "Night of the Kings"
10. "His House"
GODFREY CHESHIRE
1. "David Byrne's American Utopia"
2. "Beanpole"
3. "Born to Be"
4. "Sorry We Missed You"
5. "First Cow"
6. "Young Ahmed"
7. "City Hall"
8. "Nomadland"
9. "Da 5 Bloods"
10. "Desert One"
Runners-up (since 2020 deserves 20): "Jose," "Coded Bias," "The Booksellers," "Zappa," "Coup 53," "Tesla," "The Social Dilemma," "Greta," "Bill and Ted Face the Music," "Jimmy Carter Rock and Roll President."
BARBARA SCHARRES
"Another Round"
"Apples"
"Beasts Clawing at Straws"
"Borat Subsequent Moviefilm"
"City Hall"
"Crock of Gold"
"Nomadland"
"One Night in Miami"
"Thumbs Up for Mother Universe"
"Unapologetic"
MICHAEL FRANK
1. "Minari"
2. "First Cow"
3. "Nomadland"
4. "Dick Johnson is Dead"
5. "Da 5 Bloods"
6. "Beginning"
7. "Never Rarely Sometimes Always"
8. "Another Round"
9. "I'm Thinking of Ending Things"
10. "Shithouse"
MARY BETH MCANDREWS
1. "Possessor"
2. "Relic"
3. "The Dark and the Wicked"
4. "She Dies Tomorrow"
5. "Never Rarely Sometimes Always"
6. "Host"
7. "Shirley"
8. "Sound of Metal"
9. "Swallow"
10. "Murder Death Koreatown"
SEONGYONG CHO
1. "First Cow"
2. "House of Hummingbird"
3. "Never Rarely Sometimes Always"
4. "Da 5 Bloods"
5. "Beanpole"
6. "Sorry We Missed You"
7. "Los Lobos"
8. "Babyteeth"
9. "Driveways"
10. "Sound of Metal"
Runners-up (alphabetical order): "The Assistant," "Better Days," "Cuties," "David Byrne's American Utopia," "The 40-Year-Old Version," "The Hater," "I'm Thinking of Ending Things," "Invisible Life," "Les Misérables," and "The Nest"
SHEA VASSAR
1. "Beans"
2. "Yes, God, Yes"
3. "Summer of '85"
4. "Little Chief"
5. "Emma."
6. "Host"
7. "I'm Thinking of Ending Things"
8. "Blood Quantum"
9. "One Night in Miami"
10. "The Best is Yet to Come"
MAX O'CONNELL
1. "Vitalina Varela"
2. "Martin Eden"
3. "First Cow"
4. "Bloody Nose, Empty Pockets"
5. "Bacurau"
6. "Da 5 Bloods"
7. "Small Axe: Lovers Rock"
8. "Fourteen"
9. "Fire Will Come"
10. "Tesla"
Honorable mentions: "La Llorona," "Tommaso," "The Cordillera of Dreams," "The Twentieth Century," "The Assistant," "Ghost Tropic," "City Hall," "Small Axe: Mangrove," "On the Rocks"
KRISTY PUCHKO
1. "Promising Young Woman"
2. "Eurovision Song Contest: The Story of Fire Saga"
3. "Swallow"
4. "The Painter and the Thief"
5. "Wolfwalkers"
6. "First Cow"
7. "Never Rarely Sometimes Always"
8. "Sound of Metal"
9. "One Night in Miami"
10. "Nomadland"
COLLIN SOUTER
1. "Nomadland"
2. "David Byrne's American Utopia"
3. "Soul"
4. "Wolfwalkers"
5. "Sorry We Missed You"
6. "Boys State"
7. "Da 5 Bloods"
8. "Palm Springs"
9. "First Cow"
10. "The Vast of Night"
ISAAC FELDBERG
1. "Possessor"
2. "First Cow"
3. "La Llorona"
4. "I'm Thinking of Ending Things"
5. "Residue"
6. "Minari"
7. "The Invisible Man"
8. "Relic"
9. "Driveways"
10. "The Dark and the Wicked"
JONAH KOSLOFSKY
1. "I'm Thinking of Ending Things"
2. "The Assistant"
3. "She Dies Tomorrow"
4. "Palm Springs"
5. "First Cow"
6. "Small Axe: Lovers Rock"
7. "The Invisible Man"
8. "Da 5 Bloods"
9. "Nomadland"
10. "His House"
JANA MONJI
"76 Days"
"Ainu Mosir"
"Athlete A"
"The Father"
"Hamilton"
"The Midnight Sky"
"My Octopus Teacher"
"The Painter and the Thief"
"Weathering with You"
"Wolfwalkers"
MARK DUJSIK
1. "Bloody Nose, Empty Pockets"
2. "The Invisible Man"
3. "Sorry We Missed You"
4. "Nomadland"
5. "Hamilton"
6. "I'm Thinking of Ending Things"
7. "The Father"
8. "Minari"
9. "Corpus Christi"
10. "Wolfwalkers"
BEN KENIGSBERG
"The Assistant"
"Bacurau"
"Beanpole"
"City Hall"
"The Climb"
"Collective"
"First Cow"
"Never Rarely Sometimes Always"
"Red, White and Blue"
"The Wild Goose Lake"
TOMRIS LAFFLY
By this time, no one needs another reminder that this has been a strange and devastating year. But despite the seismic shifts the entire world—and by extension, the film industry—continues to shoulder due to the ongoing pandemic, movies kept coming out, with quieter titles, new voices and independents often claiming the spotlight in the absence of some customary big studio noise. Sure, necessary measures such as the cancelation of film festivals, closing of theaters and delayed releases have put a painful strain on everyone. But from where I'm sitting, 2020 still managed to etch itself onto the books as a memorable year for cinema, with films that sometimes surprisingly captured the quarantine claustrophobia and other times, took us out of it when we needed an urgent escape.
Here are my top 25 films that meant the most to me throughout a most unusual twelve months.
1. "The Assistant"
With her disturbing thriller charged by Julia Garner's quiet, exquisitely calibrated performance, writer/director Kitty Green unpacks the many layers of toxic masculinity in the work place, exposing the culture of silence that grossly delayed the arrival of movements like #MeToo and #TimesUp. Using a documentarian's observant discipline and a distinctive cadence akin to that of Chantal Akerman's "Jeanne Dielman, 23 Commerce Quay, 1080 Brussels," Green's disquieting narrative debut is so far the definitive #MeToo film: sharp in its uncompromising focus, sophisticated in its cinematic specificity, and ultimately universal by being about a lot more than the predators that occupied the headlines in the last handful of years. Make no mistake: their vampiric control is deeply felt throughout "The Assistant." Though provocatively, the abusers here are made invisible by Green, who chooses to turn her lens onto the overlooked everyday victims, many of them still unnamed.
2. "Small Axe: Lovers Rock"
It's hard to believe that British filmmaker Steve McQueen gave us not one, not two, not three … but five new movies this year through his dazzling "Small Axe" anthology. Somehow designed to go straight to streaming (even in a hypothetical non-COVID world) despite their obvious fit to massive cinema screens, this decades-spanning, London-based quintet of films all tell rousing stories about the city's West Indian community. The best of them does so with euphoric optimism. On the surface, "Lovers Rock" is simply about a circa-1980 house party, a nostalgic notion in today's pandemic-dictated realities where we all dearly miss the kind of fleeting yet memorable human connections intimate soirées used to forge. But the accidental timeliness of McQueen's wistful setting—with its coziness and liberating sway dizzyingly captured by cinematographer Shabier Kirchner—isn't the only thing that charges "Lovers Rock." There is also undeniable purpose in McQueen's understatedly political work that celebrates a culture with specificity. As eager, dressed-up, tipsy strangers who briefly check their troubles and the era's racial injustices at the door dance to and sing along the romantic reggae tunes a DJ spins, McQueen unearths a sense of belonging, a dose of harmonious freedom through their unity.
Brilliantly costumed to reflect the transition from the flamboyant '70s to bold '80s and with the year's most memorable scene in any movie—accompanied by Janet Kay's intoxicating single "Silly Games"—"Lovers Rock" approaches something whole and sexy, even spiritual, with every one of its sensual steps.
3. "Promising Young Woman"
One goes into writer/director Emerald Fennell's #MeToo-themed movie about a med-school-dropout-turned-vigilante expecting one thing—perhaps a trendy yet thin-spread you-go-girl rape-revenge thriller with a dark sense of humor—but comes out of it completely flattened with a gut punch. While it's the feature debut of the "Killing Eve" helmer and "The Crown" actor, this slick, seamless and relentlessly surprising mesh-up of a thriller, romance and whodunit shows no signs of Fennell's rawness behind the camera. Elevated by eye-popping production values, a soul-baring, career-best performance by Carey Mulligan and a complex ending that doesn't lose an ounce of its power on repeat viewings, "Promising Young Woman" made me jump out of my skin more than once throughout its brilliantly plotted twists and turns. In a year marked by quieter, subtler cinematic works, this is one of the few (non-blockbuster) 2020 films that has the makings of a rightful mainstream hit.
4. "The Invisible Man"
Leave it to the name behind the wildly successful "Saw" and "Insidious" franchises to contribute the year's finest horror film to 2020. Within a cinematic landscape full of forgettable remakes, Leigh Whannell's instant genre classic "The Invisible Man" is indeed a much-needed breath of fresh air—a stylish and ruthless tale of gaslighting that feels both brand-new and ageless, despite having deep roots in pre-existing IP. But the brilliance of the writer/director's #MeToo-era iteration isn't just limited to its narrative boldness that unambiguously stands by its abused protagonist Cecilia (a never-better Elisabeth Moss) all the way, asking the viewer to "Believe women," period. This is also a sophisticated film cinematically—with its dizzyingly mazy, anxiety-inducing camera recalling the refined visuals of David Fincher's moody "Zodiac" and James Cameron futuristic "Terminator 2: Judgment Day." It's been a while since spotting a contemporary final girl felt this satisfying.
5. "Martin Eden"
Some movies jump out of the screen almost instantly with their sense of majestic timelessness. As defiantly big-screen as the sweeping epics of yore, Pietro Marcello's "Martin Eden"—a loose-limbed, semi-autobiographical Jack London adaptation transposed to Italy—is one such picture. Led by Luca Marinelli, who possesses the larger-than-life presence of a classic movie star, this era-spanning, Visconti-esque masterpiece follows the ideologically adventurous, love-struck working-class dreamer Eden as he embarks on "an incessant march through the kingdom of knowledge" with a romanticized set of political principles that deteriorate in time. Deeply cinematic in its blending of narrative and non-fiction techniques, "Martin Eden" feels like an unrestrained miracle that urgently reminds one why giant movie-theater screens are sometimes not only preferable, but also vital to the experience of movie-going.
6. "Nomadland"
In one of the philosophically sharpest moments of Chloé Zhao's humanistic epic, Frances McDormand's Fern—a woman in her 60s traveling through the American West in her van—addresses a misperception about her status in the world. "I am houseless, not homeless," she clarifies in a film filled with countless pieces of similarly casual wisdom. I saw Zhao's loving adaptation of Jessica Bruder's book as a profound substantiation of this idea, as Fern navigates her way through various make-shift communities of likeminded nomads, all endowed with a strong sense of place in spite of the vastness that defines their world. Portraying the social realities of the region along with Fern's economic hardships soberly and respectfully, Zhao captures a miraculous resolve on McDormand's magnificent face, intricately etched with the decades it's weathered. She also solidifies her status as one of the most lyrical and perceptive American auteurs working today; a standing she already fairly earned wit her similarly attentive previous works like "The Rider" and "Songs My Brothers Taught Me."
7. "The Wolf House"
From the claustrophobic "She Dies Tomorrow" to the time-looping "Palm Springs," a sizable number of 2020 movies generated much talk about feeling like the experience of the COVID-19 quarantine. If only Cristóbal León & Joaquín Cociña's under-seen yet earth-shatteringly inventive stop-motion parable "The Wolf House" could have been a more persistent part of those conversations. A trippy picture that continuously creates, questions and redefines its own visual reality in a way that perhaps only animation can do, this psychedelic nightmare—telling an escape story loosely inspired by the history of the Chilean cult, Colonia Dignidad—is among most original pieces of art that captured the essence of 2020. While it's not for the faint of heart, "The Wolf House" will shock you with its timely political resonance and reward any fright-seeking, David-Lynch-loving viewer in for a relentlessly disturbing ride.
8. "The Nest"
Since his debut feature "Martha Marcy May Marlene" in 2011, Sean Durkin has been steadily proving himself as a writer, director and producer of great taste. With "The Nest," a dark-hued film with a blistering script that unfolds around a family in turmoil amid the money-crazed, capitalistic trenches of the 1980s, he puts forth his most mature work to date. A chamber piece on marital anxiety and alienation, "The Nest" recalls the likes of "A Most Violent Year," "Shoot The Moon" as well as "Scenes from a Marriage" and even "Mad Men" as it piece-by-piece reveals the deteriorating seams between a couple that relocates their family from New York to the UK for higher career pursuits. The duo is brought to life by a menacingly alluring Jude Law, and Carrie Coon in a career-best, pressure-cooker performance made up of moments both scorching and explosive as her increasingly frustrated character sees through her husband's deceitful shtick. A polished, ensemble-driven piece that would been perceived as a major release in the '90s, "The Nest" today feels like a cinematic gift from one of the most exhilarating voices in American independent film.
9. "Mayor"
In a catastrophic year when we were routinely reminded of the fatally bad policies of the "Jaws" mayor in more ways than one, it was refreshing, even inspiring to follow a dedicated public servant who wanted nothing more than making his town of Ramallah a city that prospered. David Osit's witty, gradually heartwarming, sometimes even tear-jerking portrait of Musa Hadid—the charismatic mayor of the de facto Palestinian capital in the central West Bank—is not only a tightly woven character study, but also a new look into the region's political conflicts. A surprisingly timely holiday movie that celebrates a diverse and idiosyncratic slice of the Middle East, "Mayor" will lift your spirits up with its courageous protagonist daring to do his job right in spite of all the routine roadblocks thrown in his way.
10. "Crip Camp: A Disability Revolution"
It's upsetting that the '70s revolution that eventually led to the Americans with Disabilities Act in 1990 isn't more frequently discussed as one of the key facets of the civil rights movement. And if you aren't already thinking along these lines, you will, upon watching Nicole Newnham and Jim LeBrecht's stirring documentary, "Crip Camp." The filmmakers set their rousing story in motion by taking the viewer back in time to a Woodstock-adjacent place called Camp Jened, a communion established in 1951 for people with disabilities who found in each other's company crucial things that the society denied them elsewhere—freedom, dignity and a sense of empowering belonging. The narrative then progresses into the '70s and beyond, by following a number of the camp's prior residents—including fearless activist Judy Heumann, the film's central figure—into their respective futures. While this is a deeply inspiring film, it's thankfully also one that avoids the condescending "feel-good" pitfalls in tone. And that feels like a revolution in itself.
Runners-up: "Mank," "Sylvie's Love," "The Truffle Hunters," "Small Axe: Mangrove," "Never Rarely Sometimes Always," "The Kid Detective," "Kajillionaire," "Bacurau," "Born to Be," "Beanpole," "The Forty Year Old Version," "Borat Subsequent Moviefilm," "I'm Thinking of Ending Things," "Shirley," "Soul"
MARSHALL SHAFFER
1. "The Assistant"
Kitty Green's process and routine-heavy look at a reluctant enabler of abuse incisively exposes how embedded systems of exploitation are in daily life—and how difficult these patterns and cycles are to break.
2. "Boys State"
The present and the future of American politics, displayed in all its hopefulness and terror.
3. "Never Rarely Sometimes Always"
A procedural that transcends political talking points or messaging through the power of its empathetic core.
4. "Driveways"
A stirring story of how we connect to ourselves and renew the bonds of community in America.
5. "Palm Springs"
The perfect blend of cynical and hopeful for the year of its release—and wickedly funny and clever, to boot.
6. "Dick Johnson Is Dead"
No one is making more meaningful reflections about how moving images relate to and inform our lives than Kristen Johnson.
7. "Time"
Garrett Bradley shatters the "issue" documentary format to create a definitive portrait of America's carceral state that is felt, not merely explained or understood.
8. "City Hall"
A fittingly epic canvas to fully capture the vast reach of mundane municipal activity, a collection of minor moments that create a mammoth portrait of civil servitude.
9. "Soul"
With creativity and ingenuity to spare, Pete Docter powerfully wields the power of animation's imagination to get at the very heart of what it means to be alive.
10. "Gunda"
Kossakovy's patient look at farm life expands the possibilities of how to understand animal activity without narrativizing or personifying the figures he films.
JUSTINE SMITH

My favorite films of 2020 mourn the past and imagine the future. Isolated at home, cinema has become a window to other worlds and an opportunity for transformation.
The films that resonated most with me are movies about complex systems and new worlds. Some films imagine hopeful futures. There's an undeniable warmth to Wiseman's "City Hall" and the various people and structures needed to sustain a culture. "Inventing the Future," in it's radical and ambitious structure, imagines a post-capitalist world where humanity has been freed by automation rather than imprisoned by it. Others, like "DAU. Natasha" and "The Assistant," offer a sour view of systems built for and by the most powerful and how systems configured to maintain authority exercise untold violence on a helpless majority.
The majority of the films that touched me, though, looked inward. As characters and subjects face the loss of loved ones, self and nationhood, these movies search for scattered fragments of meaning. Often, this means characters go on literal journeys. In "Nomadland," Fern (Frances McDormand) makes a cross-country trip searching for work after her husband's death. For documentarian David Teboul, the loss of his partner propels him to the literal corners of the earth in Siberia, where he asks villagers about love and loss in his intimate documentary "Mon Amour." After "escaping" Palestine, Elia Suleiman finds himself in an ouroboros cycle of bureaucracy and business failures in his Tati-Esque international trip, searching for a home. Still, even these journeys are, fundamentally, spiritual. They subvert clean resolutions, and their open-endedness offers untold possibilities for reconciliation and, above all else, grace.
In a year that seems gripped by stagnation, there was enormous potential for transformative and radical change. What once was will never be again. Survival depends on our imagination, as much as it does on opportunity, strength and fortitude. Cinema itself faces an uncertain future, but that doesn't have to be an end-point. It can also mean a new beginning.
1. "DAU. Natasha"
2. "City Hall"
3. "The Metamorphosis of Birds"
4. "Mon amour"
5. "Inventing the Future"
6. "Nomadland"
7. "This Is Not a Burial, It's a Resurrection"
8. "Siberia"
9. "It Must Be Heaven"
10. "The Assistant"
Honorable mentions (short film edition): "Still Processing," "Point and Line to Plane," "In my Room," "Clean with me (After Dark)," "How to Disappear," "In Sudden Darkness."
BRENDAN HODGES
I can't remember a year where I needed movies more. Even though I haven't had a chance to see a handful of 2020s most acclaimed movies ("Nomadland," "Minari," "Soul," "Another Round," and "Collective" to name a few) these ten stand as proof there's no such thing as a "bad year" for film. That's worth celebrating.
1. "Da 5 Bloods"
Leave it to Spike Lee to recapture the zeitgeist. At the peak of the Black Lives Matter protests and the visibility of systemic police violence, Lee released a scathing, vital and largely untold story of Black soldiers in Vietnam. With "Da 5 Bloods," Lee tempers his sometimes didactic impulse to make a stunning if messy maximalist epic about Black soldiers returning to Vietnam to uncover a fallen squad member's remains and long lost gold. Lee deftly wrangles a confluence of social and historical forces into the Vietnam Jungle via a multi-tone, multi-style approach, essentially re-staging the war's complex forces in modern day.
Lee giddily bounces between war movie, father-son drama, buddy comedy, and direct address slam poetry, centering it all on the considerable shoulders of Delroy Lindo. Lindo is terrific, giving one of the best performances this year as a prejudiced MAGA-supporting ex-soldier whose heart has been poisoned from the deep well of trauma. It's a deliberately disorienting mix, amounting to a complex essay on generational trauma and the pain it takes to heal. It's nothing less than one of Lee's best movies.
2. "First Cow"
Grace and Beauty punctuate every frame of "First Cow," Kelly Reichardt's extraordinary revisionist Western about male friendship and early capitalism. Early on, a cook nicknamed "Cookie" plays the Good Samaritan and rescues a naked, shivering man in the forest named King Lu. A fast friendship emerges. In any Western but one made by Kelly Reichardt, these sensitive men, lacking conventional traits of masculinity, would be target practice for heroes and outlaws alike. Instead, she affords them permission to exchange dreams and desires, and to wax poetic about the land and their place in it. Soon they start a grift worthy of Bong Joon-ho's "Parasite," transposed to 1800s Pacific Northwest. It's as delightful as it sounds.
The truth is, I could have watched Cookie and King-Lu hanging out cleaning, cutting wood, and baking for hours. Reichardt's great gift is discovering poetry in the slow rhythms of life. Every shot celebrates the natural world. Despite the coiled specter of capitalism lingering, no movie this year felt so wholesome or so healing. I needed it.
3. "I'm Thinking of Ending Things"
The best movie this year featuring David Thewlis being baffled over the impossibility of relating to paintings without people in them, Charlie Kaufman's "bringing the girlfriend to meet the parents" horror-comedy hasn't left me since I saw it last September. Kaufman's on-brand solipsism can be a blessing or a curse, but here he creates a miasmic mind-palace of a movie; time is a blur, memory an afterthought, and identity a game of musical chairs. If Middle-America surrealism is David Lynch's domain, Kaufman earns his stripes. This is cinematic poetry on par with Kaufman's best work ("Adaptation" and "Synecdoche, New York"), with an incredible Jessie Buckley the beating heart of a (literally) very cold affair.
Eventually, "I'm Thinking of Ending Things" becomes deeply moving, in part for how poignantly Kaufman captures the way books, movies, plays, and songs can powerfully take root inside your own mind, as though you are co-author and they blend with your own thoughts, experiences and memories. It's an unexpectedly beautiful sentiment from a filmmaker so fixated on futility.
4. "Mank"
David Fincher's latest, written by his late father Jack, is purportedly a Herman J. Mankiewicz biopic chronicling the writing of "Citizen Kane," but in practice is anything but a straight-laced recounting. Instead, it's a mean mixed drink, with Fincher pouring in pinches of character study into ounces of historical politico, drips of meta-text accompaniment, a dash of expressionistic fever dream and a splash of Shakespearian-Quixotic comic farce. It doesn't always go down smooth, but it is a delicious and delirious tonic only he could make.
In gorgeous black and white, mono sound and a rich '40s score by Trent Reznor and Atticus Ross, what initially seems an outlier in Fincher's filmography of serial killers and incel terrorists slowly reveals itself as sharing vital resonances that unite "Seven" to "Fight Club" to "The Social Network"; "Mank" is a moving love letter to rebels and outsiders who self-immolate in their rage against the machine, heroes and fools who can't help but swim upstream and eventually succumb to the its unrelenting current.
5. "Beanpole"
This Cannes-winning film chronicles the harrowing journey of two best friends, Beanpole and Masha, through the turmoil of post World War II Leningrad, tackling an all too rare subject in cinema: women in wartime. Mikhail Kalatozov's "The Cranes are Flying" is a towering exception and so is filmmaker Kantemir Balagov's terrific "Beanpole." Some have labeled "Beanpole" "misery porn" and, to be sure, this is a gruesome watch. Balagov subjects both his protagonists to a battery of loss, pain and suffering. Yet, few films about subjects so dour are this sumptuous, stunning and playful.
Every time "Beanpole" risks dispiriting and alienating its audience, Balagov swerves. Beanpole and Masha's mutual devotion slowly blooms into a mysterious game of cat and mouse, redirecting their shared trauma towards each other in an uncanny balance of bitter cruelty and loving support. With shades of the psychological ambiguity of Christian Petzold, this is stunning cinema. In a gorgeous palette of golds, reds and greens, misery has never looked so beautiful.
6. "Small Axe: Mangrove"
Scathing and masterfully told, the best police-protest courtroom drama of 2020 powerfully links the Mangrove 9 to the struggles of the now. Scenes of protests, riots, raids and trials play out as a mosaic of carefully chosen, hyper-visceral images, like planting the camera on the roof of a moving police car as chaos erupts around it, or locking a Black man in a cell as he screams in circles bathed in white light. The courtroom scenes, McQueen at his most conventional but no less persuasive a storyteller, showcase power dynamics via visual cues and blocking, and offer the rare opportunity for Black men and women to emancipate themselves rather than search for white saviors to do it for them.
But what gives "Mangrove" its emotional stopping power is how McQueen invites us to know the complex, vibrant and rarely visible community of West Indians in London. Their sorrow, their joy, their pain, their dance, their fight, and their surrender. The best scenes aren't the raids or riots, they're the passionate debates between Black men and women on the failures of systems that have seldom done anything but destroy. In the end, McQueen gives permission to relish progress, tempered by the gutting sobriety it may not last, a reminder to keep up the fight.
7. "Tenet"
Mired in controversy and decidedly the wrong movie to reopen cinemas after six months inside, "Tenet" is nevertheless a dazzling Hollywood curio. One of the more audacious blockbusters this century, it is an exhilarating time travel actioner featuring a handful of Christopher Nolan's finest set pieces, loaded with bullishly obtuse plotting and goofy heightened dialogue that would make late-period Michael Mann blush. More le Carré-grade noir than James Bond, this is Nolan's most oppressively chilly movie, complete with philosophical debates on free will, agency, and pre-determinism in between the backwards fist fights and plane-heists.
At release, I said it felt like an unhappy marriage between art-house surrealism and blockbuster bombast, like if Michael Bay had directed "Last Year at Marienbad" or" La Jetée." Whether that sounds like a dirge or a delight will speak to if "Tenet" works for you. For me, I enjoyed feeling lost in its quantum maze. A dizzying blend of mastery and misstep, this is a spectacular, frustrating, exhilarating ride that celebrates what epic filmmaking can be.
8. "Small Axe: Lovers Rock"
If euphoria could be transmogrified into film form it may look something like "Lovers Rock," the second of Steve McQueen's "Small Axe" extraordinary Anthology for BBC and Amazon Prime. The second "Small Axe" film is 68 minutes of soul-healing bliss, inviting you to a West Indian dusk-till-dawn house party only one two degrees removed from a full-out musical. Dispensing with conventional screenwriting devices like an "inciting incident" or "external conflict," McQueen opts for free-form flow, summoning years of unsaid systemic racism and prejudice as emotional rocket fuel for a dance floor catharsis so cleansing and pure it's essentially baptism by soul beat. As soon as "Lovers Rock" ended, its energy was so infectious my partner and I got up and danced. It's magic.
9. "The Assistant"
Writer and director Kitty Green's camera does most of the talking in her cutting critique of systemic sexual abuse at the workplace. While often dubbed "The Weinstein movie," Green keeps the particulars ambiguous, never naming the film production company or the head of production whose cycle of problematic behavior she renders so frighteningly transparent. By keeping the details non-specific, Green weaponizes the ambiguity to universalize the terror of workplace abuse. This could be happening to anyone, anywhere, in any field.
Green confines the drama to a single day and (mostly) a single location, turning "The Assistant" into an office-bound psychological thriller of ceaseless anxiety. With nearly no score and a largely wordless screenplay, it's the meticulous sound design, the strength of Julia Garner's incredible physical performance, and the visual style, using Antonioni-like framing to show the characters alienated from their surroundings, to command our attention. Green exposes the quiet complicity of every single member of the studio; men like Weinstein only "got away with it" as long as he did because everyone from unpaid intern to the producers at the top enabled and ignored. "The Assistant" is a vital text on complicity in all its forms, from workplace harassment to police brutality, told with serious cinematic verve.
10. "Emma."
Autumn de Wilde blends satire with sincerity in her surprisingly fresh, modern take on the Jane Austin classic. De Wilde disrupts the stuffiness of some adaptations with moments of sharp comedy and wit, blending the novel's critique of 1800s gender politics with a refreshing lack of deference to the source material (at least until the very end). Led by a marvelous Anya Taylor-Joy and surrounded by actors seemingly having the time of their lives in gorgeous period costumes and scenic locales, movies don't get much more transportive and breezy.
Runners-up: "Wild Goose Lake," "The Trial of the Chicago 7," "The Invisible Man," "Never Rarely Sometimes Always," "Red, White and Blue," "The Vast is the Night," and "Time."
SOREN HOUGH

1. "Farewell Amor"
I caught "Farewell Amor" at London Film Festival and it hasn't left my mind. It's a brilliant debut from writer/director Ekwa Msangi, whose personal touches turn a simple narrative into a gorgeous tale of faith, family, and the American dream. Three outstanding lead performances hold together overlapping perspectives in one authentically incongruent picture of life in the United states. In an age of warped immigration narratives spread by far-right actors attempting to demonize, "Farewell Amor" is a warm, human glow in the mist.
2. "The Salt in Our Waters"
If "Farewell Amor" filled me with an emotion I can't quite shake, "The Salt In Our Waters" provided the visuals. This is a stunningly photographed film; every frame is worthy of examination, thanks to the work of cinematographer Chananun Chotrungroj. It's through her lens that we watch an almost fable-like tale unfold in the Ganges Delta, where a fishing village battles old traditions, political and gender hierarchy, and even the elements themselves. It calls to mind Jeff Nichols' "Take Shelter" in its fusion of natural disaster with religious overtones, but writer/director Rezwan Shahriar Sumit offers something here that's wholly unique and absolutely worth seeking out.
3. "Mogul Mowgli"
I have a confession: I'll watch anything featuring Riz Ahmed. He's simply one of the best actors working today, a unique voice who inevitably comes at every role sideways, whether it's a wayward terrorist in "Four Lions" to a petrified homeless journalist in "Nightcrawler." "Mogul Mowgli" is no different and perhaps the ultimate expression of Ahmed's identity. A 4:3 window frames Zed (Ahmed) as his career as a hip-hop artist is both born of and crashes against his Pakistani roots. Zed's struggle with an autoimmune disease literalizes this confusion as his body attacks itself. It's a remarkable movie and a glimpse into the real Ahmed (who co-wrote the film with director Bassam Tariq), who we can only hope gets behind the camera once again.
4. "Wolfwalkers"
I remember searching forums back in the 2000s looking for recommendations on hidden animated gems. It was there that I stumbled across a recommendation for Cartoon Saloon's "The Secret of Kells." "Kells" turned out to be a cavalcade of hand-drawn color and light directed by Tomm Moore and Nora Twomey, and I've followed the studio's projects ever since. With "Wolfwalkers," Moore completes his Irish "trilogy" with panache, reinventing his personal style once again to show familiar themes of culture clash and humanity's encroachment on nature. Where Kells was drawn in the style of an illuminated religious manuscript, his 2015 follow-up, "Song of the Sea," was presented more in the vein of a storybook. In "Wolfwalkers," Moore leans into a more abstract, rougher style that echoes the wildness of its central characters. Lines wobble around hair and faces, and scenery devolves into frantic scratches and angry hues when the forest collides with the townspeople. It's the kind of animation that has to be seen to be understood, and I can't wait to revisit it again at first opportunity.
5. "Herself"
There are some moments in cinema that are absolutely impossible to scrub from your memory, no matter how hard you might try. The final scene in "Custody," Xavier Legrand's 2017 film about divorce and domestic abuse, is one such sequence. It wasn't until I saw "Herself," an Irish film wrestling with the same topics, that I experienced another. And yet where "Custody" offers little in the way of hope, "Herself" is ultimately an optimistic film. Its central premise rests on communal support and mutual aid. As Sandra (Clare Dunne) attempts to escape her violent ex-husband, her neighbors and friends band together to create a safe haven. It's the perfect sort of film for our time, a rebuke of our atomization under capitalism and a celebration of collective action in the face of adversity.
6. "Small Axe: Mangrove"
Having lived in the UK for several years, I realized I knew almost nothing about the struggle for Civil Rights in Britain. Enter "Mangrove," a rousing courtroom drama about the first case in the UK to acknowledge racial motivation behind brutality perpetrated by the London police. The film's namesake is a West London restaurant run by Frank Crichlow (Shaun Parkes) which serves as an oasis for the local West Indian community. Inside, the restaurant's walls reverberate with the sounds of different cultures mixing and mingling, ensconced in the spicy tastes and smells of Trinidadian cooking. "Mangrove" is riddled with the subtle nods that show Steve McQueen has a deep sense of deference to and respect for the people he depicts. That sense of authenticity helps give weight and meaning to the Mangrove Nine, arrested at a civil rights protest, as they fight the state on grounds of discrimination.
7. "Borat Subsequent Moviefilm"
If you'd told me a few months ago that "Borat Subsequent Moviefilm" would be on my end of the year list, and for sentimental rather than comedy reasons, I would have laughed. I was never a huge fan of the original movie; I appreciate Sacha Baron Cohen's unparalleled commitment to satire, but Kazakhstan is in fact a real country, one with its own history and culture, and it seemed mean-spirited to pick on its people. And yet there I was, sobbing as Baron Cohen wanders into a synagogue looking like a Nazi caricature of a Jewish person in one of the film's most startling sequences. Yes, much of the underlying problems with Borat's needless Kazakh slander remain unsolved in the film's sequel. But it's what Baron Cohen does once he gets to America with his "daughter," Tutar (Maria Bakalova), that revealed a level of pathos I wasn't expecting. I won't spoil the synagogue sequence, but suffice it to say its significance extends well beyond the confines of cinema and touched a nerve I didn't quite know I had as an American Jew living in Trump's America.
8. "African Apocalypse"
"African Apocalypse" is a deeply referential documentary. Narrator and protagonist Femi Nylander leans heavily into parallels with Joseph Conrad's classic novel, Heart of Darkness, as he heads to the Nigeria/Niger border to track the horrific story of French colonizer Paul Voulet. The film is rich with anecdotes from the people directly affected by colonization. As Nylander navigates the path of carnage Voulet carved out, he wrestles with his own dual identity as a British Nigerian, representing both the colonized and colonizers. The film is relentless in bringing to life each of Voulet's atrocities and succeeds at conveying a sense of horror and anger, all without any reenactment or animation supplements. Yet even amid the pain is a renewed sense of future—the local communities express a demand for France to recognize its past, but also a pride in self-determination as they wield solar powered batteries mere inches from Voulet's grave.
9. "Da 5 Bloods"
It's hard to capture what it is about Spike Lee's "Da 5 Bloods" that hooked me from its first moments. Perhaps its decidedly racialized depiction of the Vietnam War stuck out to me, since this is a perspective we're rarely afforded in war films. But I think in truth it comes down to the raw power of its central cast, with special consideration for Delroy Lindo. His MAGA hat-wearing Paul is a tragic figure riddled with contradiction, a scarred GI with trauma he has deflected onto his son and his friends. What makes Paul compelling is that he's anything but two-dimensional and far from a figure of mockery. It takes Spike Lee's knack for empathy to offer a meaningful perspective of Black religious conservatism. Lindo is the perfect vehicle for this narrative; his eyes betray a deep interiority which the film never outright states, leaving us to find a way to understand Paul's life as his world comes crashing down around him.
10. "Another Round"
You have to pay attention when someone announces there's a new Thomas Vinterberg film on the horizon. His movies are the sort of thing that grab attention: he has a singular grasp of not just Danish culture but male identity and humanity writ large. "Another Round" fits that exact profile. Mads Mikkelsen is entrancing here as Martin, a middle-aged teacher wrestling with a crumbling marriage and the feeling of life slipping between his fingers. Mikkelsen's co-stars all meet his piercing quietude with the perfect complements of boisterous adolescent spirit. The result is a compelling meditation on what it is to live as your truest self as an adult oppressed by the banality of everyday life.
DONALD LIEBENSON
When the quarantine went into effect in March, I resolved to use the time to finally catch up on masterworks from the world cinema canon I somehow never got around to seeing. But here it is December, and "A Brighter Summer Day," "The Life and Death of Colonel Blimp" and "8 ½" are still in my DVR queue unplayed. It's not like I frittered away the months; I did fill in some gaps in my film education. Better late than never, I always say (I'm a dull conversationalist). Here are my top five that I saw for the first time during quarantine.
1. "Too Many Kisses" (1925)
Not seen in nearly a century, this silent film, newly restored by the Film Preservation Society, has been something of a Holy Grail for Marx Brothers fans. It marks the solo screen debut of Harpo, who, with his brothers, was at the time tearing up Broadway in their star-making revue, "I'll Say She Is." Harpo has but a minor role in this genuinely entertaining comedic romance in which Richard Dix (probably best known as a punchline in "Blazing Saddles") and William Powell are rivals for the affections of a Basque village lass. Another historic first: Harpo "speaks" (albeit via title cards). Bill Marx, Harpo's son, composed and performs the piano score.
2. "Gun Crazy" (1950)
The second film on this list I'm embarrassed to reveal it took me all these years to finally see. Let's just say I first read about this low budget indie in Todd McCarthy's essential anthology, "Kings of the B's" back when I was in high school. Peggy Cummin and John Dahl go together like guns and ammunition, but she wants action and a $40 a week job won't cut it. A doomed crime spree ensues. The bank robbery getaway, filmed in a single take in the backseat of the getaway car, is justly celebrated, but the climactic scene in which they can't bear to split up to elude the police still haunts me.
3. "Steamboat Bill, Jr." (1928)
Ken Kwapis' "Dunston Checks In," I'd seen (if you were a parent in the late 1990s, so did you). But this Buster Keaton masterwork, I had not, save for the much-montaged clip of the open attic window frame saving Buster from being flattened by the cyclone-blown house. But I had a feeling of "deja-view" during the scene in which returning college boy Buster tries on a series of dandy hats, much to the disgust of his father, a tough riverboat captain. Turns out, a similar scene scene in "Dunston" in which the orangutan himself tries on a series of hats was a direct homage. I interviewed Kwapis on the publication of his excellent memoir, But What I Really Want to Do is Direct: Lessons Learned from a Life Behind the Camera, and he pointed out the "Dunston"-Buster connection, and how he received the ultimate compliment from Buster's widow, Eleanor, who attended "Dunston's" premiere. She told him, "Buster would have loved this movie."
4. "Time Warp: The Greatest Cult Films of All Time" (2020)
This is the lone 2020 release on my list. Does your heart race at the mere mention of P.J. Soles? Do you thrill anew each time you see "Beyond the Valley of the Dolls"? Do you consider a friend not a friend unless they've seen "Plan 9 from Outer Space"? Then you'll be in thrall to this immersive three-part documentary that recalls a glorious era of filmgoing, when drive in, art house and repertory theater audiences championed abandoned films made immortal through midnight screenings and word of mouth.
5. "Roar of the Dragon" (1932)
To paraphrase Roger Ebert's review of "Princess Mononoke," I go to the movies for many reasons. This is one of them. I want to see Edward Everett Horton, a prolific character actor who specialized in fey and fussy characters, fire a machine gun.