Home Entertainment Guide: December 2020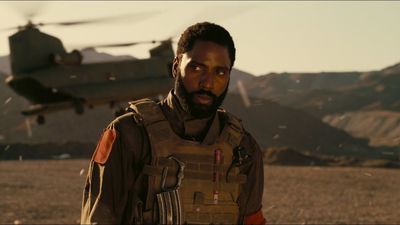 10 NEW TO NETFLIX
"Chef"
"E.T. The Extra-Terrestrial"
"Fruitvale Station"
"Jurassic Park"
"Loving"
"Monster House"
"Runaway Bride"
"Searching for Bobby Fischer"
"V For Vendetta"
"Whose Streets?"
9 NEW TO BLU-RAY/DVD
Bryan Bertino's latest horror movie is one of the bleakest and most intense films of 2020. Marin Ireland is excellent as Louise, a woman who returns home with her brother Michael (Michael Abbott Jr.) after their father falls ill, and discovers, well, something horrible. Bertino starts in a state of terrifying dread and just turns up the tension from there, revealing piece by piece that this family may be too cursed for any of them to make it out alive. In a year of very strong entries in what could be called "elevated horror" like the highly acclaimed "Relic" and "His House," it feels like too many people slept on "The Dark and the Wicked." It's the kind of smart, unforgettable horror flick that will find an audience at home. I can guarantee it.
Special Features
Fantasia Q&A with Marin Ireland and Michael Abbott Jr.
Now streaming on:
---
"The Irishman" (Criterion)
Martin Scorsese's last epic was this site's choice for the Best Film of 2019 and has only grown richer on repeat viewing in the long year since it was released. Based on the book I Heard You Paint Houses by Charles Brandt, "The Irishman" stars Robert De Niro, Al Pacino, and Joe Pesci in an epic story of crime and American history. It follows Frank Sheeran, a truck driver who gets involved with the Bufalino crime family, led by a magnetic Joe Pesci. While the film is available on Netflix, the streaming company's partnership with Criterion has led to this gorgeous release that includes a new 4K remaster, a new conversation, and much more. It's one of the company's best releases of the year.
Special Features
New 4K digital master, approved by director Martin Scorsese, with Dolby Atmos soundtrack on the Blu-ray
Newly edited roundtable conversation among Scorsese and actors Robert DeNiro, Al Pacino, and Joe Pesci, originally recorded in 2019
Making "The Irishman," a new program featuring Scorsese; the lead actors; producers Emma Tillinger Koskoff, Jane Rosenthal, and Irwin Winkler; director of photography Rodrigo Prieto; and others from the cast and crew
Gangsters' Requiem, a new video essay by film critic Farran Smith Nehme about The Irishman's synthesis of Scorsese's singular formal style
Anatomy of a Scene: "The Irishman," a 2020 program featuring Scorsese's analysis of the Frank Sheeran Appreciation Night scene from the film
The Evolution of Digital De-aging, a 2019 program on the visual effects created for the film
Excerpted interviews with Frank "the Irishman" Sheeran and Teamsters trade-union leader Jimmy Hoffa from 1999 and 1963
Trailer and teaser
English subtitles for the deaf and hard of hearing
PLUS: An essay by critic Geoffrey O'Brien
Now streaming on:
---
"The Lord of the Rings" & "The Hobbit" (4K)

The Peter Jackson epics based on the books by J.R.R. Tolkien are now available on Blu-ray release for the first time in 4K, and the transfers have been remarkably controversial. More than just mere technical upgrades, Jackson himself went back to the original negatives of the first three films and tweaked not only the resolution and color palettes but even some of the effects. The resulting releases have been the buzz in Blu-ray circles. Another thing that's gotten a headline or two? While all six films are now available in 4K, including the extended editions, none of the library of special features took the trip. The only special feature in these box sets is digital copies of all six flicks. This means that we can almost certainly count on special editions, probably this time next year. Until then, people looking to show off their 4K TVs can do so with these more affordable sets for some of the most beloved fantasy films ever made.
Special Features
Nothing
---
"Possessor Uncut"
Brandon Cronenberg's horror hit earned the filmmaker comparisons to his father David Cronenberg, but it also feels like the director stepping out of that shadow and really developing a voice of his own. Andrea Riseborough stars in this futuristic tale of a woman who can literally "possess" other people through a breakthrough new technology. Yes, some of the body horror is very Cronenberg, but there are also echoes of Kubrick in this terrifying vision of people forced to do things literally out of their control. It co-stars Christopher Abbott, Sean Bean, and Jennifer Jason Leigh, and it truly feels like a 2020 movie that people will be talking about for years.
Special Features
Deleted Scenes
Behind-the-Scenes Footage
Now streaming on:
---
"Resident Evil 4K Collection"
Sony is tying this release so into their launch of the PS5 that the shrink wrap has the game system's logo on it. Why not? We've detailed how much the games in the "Resident Evil" series have been influenced by the movies and vice versa, so why not directly appeal to fans of both. And the truth is that the 4K player on the PS5 is a beauty, the perfect way to show off the visual extremism of these six flicks. As for the movies themselves? It's a rocky ride. The first movie has held up surprisingly well, and there's a lot to like about how the series developed in the back half of this series (captured well by our very own Scout Tafoya in a recent Unloved). And these discs are loaded with special features. For a series that has never been "Fresh" on Rotten Tomatoes, it's a robust collection from a major company, and it's always nice to see a company willing to appeal to fans this much.
Special Features
ALL FILMS presented with HDR 10 and Dolby Atmos immersive audio + DTS-HD Master Audio 5.1 original theatrical audio tracks (DTS-HD Master Audio 7.1 for RESIDENT EVIL: THE FINAL CHAPTER); aspect ratios vary
All the previous available special features on each individual film
---
"Steven Universe Collection"
Readers without children may not know that one of the best TV shows of the last two decades was a cartoon about a boy named Steven Universe. This charming, creative, progressive Cartoon Network hit aired for five seasons before spinning off to an epilogue series called "Steven Universe Future" and even reelasing a great film called "Steven Universe: The Movie." All of it, including the 160 original episodes, movie, and "Future," has now been compiled into one gorgeously packaged DVD set, one of the best gift options for anyone still left on your holiday shopping list.
Special Features
Animatics
Music Videos
Steven Universe Minisodes
Steven Universe The Movie: Sing-A-Long
Commentary for Select Episodes
---
"Tenet"

When historians write the book on how the pandemic impacted movies, there needs to be a whole chapter on "Tenet," Christopher Nolan's controversial blockbuster in a year without blockbusters. Fighting back against reports that releasing a movie like this one in theaters when doctors were questioning whether or not they should even be open dominated the headlines, distracting from any real analysis of the film itself. (And the decision arguably led to the Warner Brothers choice to release their entire 2021 slate on HBO Max along with theaters.) Now that some of the dust has settled, people can actually watch the film at home and decide for themselves if this was all worth it. The transfer and audio mix are great (and you can put on subtitles if you don't like Nolan's bass choices), but the release is a little thin on special features given this is one of the few Hollywood hits that will be found in stockings this holiday season. Maybe those will go to HBO Max.
Special Features
An hour-long featurette about the making of the film
Now streaming on:
---
"Total Recall" (4K)
It's hard to believe that it's been thirty years already since Paul Verhoeven's totally insane adaptation of Philip K. Dick's short story "We Can Remember It For You Wholesale." One of the things that makes revisiting it now so fun is that they really don't make movies like this anymore. It's a blockbuster for adults: a crazy, dangerous, violent story of identity that features one of Arnold Schwarzenegger's best performance. He plays an ordinary guy who gets caught up in a universe-changing plot on Mars…or does he? Uncertain if what he's experiencing is real or implanted, "Total Recall" plays with perception in ways that now feel even more ahead of their time. And this beautiful release features a 4K version of the film, taken from a restoration supervised by Verhoeven himself.
Special Features
BRAND NEW 4K RESTORATION OF THE FILM, SUPERVISED AND APPROVED BY PAUL VERHOEVEN
DOLBY VISION/HDR PRESENTATION OF THE FILM
DOLBY ATMOS AUDIO TRACK
Total Excess: How Carolco Changed Hollywood Documentary
"Open Your Mind: Scoring Total Recall" Featurette
"Dreamers Within the Dream: Developing Total Recall" Featurette
Audio Commentary with Arnold Schwarzenegger and Paul Verhoeven
Theatrical Trailer
Now streaming on:
---
"Tremors" (4K)

Criterion and Shout Factory get a lot of attention for collectors edition special releases but let us take a minute to admire the team at Arrow. They are constantly delivering the goods, often elevating films that other studios may not have considered. Their best release of the year is one of their last, this stunning 4K box set for 1990's "Tremors," a little movie that turned into a massive franchise (there was a sequel released just two months ago). Fans of "Tremors" probably know it by heart, but this set digs much deeper, giving them dozens of special features, a book about the film, two posters, lobby cards, and amazing new artwork. It's a beauty, one of the best special edition releases from one of the most important companies for physical media collectors in the world.
Special Features
NEW 4K restoration from the original negative by Arrow Films, approved by director Ron Underwood and director of photography Alexander Gruszynski
60-page perfect-bound book featuring new writing by Kim Newman and Jonathan Melville and selected archive materials
Large fold-out double-sided poster featuring original and newly commissioned artwork by Matt Frank
Small fold-out double-sided poster featuring new Graboid X-ray art by Matt Frank
Six double-sided, postcard-sized lobby card reproduction artcards
Limited Edition packaging with reversible sleeve featuring original and newly commissioned artwork by Matt Frank
High Definition Blu-ray (1080p) presentation
Restored DTS-HD MA original theatrical 2.0 stereo, 4.0 surround, and remixed 5.1 surround audio options
Optional English subtitles for the deaf and hard of hearing
New audio commentary by director Ron Underwood and writers/producers Brent Maddock & S.S. Wilson
New audio commentary by Jonathan Melville, author of Seeking Perfection: The Unofficial Guide to Tremors
Making Perfection, a brand new documentary by Universal Pictures interviewing key cast and crew from the franchise (including Kevin Bacon, Michael Gross, Ariana Richards, Ron Underwood, Brent Maddock & S.S. Wilson, among many others) and revisiting the original locations
The Truth About Tremors, a newly filmed interview with co-producer Nancy Roberts on the film's rocky road to the screen
Bad Vibrations, a newly filmed interview with director of photography Alexander Gruszynski
Aftershocks and Other Rumblings, newly filmed on-set stories from associate producer Ellen Collett
Digging in the Dirt, a new featurette interviewing the crews behind the film's extensive visual effects
Music for Graboids, a new featurette on the film's music with composers Ernest Troost and Robert Folk
Pardon My French!, a newly assembled compilation of overdubs from the edited-for television version
The Making of Tremors, an archive documentary from 1995 by Laurent Bouzereau, interviewing the filmmakers and special effects teams
Creature Featurette, an archive compilation of on-set camcorder footage showing the making of the Graboids
Electronic press kit featurette and interviews with Kevin Bacon, Michael Gross and Reba McEntire
Deleted scenes, including the original opening scene
Theatrical trailers, TV and radio spots for the original film as well as trailers for the entire Tremors franchise
Comprehensive image galleries, including rare behind-the-scenes stills, storyboards and two different drafts of the screenplay
Now streaming on: