2020 Deserves Better than Netflix Mockumentary Special Death to 2020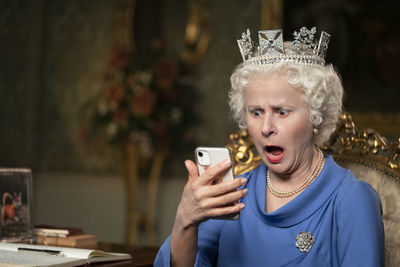 Even in just a few years from now, 2020 will always be airplane food. Everyone will recognize its terrible nature, and have their own experiences, but only hacks will bring it up when trying to make a joke about how much it sucked. Netflix's goes all in on this topic with the mockumentary "Death to 2020," which comes from "Black Mirror" creator Charlie Brooker and collaborator Annabel Moss and offers little reflection, and even fewer laughs. Instead, this star-studded mockumentary is more akin to the name-dropping, anti-clever parody of an Aaron Friedberg and Jason Seltzter film, like "Meet the Spartans" or "Disaster Movie."
Directed by Al Campbell and Alice Mathias and written by approximately 20 credited writers, the 70-minute comedy special is comprised of different, familiar, funny faces trying to wring out some catharsis from a year that saw the brink of WWIII, a pandemic, a contested election, mass protests against police violence and more, one after another. Using archival footage that is as recent as the vaccine's distribution, "Death to 2020" tries to look back on the year through the perspective of fictional characters who played some significant part in the year.
Your eyes will roll from the beginning when you see that Samuel L. Jackson is playing an editor for the "New Yorkerly Times," or in watching Lisa Kudrow play a conservative politician who is constantly in denial of what she just said, unless it's about how big tech is silencing conservative voices. Kumail Nanjiani appears as a Silicon Valley figurehead who hides away in his bunker and makes bank from his Zoom-like business; Joe Keery is a performative Millennial who goes to the point of saying "I'm Black" when trying to be an ally during #BlackLivesMatter protests, and Hugh Grant plays a confused, older historian nearly concealed in old-age make-up. And because Netflix needs to use this as an opportunity to remind viewers to watch "The Crown," Tracey Ullman plays Queen Elizabeth, the type of casting that one wishes the show had more clever jokes for.
There's an easy nature to all of "Death to 2020" that makes it especially irritating. The special goes in chronological order through the year—and yes, there's a lot of events to cover—and it's packaged like a history lesson about a recent time. But it's like a clip show, with celebrity appearances in between. And because the comedy is all about recognition, we are at the mercy of whether the approximately 20 writers can frame topics like police brutality in a funny way. Usually the few and mild laughs come from how figures are described, like the "haha, nice one" moment when someone describes Joe Biden as "a ticket taker on a ghost train."
But there's no grand sense of humor or wit to the project, even if some of the cast members try to have fun playing their archetypes (Cristin Milioti might be the MVP with her forcefully smiling, Facebook-radicalized Karen prototype). The voiceover from Laurence Fishburne in particular can be cringeworthy too, like the line "critics described the lack of ventilators as 'breath-taking,'" the kind of teeth-gnashing garbage that comes from the show's apparent self-amusement and lack of quality filter. You wish that the series would lean into its poetic absurdities more, as with one moment in which a joke is made about a Black man switching bodies with Prime Minister Boris Johnson. It's also funny when a woman picked to be the face of average people (Diane Morgan) says that she developed multiple personalities to keep herself entertained in quarantine. But this series doesn't have the creativity to follow those comic strands, instead hoping to sound edgy with a joke that simply references how Millennials posted black squares in an act of protest this past summer.
More than usual for Netflix fare—and this is really saying something—"Death to 2020″ can be most accurately described as a piece of content. It's simply meant to pop on the home page with its universal title sentiment, grab some curious Netflix viewers, and ultimately direct them to other Netflix titles. The streaming service never hesitates to use one of its shows to reference another ("Aunty Donna's Big Ol' House of Fun" had a whole episode about "The Crown"), but the synergy here is especially egregious and tacky. Among the special's look at history, of course they pat themselves on the back for the lockdown-timed phenomenon of "Tiger King," and later on there are more references to "The Crown" and even "Selling Sunset."
It's almost as if the creators decided that something had to be said about this year, but they couldn't land on anything especially clever, and certainly weren't going to challenge themselves to offer any thing we hadn't thought about with regards to 2020. Even the simplicity of the project seems to be a cop-out, and is especially disappointing given how readily Brooker's "Black Mirror" can take the familiar, and reimagine it with some dangerous storytelling. This project on the other hand, only tries to engage with the viewer by scanning though headlines and giving it all a funny face, which itself is a cynical approach to a year that might have taken a lot out of us, but became important and revealing in its own absurd way. 2020 deserves better.
Now available on Netflix.