The Mandalorian Chapter 13 Recap: The Child Has a Name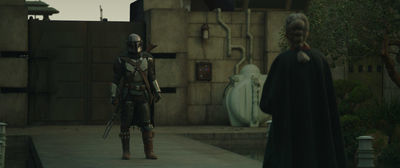 The 13th chapter of "The Mandalorian" brings in some big "Star Wars" names to the Disney+ series, and it adds one too. We now know that Baby Yoda's real name is Grogu, and that's thanks to a major character from the "Star Wars" animated series "The Clone Wars," a double lightsaber-wielding Jedi named Ahsoka Tano, played here by Rosario Dawson. With this rich and nimble episode also marking the first time that our bounty hunter Din Djarin (Pedro Pascal) has met a character who uses the Force like the Skywalkers and others before her, it's a thrilling mix of old lore and new paths, showing where "Star Wars" has been but also the many possibilities ahead. Written and directed by Dave Filoni, it's also an episode that could be enjoyed without getting the references, as it reintroduces Jedis with their exhilarating cinematic roots of samurai stories.
The episode begins with a spotlight on Ahsoka Tano, who looks just like she does in the "Clone Wars" series. She's working her way through the forests of Calodan, a city that has been taken over by a magistrate, and under the cover of shadows and fog Ahsoka slices the enemies sent to stop her. For viewers of "The Mandalorian," it's not a sight we have seen much of—aside from Giancarlo Esposito's Darth Vader-like character wielding a dark saber at the end of Chapter Eight—and it's particularly exciting to see it here for up-close combat to kick things off. In such darkness, her swordplay brings a vivid light, and an unmistakable sense of old school cool, bolstered by some excellent fight choreography. "The Mandalorian" has shown wide audiences that "Star Wars" is so much more than the original powers that fueled the series a long, long time ago, but it's good to be back.
The title card hits: "The Jedi," and it's definitely a giddy moment, especially for how the series hasn't previously put our hero Din Djarin on the same path as those who wield lightsabers. But the title also refers to the little Jedi Din Djarin has been carrying around for the last 12 chapters; as Din flies his ship Razor Crest down to the city of Calodan on the planet Corvus (following the advice given to him two weeks ago by fellow Mandalorian Bo-Katan), the first shot is of Baby Yoda. Throughout, this episode has a more curious eye about the macaron-stealing, egg-munching, relatively mysterious series favorite.
Din gets to the city of Calodan, and it's in rough shape. Namely, it's being ruled by a violent tyrant called the magistrate (Diana Lee Inosanto) who unleashes violent guards (including one played by Michael Biehn) over its people. There's a scary sense of evil behind her; her nihilism and villainy cuts deeper than we've seen in earlier episodes. The magistrate even tells Ahsoka earlier in "The Jedi" that she doesn't care for the people, and then Mando sees just how tortured its captive citizens are. It's not clear whether the sky over Caladan has always been so brown and cryptic, but it's a telling atmosphere.
Acting like he's just another bounty hunter in search of a gig, Din walks into Calodan like someone who could also be bad news. In reality, he's looking for information about the elusive Jedi. He gets a lucky deal when the magistrate hires him to find Ahsoka, offering him more precious Beskar as payment, and directs him to the barren forest where she's hanging out, planning her own one-Jedi siege of the city. If there's one slightly goofy thing about with this episode, it's how gullible the magistrate is about this (though she knows that Mandalorians and Jedi don't famously get along), and that it's not played as anything particularly clever. Good move, Mando.
When Ahsoka, Din Djarin, and Baby Yoda do sit down and talk, it's a season highpoint for the simple of sake of backstory. For one, Ahsoka listens to The Child, and gives us the highly anticipated reunion we've been wanting of Baby Yoda—I mean Grogu—with the Jedi, and marks a sort of completed mission on behalf of Din's dedication. The tidbit starts with the information about Baby Yoda's name, and backstory. Grogu was trained on Coruscant, but was hidden during the Clone Wars and taken from the temple by someone. Maybe it's because we've spent so long without backstory on Grogu, but this information hits deep, and functions as a subtle emotional beat because we know that Grogu hasn't been able to communicate for quite some time. It feels like we're getting closer to a sense of purpose, which is layered with Grogu's own emotional arc that I don't think should be underestimated. This episode's time with the Jedi (especially in proving that Mandalorians and Jedi can indeed coexist) feels to hint that the series might be including more in the future.
The series also makes a reference to two other Jedis, that we know very well: Ahsoka mentions that she's only seen one being like that before, named Yoda. And she also makes a reference to when her trainer Anakin Skywalker went ballistic in the past. That last bit of history embedded a deep fear in training a Jedi like Grogu herself, especially given how Grogu's relationship with Mando has made the young Jedi vulnerable.
Ahsoka agrees to train Grogu if Din Djarin will help with her main task, of getting to the magistrate. We learn in a key point that it's not entirely about liberating Calodan, but also about Ahsoka finding out who the magistrate is serving. That answer comes with a nod to animated series "Star Wars Rebels," Grand Admiral Thrawn. Could this be another major villain in the episodes to come, or even the next season? We'll see, but like the battle for Mandalore promised in "Chapter 11: The Heiress," or the appearance of Boba Fett at the end of "Chapter 9: The Marshal," the series is doing a lot to set up the next bits of story.
Mando and Ahsoka's rescue mission of sorts is lean and mean, the latter stalking through the town as if she were Yojimbo from Akira Kursosawa's samurai classic of the same name. With the show's confident ebb and flow, we watch them take on the invading forces one by one, as the fight scenes pace themselves and allow you to savor each swift move, or even the giddy punch of Ahsoka strategically activating her lightsabers. The action is light on its feet and exciting, especially with a final duel between the magistrate and Ahsoka at the end. I loved how the scene jumps between an angle of seeing them up close with their strategic strikes, and then sometimes cuts back to show the entire space, with the ugly cloudy skies above and reflective pool of water next to them. But what's exciting is about how it builds, to the point that the fates become unpredictable. Some of the best moments in "The Mandalorian" are when you realize that some favorites could easily face a quick exit, and you get that sensation here with such grounded, high-stakes fighting.
"The Jedi" boasts one of the longer lengths in the series, but it doesn't feel like there's any wasted space. It more proves how rewarding the series can be when mythology and action truly move the story forward, while keeping the entire show's stakes as immediate as surviving a duel. Over its two seasons, "The Mandalorian" has done a great job in balancing its scope, keeping it intimate with the many characters that our bounty hunter meets along the way, and may not see again for the rest of this season, while slow expanding this series' vision of the galaxy. Even though "The Mandalorian" bears his name, it's been exciting to see just how tiny he is in the bigger picture.