Love you Madly: Dave Zoller, 1941-2020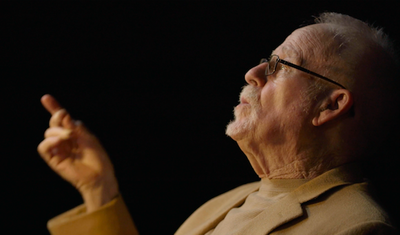 Pianist, composer and arranger Dave Zoller died at 9:40 a.m. Central time in his home in Dallas, Texas, in a hospital bed in his living room, four feet away from his baby grand piano. His death was attended by his partner of eight years, Liz Sutherland, and his older son, Matt Zoller Seitz. Liz and Matt held his hands as he passed.
Dave leaves behind a legacy of great albums and great performances, as well as three generations of North Texas Jazz musicians who were mentored while playing with him. His albums include "3x4x3," "Snug Harbor," "Love Song to a Genie," "Evidence: Music of Thelonious Monk," and the forthcoming "Soltitude" (a solo album) and "Daybreak Express," a collection of Duke Ellington/Billy Strayhorn tunes performed at the Texas Theatre with his same-named sextette.
His attention to detail as performer and composer was legendary. Decades after computers simplified the composing process, Dave still wrote out all of his charts by hand, in a beautiful script that was instantly recognizable as Dave Zoller's, from the jabbed dots of his periods, to his science fiction capital E's (three vertical slashes, no sidebrace). He rarely had fewer than three bands in operation at the same time. Each performed a different type of music, from New Orleans jazz and bebop to fusion and experimental. The size ranged from trios and quartets to sextettes and big bands. His charts were so beautifully wrought that trombonist Tony Baker once said that while playing them, he had no desire to solo.
Early in his career, Dave went by the nickname "Captain Weird," for the off-kilter imagination he displayed in his playing and composing. As he aged, accumulating pupils, he started to be known by another name: The Professor. "They call him The Professor," a local jazz bassist explained, "because every time you play with him, you go to school."
Dave's playing was distinguished by its intricacy early on, and later by its simplicity. The "Dave Zoller solo" has become shorthand among North Texas musicians, describing a solo that spontaneously creates a story within the larger story that is the song, developing themes and motifs that pay off at the end, often with a clever inversion or reversal.
Dave was born in Tiffin, Ohio and spent much of his childhood there. He took piano lessons from a young age and became obsessed with jazz at 13, after his grandmother bought him a Count Basie Orchestra record at Fleck Records in Tiffin, Ohio. He learned to play jazz piano licks by greats like Oscar Petersen, Bill Evans, and Thelonious Monk by making recordings of vinyl records on his father's reel-to-reel and playing them back.
After high school, Dave made a failed attempt to study chemistry at Southern Methodist University mandated by his businessman father, who refused to believe "jazz pianist" could be a real job. Zoller cut his studies short after landing a gig playing piano in a chain of Holiday Inn cocktail lounges. Then came a brief stint in the US Army, during which Zoller was called up during the Cuban Missile Crisis. While stationed in Mississippi, he was disciplined for playing off-base without authorization.
After mustering out, Dave studied composition and theory at the University of Missouri at Kansas City. It was here that he met the woman he would eventually marry, Bettye Pierce Zoller. Dave and Bettye had two sons together, Matt and Jeremy. Dave would later describe the marriage as "tumultuous." The family moved to Dallas in 1969. Dave played club gigs at night with Bettye and other musicians, and worked by day as an in-house composer, arranger and performer at TM Studios, one of many thriving "jingle factories" that put money in Dallas musicians' pockets during the 1970s and '80s. At TM, Dave scored hundreds of commercials for local, regional and national companies. He and Bettye divorced in 1975; Bettye would later marry another local musician, bassist Bill Seitz.
In the late 1970s, Dave fell in love with Dallas jazz singer Genie Grant. Like Dave, Genie was a key figure in the Dallas Musician's Union and an officer. They married in 1986 and recorded three albums together, "Travl'lin' Light," "Love Me Like I Am," and "Blame it on my Youth." Genie and Dave had an onstage chemistry like a Las Vegas cocktail lounge couple, bantering and teasing each other, and they were loving parents to Genie's four children as well as Dave's. The peak of Dave's career as a live musician occurred during this period: he landed a job as trumpeter Al Hirt's touring pianist, playing gigs throughout the US and Canada. Genie died of cancer in 2009.
Dave met Liz Sutherland at the Balcony Club in Dallas in 2012. Weeks after, Dave had a stroke while he and Liz were standing in the kitchen of his Dallas home. Liz stayed with him through the following day, supervising admission to the hospital and staying in his room. When Dave awoke, he looked her in the eyes and said, "I love you."
They were together for eight years. Liz was present for two more of his strokes. He would not have survived any of them if she hadn't been there, and she was instrumental in helping him recover from them and play piano again. Liz was always there for Dave. She was his girlfriend, his roadie, his manager and his nurse. His eyes lit up whenever she entered a room. She was by his side during his decline, right up to the end.
Dave was kind to his friends and devoted to his family. He loved animals of all kinds. During his marriage to Genie, they had a menagerie consisting of three dogs, a cat, a lizard, three parakeets and a cockatoo. Dave's last two dogs, Kiki and Fannie, a Bichon frise and a Pekingese poodle. He was honorable in all dealings, personal as well as financial. He expressed his deepest love for others through actions rather than words. He was a gentleman and a scholar.
He was also a stoic man who would be embarrassed by the love and appreciation that poured out upon news of his death—affection that he'd done everything to earn, through the quality of his musicianship, the breadth and depth of his imagination, and the honor and kindness with which he conducted himself in private as well as public.
Short of employing a medium, it's impossible to know whether any death is painless, but Dave's seemed as close as one can get. All told, the process took about five minutes. Dave seemed very much in control of it. He looked at Liz, then at Matt Then he laid back against his pillow and started breathing rhythmically, like a woman in a Lamaze class, the breaths increasing in volume and frequency until they peaked, followed by a single cough.
Then: an extended diminuendo. Each breath further apart than the last, until the song was over.
Dave signed off his conversations with "Love You Madly," the same phrase that composer, pianist and arranger Duke Ellington always repeated to the audience and the band at the end of his concerts, often in multiple languages. In emails, Dave would sign off with "LYM–Dave," for brevity's sake.
He is survived by his partner, Liz Sutherland; sister Julia Smock; his brothers John Zoller and Matt Zoller; his sons Matt and Jeremy Zoller Seitz; his grandchildren, Hannah and James; Tom W. Zoller, Debra Zoller Jones, Joseph P. Zoller, Andrew Zoller Smock and Alison Pierce Smock; and Benjamin Pierce Zoller.