Enjoy the Black Harvest Film Festival at Home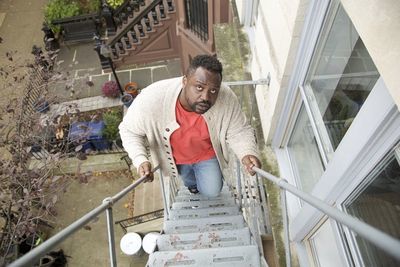 The Black Harvest Film Festival may have started on November 6th but the nature of it being a virtual event this year means you haven't missed a thing yet. The films that have premiered already are still available virtually with many more scheduled to drop in the same fashion from now until the end of the fest on November 30th. The closing night of the festival will also include a tribute to Chadwick Boseman and the presentation of the Black Harvest Film Festival Legacy Award to Jacqueline Stewart. We will do a recap piece at the end with more opinion, but wanted to encourage you to join in the fun before then with some highlights from the schedule that jumped out to us (copy credited to the official site). Get your tickets here.
"Black Harvest Feast" (available until 11/19)
Hosted by NBC 5 Chicago's LeeAnn Trotter, the festival kicks off with a unique parade of Black Harvest Film Festival filmmakers in a virtual red carpet. Honorary co-chairs Mayor Lori E. Lightfoot and First Lady Amy Eshlman will welcome patrons via video. Then sit back and enjoy the Black Harvest Feast program of five short films, ranging from local to international, providing a true taste of the festival's diverse array of upcoming offerings.
"Outside Story" (available until 11/20)
After locking himself out of his apartment, Charles (Brian Tyree Henry) an introverted, heartbroken film editor, finds himself on an epic journey up, down and around his block with life-altering ramifications. Trying to recover from a recent breakup with his live-in girlfriend Isha (Sonequa Martin-Green of "Star Trek: Discovery"), he sequesters himself at home. The fates do not comply and Charles accidentally locks himself out of his apartment. Moving from one neck-snapping tableau to the next, he discovers a community of previously avoided neighbors, including the widow next door, the curious swingers upstairs, and the piano prodigy hiding out on the roof. (Description courtesy of Sub-Genre Film)
"Unapologetic" (available until 11/20)
"Unapologetic" captures a tense and polarizing moment in Chicago's fight for the livelihood of its Black residents. The film follows Janaé and Bella, two young abolitionist organizers, as they work within the Movement for Black Lives to seek justice for Rekia Boyd and Laquan McDonald, two young Black people killed by Chicago police. They aim to elevate a progressive platform for criminal justice to a police board led by Lori Lightfoot and a complicit city administration, while also elevating leadership by women and femmes. (Description courtesy of Kartemquin Films)
"Pigeon Kings" (available until 11/24)
This fascinating chronicle takes us through the backyards of South Central Los Angeles, where a close-knit group of African American men devote themselves to the hobby of breeding, training, and racing a unique breed of tumbling pigeon. Keith London, a former champion, guides us through this world. His masterwork is his family of birds, a result of decades of quiet patience, determination, and desperation. Keith becomes mentor to big- hearted Choo Choo. Having recently received the "loser award," a gift of shame from fellow birdmen, Choo Choo is intent on improving his pigeon game. The pigeons provide our heroes with a community and a sense of hope; as long as they have their birds, nothing will stop them. (Description courtesy of the director)
"River City Drumbeat" (available until 11/26)
This powerful story of music, love, and legacies is set in the American South. Edward "Nardie" White devoted his life to leading the African-American drum corps he co-founded with Zambia Nkrumah in Louisville, Kentucky, three decades ago. Together they inspired youth from their West Louisville neighborhood to thrive by connecting them with the art and cultural traditions of their African ancestors. Now, Albert Shumake, whose destiny was shaped by the drum line, must take up the mantle for the next generation. Meanwhile, student drummers Imani, Jailen, and Emily navigate adolescence and life changes. "River City Drumbeat" follows this creative community of mentors, parents, and youth making their way in a world where systemic forces raise obstacles to fulfilling their dreams. (Description courtesy of Argot Pictures)
"Two Gods" (available until 11/29)
Hanif is a Muslim casket maker and ritual body washer in Newark, New Jersey. He mentors two kids— Furquan, a confident 12-year-old who comes from a rough home, and Naz, a 17-year-old who has been fighting his own struggles as a young Black man growing up in Newark. Hardship comes when Furquan's home life becomes more turbulent and Naz gets caught up in a serious arrest. Hanif fears he has failed as a mentor and begins to fall into a downward spiral. (Description courtesy of the filmmaker)