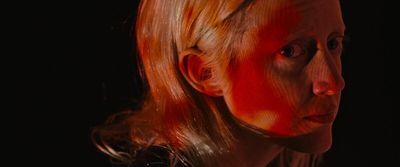 There are some really interesting ideas swimming around in Brandon Cronenberg's "Possessor," a hybrid sci-fi and body-horror, ideas about gender and identity and artificial intelligence, plus a vast serving of paranoia about our corporate overlords and their nefarious activities. Cronenberg has a feel for the cinematic possibilities in the mundane (never has a double line of brick houses looked so ominous). With excellent actors like Andrea Riseborough and Christopher Abbott, playing characters who, at times, inhabit each other, "Possessor" is always interesting to watch, but there's something missing, a clarity of focus and intent. Sometimes humor is the best way to communicate really sharp ideas and concepts. Comedy can be sophisticated that way. It gets the job done quicker and more effectively than straight drama or tragedy. "Possessor" is humorless, start to finish. Its energy is ponderous and glum, and the provocative ideas are not given a chance to really take on a life of their own. Still, there's much here that is imaginative and fresh.
The film starts strong, pulling you into its mystery and strangeness. A young woman (Gabrielle Graham) stands in the bathroom of a hotel room, and jams an electrode into her skull, blood oozing out around the wound. She stares at her reflection and sobs uncontrollably, as whatever voltage coming into her from the electrode does its work. Next, we see her join the ranks of a group of women in a hotel elevator, all of them wearing turquoise track suits. They enter a private lounge, an eerie place pulsing with sinister energy, reminiscent of something out of "A Clockwork Orange." (Production designer Rupert Lazarus deserves huge props for his work throughout.) The young woman walks up to a big-wig sweltering in a suit and stabs him to death. It's an orgy of over-kill. The cops arrive and mow her down.
At that same moment, in another location, Tasya Vos (Riseborough), lying on a table in a pitch-black room, hooked up to some machine, hauls herself up out of whatever induced-sleep she was in. Pale and shaken, she then submits to a decompression exit interview with her boss, a deadpan Jennifer Jason Leigh. Through this scene, shot in a striking space where darkness surrounds the two women, who sit on white chairs at a white table, we get the kind-of sort-of picture of what we just witnessed. Tasya has been hired by this company to "enter into" other people who then carry out important assassinations. The company is a mysterious entity, lurking in the shadows, probably with a legitimate "front" so as to hide their real activities. Tasya is good at what she does, but being the "possessor" of other human beings comes at a huge cost. She has to be reminded of the reality of her own world. She forgot that she's separated from her husband. She's lost the track of her own identity.
Her next assignment is to "possess" Colin (Abbott), a nobody of no importance who happens to be dating the daughter of the CEO of a Kafka-esque multi-national corporation, intent on gathering as much information as possible about every citizen on the planet. The idea is for Tasya to inhabit Colin and have Colin kill the CEO (Sean Bean). Poor "possessed" Colin will take the rap for the murder, and he as potential son-in-law will be out of the way to inherit. Tasya does her research: she spies on Colin, listening in on his conversations, memorizing his intonations and vocabulary, so that she will "pass" as him once she's "in" him. These are such fun and intriguing ideas and "Possessor" doesn't do nearly as much with this as it could.
At first, watching Abbott find his way through a mundane morning with his girlfriend, trying not to tip her off that he is no longer himself, is a lot of fun. Abbott is wonderful in these sequences, uncomfortable in his own skin as he tries to "act like" the real guy. When he kisses his girlfriend, she pulls back to look at him, her expression saying, "What has gotten into you?" How does the real Colin normally kiss? Is he perfunctory? Is he aggressive? Too much tongue? Is the girlfriend sensing a feminine energy coming out of her supposedly male boyfriend? This, for me, is the real juice behind "Possessor", the thing surging through all of its gruesome body horror—all of those close-up shots of knives plunging into skin, of fire pokers going through soft gooey eyeballs, all that blood, all that penetration … It's not just that identity is fluid, although that is present. It's that the entire enterprise surges with uncontrollable sexual energies. Tasya spends so much time "in" other people's identities she's lost her own. She's a shell of a human. Does she feel more alive when she's the "possessor" than when she's just herself? Is it a turn-on? These are the things "Possessor" doesn't really go after, at least not in a complex way. There are so many delightful possibilities of this scenario: being a woman inside a man, navigating a strange world, trying to "pass," but maybe … finding something for herself, something she might not want to give up.
This may seem like a frivolous comparison but some of this made me think of "All of Me," where Steve Martin is "possessed" by the bedridden snooty heiress Lily Tomlin. That movie, of course, is a comedy, and a chance for Steve Martin to show off his physical skills. Martin spends the whole movie walking around with a woman inside him, and there are times when you could swear you were actually looking at Lily Tomlin onscreen. There isn't a lot of that in "Possessor," although it's suggested in the strange look Colin's girlfriend gives him after the kiss. There could be way more. The penetrability of bodies, the bloody insides we all share no matter our gender, the fluidity of identity and the porousness of reality, the yearning to merge totally—host with possessor and vice versa, but also the dangers of merging … "Possessor" shows all of these things, and quite beautifully at times, but it doesn't really explore them. The scene where these ideas are explored to their fullest is a sex scene, taking place in a chilly neon-blue-lit bedroom, where male and female merge in the same person, or emerge simultaneously, so that the sex act is practically a three-way. It's a very crowded sex scene, confusing and erotic.
Cronenberg and cinematographer Karim Hussain work together beautifully. The world itself looks terrifying in "Possessor." The mood overall is grim, maybe too grim, but there's a lot here to chew on.