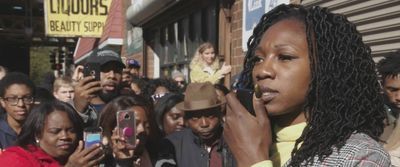 Back during its Sundance premiere in January 2020, Steve James' four-part series "City So Real" was a portrait of a major American city at a crossroads. At the time, it captured a vibrant but divided city through its examination of the crowded 2019 mayoral race, but it was really a look at the many neighborhoods of Chicago, and how their people strive to balance love for their entire city with their own cultural heritages and needs. The version premiering tonight on National Geographic and available tomorrow on Hulu has a fifth installment about how the city was impacted by social unrest and COVID-19 in 2020. The last chapter is almost feature length and could have even been released separately but it also fits with the other four given its focus on how Mayor Lori Lightfoot handled 2020 (and criticisms she faced for some of her decisions).
For decades, James has been the best documentarian in Chicago, bringing his city to life in projects like "Hoop Dreams," "The Interrupters," and "America to Me," but "City So Real" is arguably his most ambitious project to date, wedding the political system of the Windy City to its past, present, and future. Some of it could be considered dry—you will learn more about the signature verification process to get people on the mayoral ballot than you could imagine—but it has a remarkable cumulative power, one that feels amplified by the events of 2020 in unexpected ways.
James and his team jump right into a heated mayoral race as it's getting off the ground in 2018, instantly divisive because of the murder of Laquan McDonald, and how poorly the entire situation was handled by Mayor Rahm Emanuel. Sensing the incumbent mayor could be defeated, the field started to fill up in unexpected ways, and then Emanuel made the surprising move of dropping out of the race, announcing he wouldn't run for reelection—leading to an explosion of candidates. James documents key events in the race like Chance the Rapper's endorsement of Amara Enyia but it's much more of a fly-on-the-wall approach to politics, detailing the daily existence of a campaign like strategizing, press conferences, and even going door to door to get votes. Interestingly, Lori Lightfoot, who would eventually win the landmark race after becoming the first out candidate in Chicago mayoral history, starts out as background player in early episodes as candidates like Willie Wilson and Bill Daley dominate the story, but it's fun to watch her profile rise through the series.
"City So Real" is not purely a political piece. A lesser filmmaker would have focused exclusively on campaign events and promises, but James connects those to not only other major events from 2018-2020 but everyday life in the city. It's a series that can go from a commentary on corruption in Chicago politics to interviews at a bar while fans watch a crucial Bears game to a segment on the death of a police officer. It's a tapestry of life in Chicago that is entertaining in its individual moments but gains much more power when considered as a whole. Kind of like the city itself—a place that values its vibrant communities but also how they come together in times of crisis.
The ambition of "City So Real" is remarkable, but it's fulfilled through James' deep fascination with humanity. No one is better at revealing the truth that there is a fascinating story around every corner of every city, and he equalizes everyone in Chicago. James is equally fascinated by an argument in a South Side barbershop as he is a discussion about the history of Chicago mayors at Christie Hefner's dinner table, high above the skyscrapers. And I love his emphasis on daily life in that most of his interviews and segments don't interrupt what would have happened anyway. He interviews and films people as they're going through the political or other work processes. He doesn't interrupt the city's flow as much as try to capture it going by. There's a big difference. There aren't sit-down interviews in "City So Real." There is no time to sit down when you're running for Mayor.
Sadly, "City So Real" plays differently in October 2020 than anyone could have possibly imagined, and not just because of what's shown in the excellent fifth episode about this year. Mid-series images of kids trick-or-treating on Halloween, or looking at the displays in the Macy's window on Christmas have an unintended melancholy. Those things won't happen this year. And yet they can be contrasted by a homeless woman in episode three, one who lives in a shelter at night but spends her days campaigning for Willie Wilson. She speaks of her belief that strength comes only through brokenness. The passion of the people within "City So Real" and the deep humanism of its filmmaker give me hope that she's right.
Available on Hulu on October 30