AFI Fest 2020 Closes Out a Season of Reimagined Online Film Festivals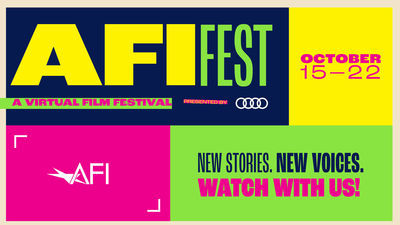 Over the last few months, critics and film enthusiasts alike have traversed the country, the world even, without traveling a single mile. Festivals have been reimagined virtually for a reality that prevents us from physically convening. In truth, as convenient as they are, home viewing can never fully substitute for the real experience, but festivals going completely or mostly online (some have hosted drive-in presentations) has undeniably democratized attendance.
From Venice to TIFF to NYFF, each organization has tried to distinguish their events through the peripheral programming in the form of in-depth conversations and panels in hopes of providing a bonus to watching their selections on similar platforms. The final stop on this static tour of major fall festivals was Los Angeles' AFI Fest (October 14-22), which, unlike the aforementioned cinematic affairs, offered pre-recorded Q&A sessions with filmmakers for nearly all of its slate in addition to special tributes to the likes of Rita Moreno and Mira Nair.
Fanfare was expectedly less without red carpets or higher profile galas. Yet the movies that did make it to our personal screens were, overall, a nice collection comprised of some repeats from what had been on display in other lineups throughout the season, as well as several standouts making their first U.S. appearances or showing for the first time stateside since they premiered at last year's TIFF, or this year's Sundance and Berlin.
Julia Hart's "I'm Your Woman" was among the world premieres, while Irish animated triumph "Wolfwalkers" continued to make the rounds and won the Audience Award for Narrative Feature. Harrowing pandemic-themed documentary "76 Days" took home the same prize in the Documentary category.
Of those films reemerging into the scene, Darius Marder's fiction feature debut "Sound of Metal" starring Riz Ahmed sits far above the rest. In one of the best roles of his career, the Emmy-winning actor plays a skilled drummer rapidly losing his hearing. It's reminiscent of Chloé Zhao's "The Rider" in that they both observe an individual who loses the ability to do the one activity that gave them purpose and are forced to rethink who they are under their new circumstances. On a technical level, the praise for the intricate sound work, used here as powerful and deliberately conspicuous narrative device, is well deserved.
Diego Luna and Sienna Miller reevaluate their lives together as a couple in the aftermath of a fatal car accident in Tara Miele's grounded existentialist drama "Wander Darkly," which had been on festival hiatus since it premiered in Park City back in January. As Adrienne, Miller navigates a kind of purgatory that's exactly like our reality, but in which she has the ability to goes in an out of her memories. Aware that they are in an in-between state of consciousness, Adreinne and Matteo (Luna) relive key moments in their bumpy relationship and discuss the truth behind each of their choices.
Miele smartly leans into Luna's Mexican identity and weaves in the spirituality of Day of the Dead. In fact one of the movie's greatest feats, amid a touching and well-realized screenplay, is that it includes scenes captured at LA's Hollywood Forever Cemetery, shot precisely during the popular Day of the Dead celebration. Bringing Luna, one of the most recognizable and beloved Latino actors working today, into a crowded event where the vast majority of the attendees are Latinos is alone a daring move. There's absolutely no way he went unnoticed.
International cinema tends to be a strong point at AFI Fest and this year was no exception. Mohammad Rasoulof's "There Is No Evil," the winner of the Berlinale's top prize, continues the Iranian auteur's defiant career of making movies in secret. The film is comprised of four narratives about the morality of the death penalty, presented through the lens of those forced to carry out the killing and the ones who pay a high price for refusing to do so. It's another masterful entry in Rasoulof's lauded filmography.
Lighter in tone but just as affecting, Greek director Christos Nikou's auspicious debut "Apples," presented in the New Auteurs section, deals with an amnesia pandemic that has forced the afflicted to construct new personas for themselves by collecting experiences deemed essential for human beings. Aris Servetalis (seen in Yorgos Lathimos' "Alps") plays a lonely man who's just become amnesiac and is undergoing such process of reintegration into society.
Like many of the country's projects that reach our shores, (Babis Makridis' "Pity" for example), "Apples" is deadpan and curious, but also poses some profound questions. If we didn't remember the concept of shame and other societal conventions, who would we be? Would we dance freely not caring who could laugh at us or are certain qualities inherent to the human condition? Nikou's movie doesn't have a U.S. distributor yet, but actress Cate Blanchett served as executive producer.
AFI Fest also brought three of the most celebrated Mexican productions of the year together for the first time in the same festival. Two of them, Heidi Ewing's Sundance highlight "I Carry With Me" (a U.S.-Mexico co-production) and Michel Franco's polemic Venice-winner "New Order," are both vying to represent the country at the Oscars in the Best International Feature Film category. The third title, Yulene Olaizola's entrancing "Tragic Jungle," arrived at AFI following screenings at Venice and New York Film Festival.
Now that all of the year's filmic fetes have wrapped, we can be thankful that these gatherings persevere in their digital iterations, and that filmmakers were able to premiere their works, not under ideal circumstances, but to likely larger audiences. Next year, starting with Sundance 2021, the landscape may remain similar, but now we've gained some insight. We know that online festivals can work when there's no other option, but many of us still can't wait to go back to the joys and perils of communal watching in a theater.