8 Films to See at the Nightstream Virtual Film Festival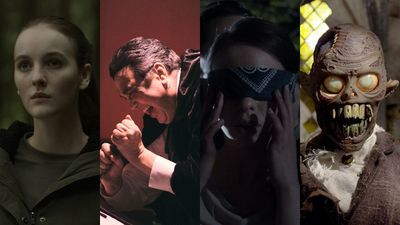 This October, nothing's scarier than the national news. But with the COVID-19 pandemic disrupting in-person film festivals for the foreseeable future, savvy festival organizers are ensuring the horror-heavy film fests that genre aficionados have come to expect from this time of year can still proceed online.
Case in point: Nightstream (streaming Oct. 8-11), an unprecedented virtual collaboration between five of the best American genre film festivals out there, including Boston Underground, Brooklyn Horror, North Bend, Overlook, and Popcorn Frights. The festival will be accessible through the purchase of one of several badge levels, with proceeds benefiting the filmmakers and artists in attendance as well as charities in the organizers' home cities; you can get yours here.
As the pandemic's scale and severity has become painfully clear to all of us not currently serving in the executive branch of the U.S. government, filmgoers have been lucky to experience a steady stream of online fest alternatives—geolocking and other limitations on various virtual platforms have both worked to muffle the lively discussions that would accompany festival screenings in a more normal year. Nightstream's solution to this is a virtual town-building platform, Gather, that allows badgeholders to navigate various rooms in 8-bit avatar form, sidling up to pixelated bars and tables that can facilitate more private chats.
An array of panels and events at Nightstream will feature top-tier talent like Nia DaCosta ("Candyman"), Rusty Cundieff ("Tales from the Hood"), Mary Harron ("American Psycho"), Scott Beck & Bryan Woods ("A Quiet Place"), Justin Benson & Aaron Moorhead ("Synchronic," "The Endless"), Issa López ("Tigers are Not Afraid"), and "Masters of Horror" creator Mick Garris, who'll be feted at a virtual dinner attended by genre luminaries like Joe Dante, Ernest Dickerson, and Mike Flanagan. Also on the schedule: a special spotlight on Indonesian horror, including the international premiere of Timo Tjahjanto's "May the Devil Take You Too" and a panel moderated by Shudder's Sam Zimmerman. It's worth noting that, while Nightstream's shorts and feature lineup is geolocked to the U.S., an events-only badge level is accessible worldwide.
The feature lineup, while we're on the subject, is an embarrassment of riches, with a mixture of world premieres—like Aneesh Chaganty's fest opener "Run," a Hulu-bound thriller in which Sarah Paulson plays a malignant mother, and Ryûhei Kitamura's action-thriller "The Doorman," starring former "Batwoman" actress Ruby Rose—and held-over festival favorites from this past year.
From Sundance, Adam Rehmeier's acerbic punk-com "Dinner in America" and Lawrence Michael Levine's deconstructed cabin-retreat tangle "Black Bear" populate the non-horror side of the lineup. Also present are some of the more ambitious Fantasia premieres, like Anthony Scott Burns' darkly dreaming "Come True," about a sleep study turned sinister, and Natasha Kermani's satirical "Lucky," in which a woman (Brea Grant) must fend off both a masked stalker and alarming apathy displayed by anyone she asks for help.
Arthouse audiences will relish Pablo Larraín's seductive "Ema," a dance-apocalyptic cocktail of a character study, and closing-night title "Mandibles," an absurdist piece from "Rubber" director Quentin Dupieux about two friends find a giant fly in the trunk of a car (both films originally premiered at the Venice Film Festival, "Ema" last year and "Mandibles" last month). Those looking for documentaries would do well to catch "Leap of Faith," in which cinema essayist Alexandre Philippe goes deep on "The Exorcist" with its ever-lively director, William Friedkin.
Below, I've put together a guide to Nightstream's feature programming, singling out eight features from the main slate of 38 titles that I think you should make a point of seeing. I've restricted my selection only to films made available to press in advance of the festival (or screened elsewhere), meaning no "Run," "The Doorman," "May the Devil Take You Too," or "Mandibles," all of which I'm still looking forward to.
"An Unquiet Grave" (World Premiere)
You can practically see your own breath watching this eerie chamber piece by filmmaker Terence Krey. Somber and restrained, it follows a widower (Jacob A. Ware) who convinces his wife's sister (Christine Nyland, who co-wrote the script) to return with him to the site of the accident that took her life. There, driven to desperation by the grip of grief, he performs a dark ritual with dire consequences. To say more than that would be unfair to Krey, who's precise and patient in evoking the kinds of loss that eat a soul, and to his actors, whose compelling turns unearth the shattered hearts still faintly beating beneath this film's chilly, restrained exterior.
"Bleed with Me"
In writer/director Amelia Moses' tricky, unsettling debut, the waifish Rowan (Lee Marshall) joins her friend Emily (Lauren Beatty) for a winter getaway at a secluded cabin in the woods, only to wake up with unexplained cuts along her arm. Convinced that Emily is secretly drugging her to steal her blood for some mysterious purpose, Rowan fights back. Formally controlled and narratively provocative, Moses' approach to this familiar material involves subverting it at every turn, plunging Rowan and Emily into a creepily ambiguous battle for control that doubles as a sharp study in female trust, trauma, and friendship.
"Climate of the Hunter"
One of the DIY indie world's best-kept secrets, Mickey Reece is sometimes nicknamed the "Soderbergh of the Sticks," in tribute to both his prolific output and the pinballing versatility of his films. His 27th feature taps a highly specific vein of '70s vampire psychedelia, suggesting swirls of Stephanie Rothman's "The Velvet Vampire" and John Hough's "Twins of Evil." It's a tale of two aging sisters, Alma (Ginger Gilmartin) and Elizabeth (Mary Buss), who compete for the affections of a long-lost acquaintance, Wesley (Ben Hall). As all three debate loneliness and the winding paths of their lives across a series of hyper-indulgent meals, suggestions that Wesley might be a vampire lend the proceedings an erotic charge. Shooting in Academy ratio with added film-grain texture, Reece has gone to great lengths to make "Climate" feel vividly vintage, even as pockets of sly humor frame him as a filmmaker in conversation with these aesthetics, rather than merely paying them homage.
"Frank & Zed" (World Premiere)
In terms of sheer genre-cinema wizardry, this gleefully grotesque hand-puppet horror is the single most impressive thing I screened in advance of Nightstream. Made across seven years by Portland-based filmmaker/puppeteer Jesse Blanchard (who hand-crafted 40 puppets and a series of impressively detailed miniatures), it casts an ax-slinging Frankenstein's monster and brain-munching zombie, named Zed, as unlikely best friends living out their undead days in the crumbling ruins of a Gothic castle. Survivors of a long-ago battle between their all-powerful master and fearful villagers, Frank and Zed want for little, save the occasional jolt of electricity and a fresh cranium to eat. It's that latter delicacy that eventually brings them to outrageously violent blows (and hacks, slices, and chomps) with the outside world, in a constantly crescendoing battle that constitutes the film's final half-hour. With their bulged eyes, lolling tongues, and blood-splattered felt visages, these puppets conjure disturbing memories of "Mr. Meaty" as much as "The Muppets," but Blanchard skirts comparisons to Peter Jackson's similarly unhinged "Meet the Feebles" by investing in the world's fantasy mythology (à la "The Dark Crystal") and keeping his endearing odd couple at its goofy, gory heart.
"It Cuts Deep" (World Premiere)
New England filmmaker Nicholas Payne Santos skewers toxic masculinity, sometimes literally, in this darkly funny debut, about a man named Sam (comedian Charles Gould) who returns home with long-time girlfriend Ashley (Quinn Jackson), only for his fears about getting married and having kids to spiral out of control. When a handsome childhood friend (John Anderson) turns up on the doorstep, Sam quickly dispenses with the pleasantries as he senses a possible rival for Ashley's affections. What initially plays like Santos' anxiety dream about commitment soon reveals itself to be deliciously self-aware and bloodthirsty; like Josh Ruben's recent "Scare Me," on Shudder, "It Cuts Deep" actively reconsiders its male gaze in shape-shifting between mumblecore, slasher, and psychodrama.
"Jumbo"
Cross Jean-Pierre Jeunet's wide-eyed "Amelie" with David Cronenberg's techno-fetishistic "Crash," then play it as a star-crossed romance, and you'll be somewhere in the vicinity of Zoé Wittock's wondrously sincere "Jumbo." Noémie Merlant set the screen ablaze in last year's "Portrait of a Lady on Fire," and she's equally thrilling to watch in this adult fairy tale about a young woman who develops deep feelings for a tilt-a-whirl ride at the local amusement park. A fantasy sequence where she consummates the unlikely relationship evokes "Under the Skin," jet-black oil seeping over her naked body and surfacing her in a Kubrickian white void. But for the most part, Wittock keeps this coming-of-age narrative grounded in Merlant's earnest, winning performance; her film reads as a love letter to anyone who's ever felt like an outsider in matters of the heart.
"My Heart Can't Beat Unless You Tell It To" (North American Premiere)
A striking new vision of vampirism that in arterial spurts recalls Tomas Alfredson's "Let the Right One In" and Jim Mickle's "We Are What We Are," this downcast debut feature from writer/director Jonathan Cuartas is so very good in part because it understands vampirism as an addiction. Like any other addiction, it pleads and it rages, insatiable through its very nature, and sooner or later it's expulsive about the harm it causes, rotting away foundations of love, family, and common decency until they can no longer stand. "Heart Can't Beat" opens in this hopeless place, as Dwight (Patrick Fugit, of "Gone Girl") abducts a homeless man so his sister, Jessie (Ingrid Sophie Schram) can cut his throat. In a dilapidated house, they nourish sickly younger brother Thomas (Owen Campbell) with the man's blood. Intimate and rich with dread, Cuartas' film asks how much its characters can reasonably sacrifice for one another. Across 89 minutes, it weighs the cost of each life lost to one monstrous hunger, and somehow finds some beautiful, hopeful things to say about this ugliest, most painful of subjects.
"Rose Plays Julie"
A bracing Irish import that premiered at last year's BFI London Film Festival, this quietly transgressive psychological thriller opens with a young woman, Rose (Ann Skelly), in search of her birth mother, Ellen (Orla Brady). Rose soon tracks her down, discovering that Ellen is a successful actress. The face-to-face is painful, beyond measure. Ellen's reasons for giving up her newborn daughter were more traumatic than Rose could have imagined. Perhaps drawing inspiration from Ellen, she dons a wig and a false identity before seeking out her real father (Aidan Gillen), a celebrity archaeologist. Writer/directors Christine Molloy and Joe Lawlor, known for exploring questions of self and memory in their work, are coy about the kind of story they're telling, until a harrowing third-act confrontation snaps its puzzle pieces into place with unsparing forcefulness.
For more information on the Nightstream festival, click here. Nightstream runs online from October 8 – 11.